Premier Melville Scholar Robert Wallace Awarded Medallion for Intellectual Achievement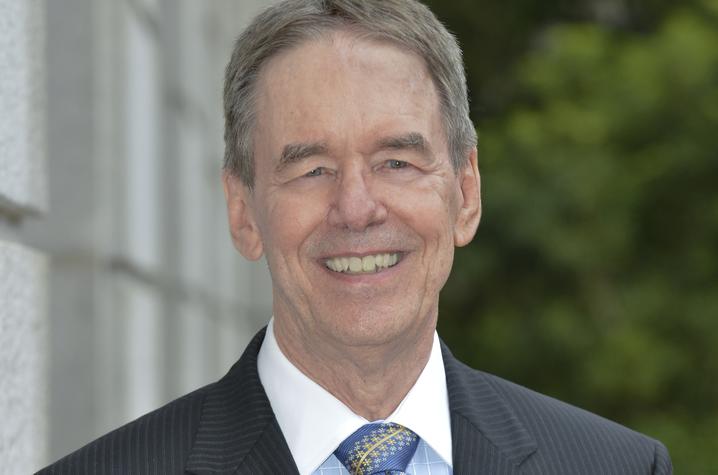 LEXINGTON, Ky. (May 16, 2019) — University of Kentucky Libraries will recognize the 2019 recipient of the UK Libraries Medallion for Intellectual Achievement, Robert K. Wallace, a nationally recognized scholar on Herman Melville, at tonight's UK Libraries Spring Gala at William T. Young Library. 
The UK Libraries Medallion for Intellectual Achievement is one of UK's most prestigious awards. Created in 1990, it recognizes high intellectual achievement by a Kentuckian who has made a contribution of lasting value to the Commonwealth. The award also promotes education and creative thought.
"Celebrating the intellectual achievements of Kentuckians is one of my highest privileges as interim dean of UK Libraries. Wallace's interdisciplinary work is fascinating, and I look forward to recognizing him at the Spring Gala," said Interim Dean of Libraries Deirdre Scaggs.
Medallion recipients are determined by the UK Libraries National Advisory Board after receiving nominations from the public. Past notable recipients include John Anthony, Wendell Berry, James Still, Bobbie Ann Mason, Thomas D. Clark, Laman A. Gray Jr., Guy Davenport, George C. Herring, Adalin Wichman, John Egerton, Karl Raitz, George Wright, James C. Klotter, F. Douglas Scutchfield and Everett McCorvey.
Born in Seattle, Robert K. Wallace was president of the student body at Whitman College, where he led a movement to eliminate the "white, Christian clause" then required for fraternity and sorority membership. A political science major who planned to attend law school, he became a double major in English after taking an American literature survey course from Thomas Howells. After graduating from Whitman in 1966, he turned down Harvard and Yale law school for graduate school at Columbia University, where he earned his master's degree in English in 1967 and doctorate in 1972.
Drawn to 19th century American literature during his graduate studies, Wallace had come to love "Moby-Dick" while studying with Howells and working on tug boats in Puget Sound. He considered writing his dissertation on the book in 1968 until professors at Columbia told him there was "nothing new to say about 'Moby-Dick.'" Wallace had a part-time job as personal secretary to Rosina Lhévinne, the famous piano teacher at Juilliard. He decided to write a biography of her and her late husband, pianist Josef Lhévinne, as his dissertation. 
The job market was tight when Wallace graduated from Columbia. Only six jobs in American literature were advertised nationally — one at a new four-year school called Northern Kentucky State College. In 1972, Wallace was one of 70-some faculty from across the country who arrived at the new Highland Heights campus to expand the mission and curriculum of the former community college founded in Covington in 1968.
At first there were very few upper-division classes. The typical teaching load for English professors was three Freshman Composition classes and one survey class. Northern Kentucky University (NKU) became a university in 1976, the year in which Wallace's revised dissertation was published by Indiana University Press as "The Lives of Josef and Rosina Lhévinne: A Century of Music-Making."
Because there was no established upper-division curriculum, teachers were free to be flexible in what they proposed. While writing and revising his book, Wallace became interested in the degree to which the transition from Mozart to Beethoven in Viennese music paralleled the one from Jane Austen to Emily Brontë in the English novel. He explored this and other parallels in an interdisciplinary course called Studies in Music and Literature.
The responses of Wallace's students encouraged him to research the field more deeply. Visiting Austen's home at Chawton and Brontë's home at Haworth, and studying piano music each of the novelists played, opened new avenues to explore. Wallace's SAMLA Book Award winner "Jane Austen and Mozart: Classical Equilibrium in Fiction and Music" was published in 1983 and "Emily Brontë and Beethoven: Romantic Equilibrium in Fiction and Music" followed in 1986 from University of Georgia Press.
Wallace offered his first class in Painting and Literature when a student in his Music and Literature class asked him if he would. He had seen J.M.W. Turner's "The Whale Ship" at the New York Metropolitan Museum as a graduate student, so he began that course with Turner and "Moby-Dick."
Teaching this course led Wallace to further research. A National Endowment for the Humanities (NEH) Travel to Collections Grant enabled him to study Turner's art in London. At Harvard's Houghton Library, he found evidence of Melville's knowledge of Turner's whaling paintings. At Berkshire Athenaeum in Pittsfield, Massachusetts, Wallace discovered 270 engravings from Melville's personal art collection, 19 of which were after paintings by Turner. "Turner and Melville: Spheres of Love and Fright," published by University of Georgia Press in 1992, won the CHOICE Book Award.
In 1992, Wallace offered his first course in Melville and the Arts (cross-listed with the Honors Program like most of his interdisciplinary courses). In 1994, art student Fred North asked to do a painting rather than a paper as his final project. The painting was such a rich and cogent response to the course materials that Wallace offered "the creative option" to students in his future upper-division courses.
In 1996, Wallace's class in Moby-Dick and Arts created a group art show as their final project. The next year the same students were invited to Rockford College in Illinois to exhibit new "Moby-Dick" artworks with students there. In 2015, 105 pieces of art by 52 students beginning with North were exhibited in "Moby Comes to Covington" at Covington Public Library. Emma Rose Thompson, an art history major from Wallace's 2013 class, co-curated the exhibit and co-edited a full-color catalog called "Fast-Fish & Loose-Fish: 20 Years of Moby-Dick Art by NKU Students."
Wallace's research agenda was greatly assisted by his appointment as Regents Professor in 1991. He made trips to Japan, Europe and Frank Stella's New York City studio in the process of writing "Frank Stella's Moby-Dick: Words and Shapes," published by Michigan University Press in 2000. Similarly, intense research on Frederick Douglass and the work of Heggie and Gene Scheer resulted in "Douglass and Melville: Anchored Together in Neighborly Style," published by Spinner Publications in 2005, and "Heggie and Scheer's Moby-Dick: A Grand Opera for the Twenty-First Century," published by University of North Texas Press in 2013. 
A different kind of research was required for "Thirteen Women Strong," Wallace's book about Nancy Winstel's NKU women's basketball team, published by University Press of Kentucky in 2008.
A past president of the Melville Society, Wallace co-founded the Melville Society Cultural Project at the New Bedford Whaling Museum in 2001. He coordinates the art collection of the Melville Society Archive, where he has curated exhibits on "Melville's Maritime Prints," "Melville and Douglass" and "The Art of Whaling."
In 2014, Wallace sailed on the 1840 whaleship Charles W. Morgan as one of the writers chosen by the NEH and Mystic Seaport Museum to document its voyage between New England ports. In 2018, he was one of the resident faculty for NEH's Summer Institute for Schoolteachers in New Bedford studying "Moby-Dick and the World of Whaling in the Digital Age."
Wallace's upper-division courses rotate among Moby-Dick and the Arts, Emily Dickinson and the Arts, and Frederick Douglass and Cincinnati Antislavery. Once he finishes his book on Douglass and Cincinnati, he hopes to return to the catalogue raisonné he is writing for 440 prints he discovered from Melville's art collection.
In addition to celebrating Wallace's life and work, the UK Libraries Spring Gala will also include recognition of the recipient of the Paul A. Willis Outstanding Faculty Award, the Dean's Award for Outstanding Performance winners, and the Dean's Award for Excellence in Undergraduate Scholarship winners.