Sesquicentennial Series: McClure Defies UK Faculty to Become First Woman Ph.D. Recipient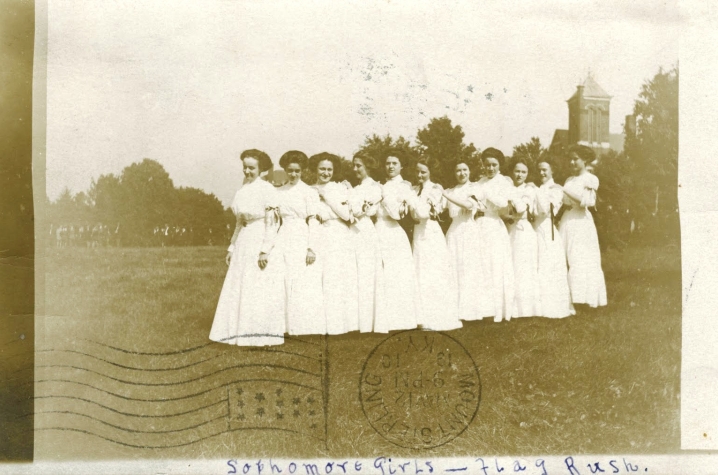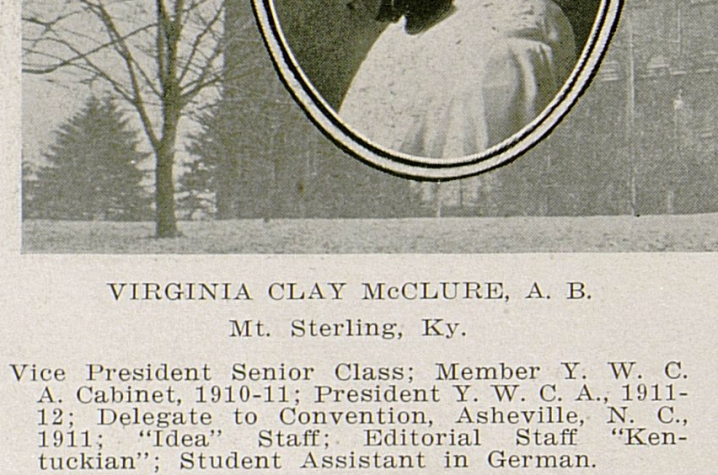 LEXINGTON, Ky. (Jan. 15, 2013) — In celebration of the University of Kentucky's upcoming sesquicentennial in 2015, the 40th of 150 weekly installments remembers Virginia McClure and how she paved the way for women to receive professional degrees at UK.
The first woman who received a Ph.D. from UK said that her department chairman did not "want a woman to get a doctor's degree." In spite of those words, Virginia Clay McClure received her doctoral degree in American history in 1934.
After attending UK, McClure graduated in 1912 with an AB (same as a Bachelor of Arts) degree and received her master's degree in 1928, also from UK. After receiving her A.B. she taught for a year in Middlesboro, Ky., another year in Paducah, Ky., and seven years in Cynthiana, Ky. After this, she returned to Lexington, where she taught for nine and a half years in Fayette County Schools. At this point, she took two and a half years off of work to complete her doctorate.
McClure's dissertation was "The Settlement of the Kentucky Appalachian Region," about which "nothing had been done before." McClure did significant original research for the dissertation and made several trips to Eastern Kentucky with Katherine Pettit, who had taught in settlement schools, including Pine Mountain School, which she helped to establish.
McClure planned to teach at the college level but after finishing her dissertation in the midst of the depression, colleges were laying off faculty rather than hiring them. Instead, the educator joined the Fayette County School system, then Lexington City Schools, and taught United States history and government at Henry Clay High School from 1934-1959. A position that McClure found quite rewarding.
McClure was also a member of Central Christian Church and Kappa Delta Pi Honorary, Kentucky and National Retired Teachers Associations, Salvation Army Auxiliary, Cardinal Hill Hospital Auxiliary and numerous historical societies. She was also a charter member of the Lexington Rose Society, twice serving as president, and was a member of the American Rose Society.
McClure passed away in 1980 at 91 years of age.
This story on UK's history is presented by UK Special Collections. Special Collections is home to UK Libraries' collection of rare books, Kentuckiana, the Archives, the Louie B. Nunn Center for Oral History, the King Library Press and the Wendell H. Ford Public Policy Research Center. The mission of Special Collections is to locate and preserve materials documenting the social, cultural, economic and political history of the Commonwealth of Kentucky.
MEDIA CONTACT: Whitney Hale, (859) 257-8716
 or whitney.hale@uky.edu