Students Build More Than Houses for Habitat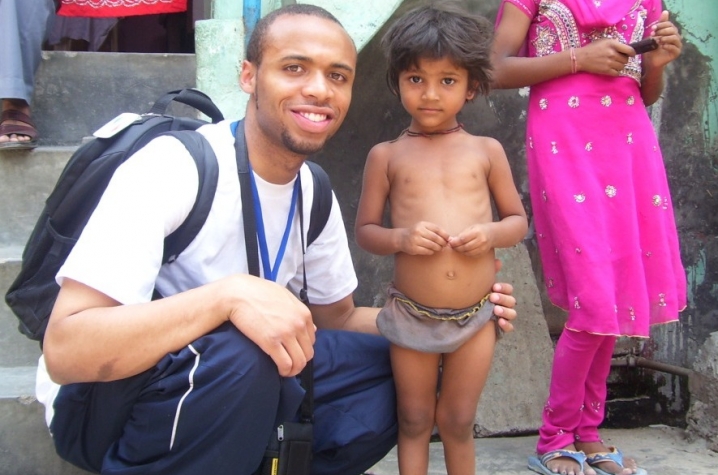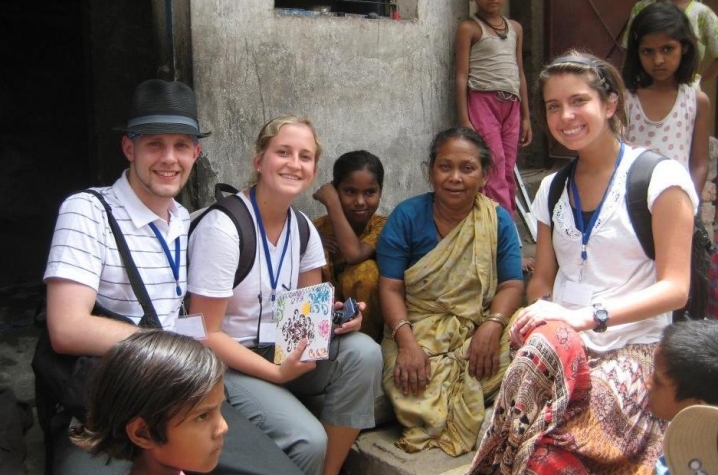 LEXINGTON, Ky. (June 14, 2010)- They came from different backgrounds and for different reasons-- a diverse group of University of Kentucky undergrads that didn't know much about one another, or the culture in which they were getting ready to dive into.
On May 30, 12 UK students and two instructors returned from a two-week trip to the Bawana Resettlement Colony on the outskirts of New Delhi to work with nonprofit home-builder Habitat for Humanity.
But these students weren't constructing houses; they were constructing relationships, hitting the slums running with video cameras and tape recorders, telling Habitat's story of India from the ground up in a UK summer class aptly titled, "Writers Without Borders."
"I was just shocked; and shocked more and more every day," said English and Spanish major Stephanie Anderson. "The poverty was unbelievable and unlike anything we'd ever seen in the U.S."
The students spent their time conducting interviews and taking pictures of Bawanan families who had received Habitat homes over the past few years. Upon their return to UK's campus, the students completed a series of projects, including feature articles, photo essays and audio slideshows based on the interviews.
According to Kathy McCullough, a former UK instructor who has been volunteering with Habitat in Vietnam over the past year, the international organization had never done this before either. Habitat India and Habitat International will use the completed projects in marketing material and online.
"The students had a very real encounter, a stark encounter, with the stench, the flies and the mosquitoes," said McCullough. "And they were working with a real international NGO (non-governmental organization); it was sort of a sensory overload."
A typical day for the students began at 8 a.m., with a two-hour bus ride to the slums. The class, divided into four groups of three, would then conduct 90-minute interviews with each participating family.
"Most of the families invited the students into their homes for the sessions, so this was a very real experience," explained instructor Amy Wheeler. "We were bonding with each other and the culture in an entirely different way."
Prior to the Bawana trip, nutrition major Gabe Jones had considered third world travel in the future to assist with dental care after he graduated dental school.
"The only way to know if you want to do something is to check it out yourself," he explained, his eyes clear with the knowledge that only experience can bring. "And I know now that this is definitely something that I want to do."
Jones, like many of the students, enjoyed working with the children of Bawana best. "Kids are kids, no matter where they are," he said, explaining a particularly enlightening experience with two local youngsters.
"Each morning, when we'd get to Bawana, we'd have two girls waiting for us," he explained. "I had taken a lot of pictures of kids, and one day I asked the girls to help me with names. With the assistance of the translator, they labeled the kids in each photo for me. And after they were done, I wanted to reward them for their help."
But each of them refused Jones' rupee reward. "We helped you because we wanted to help you," they said. "And that really resonated with me," smiled Jones. "You don't help people for money, or because you have a lot of money; you help them because you want to."
Jones' tale is just one of many stories these students plan to tell.
"The goal was to show students that what they do makes a difference," said McCullough. "Writing is more than just about style. Writing can have a conscience, and I think that they really took that away from this experience."
UK English major Ashley Bullock had participated in volunteer work her entire life prior to the New Delhi trip, but nothing could prepare her for what she experienced in Bawana.
"It's not only the poverty," she explained. "People look at you differently. They bombard you in the street, wanting to take you here and there. The kids would touch my blonde hair in awe. They'd never seen Americans before."
Bullock has a passion for family law and was especially interested in the women and children of Bawana. "I spent a lot of time with the families there, and it's a complex community," she said. "The family structure is much different than I assumed."
While the trip was about as far away from a summer vacation as one could get, the students would return to the slums in a heartbeat. 
"I expected to be overwhelmed, but I tried to remember that we are making a difference, no matter how small it seems," said community communications and leadership development major Hannah Newby. "And people appreciate that; we are all basically the same no matter where you are."
"We want students to dream big dreams and know that their words can make the world a better place," said McCullough. "But in order to change the world, we must first challenge and grow ourselves."