Tedder Named First UK Sustainability Officer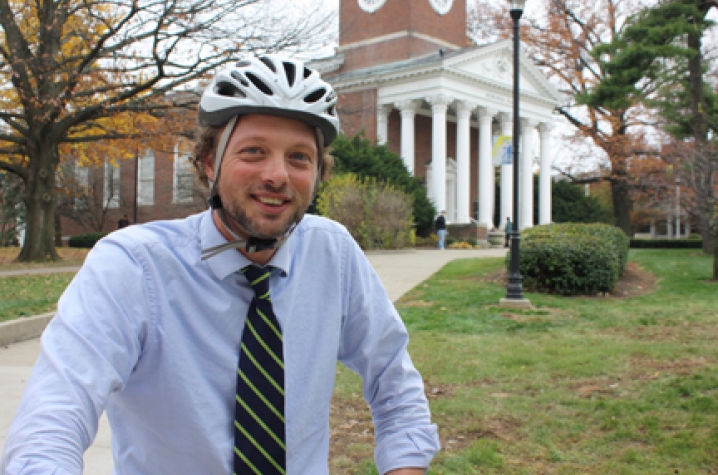 LEXINGTON, KY (Nov. 16, 2009) – After an exhaustive, nationwide search, the University of Kentucky has chosen Shane Tedder as its first campuswide sustainability coordinator.
"I am extremely pleased about this announcement for two reasons," said UK President Lee T. Todd Jr. "First, I am pleased for our university. A campuswide coordinator of our sustainability initiatives is an important step forward as we expand and improve our sustainable community. Secondly, I am particularly proud that a native son has been offered this opportunity. I have watched Shane grow as a student and a professional, and I am excited that I will have the chance to see him excel at his alma mater," added Todd.
Tedder has most recently served the UK Student Affairs Office of Residence Life as its sustainability coordinator, but now his duties will be much expanded within the Division of Facilities Management to serve the entire university.
"I charged the committee to do a comprehensive job search, review resumes and interview finalists. I told them that I wanted the interview process to be open and thorough," said Bob Wiseman, vice president for facilities management.
"I was looking for a self-starter, someone with enthusiasm, dedicated, with a solid background of applied skills and passion toward sustainability," said Wiseman. "I was seeking an individual that will make UK a leader in sustainability in Kentucky as well as beyond. I believe we have found that individual in Shane Tedder."
A native Kentuckian, Tedder earned his bachelor's degree in anthropology and environmental studies at UK in 2004, then continued his graduate studies in conservation biology at UK. While still a student, Tedder was hired by the UK Division of Student Affairs to manage the Residence Life Recycling Program but expanded those duties far beyond recycling issues to embrace the overreaching issue of sustainability programming for students.
He is the founder and coordinator of Earthdays in the Bluegrass (2005-2009) and the Wildcat Wheels Bicycle Library (2003-2009). He is a founding member of the UK President's Sustainability Advisory Committee and coordinator of the university's Sustainability Lecture Series and the Sustainable Campus Internship Program.
Since inception, Tedder has supported student groups and organizations that focus on sustainable issues, and dozens of students know him as a thoughtful, encouraging mentor.
"Having worked with Shane on a variety of projects over the last four years, I'm confident that the right person was chosen to be UK's first sustainability coordinator. Not only does Shane possess the passion and know-how to be successful, but he possesses a deep love for and knowledge of this state and this university that guarantee that he'll be able to lead UK's sustainability initiatives for a long time to come," said UK Sustainability Student Council member Taylor Shelton, a UK alumnus from Louisville and now a UK graduate student in geography.
Tedder's involvement in sustainability issues has taken him off campus as well; he is vice chair of (Lexington) Mayor Newberry's Bicycle Task Force, a steering committee member of the College and University Recycling Council (2009), and education co-coordinator of the Bluegrass Green Living Expo (2007, 2008 and 2009). Tedder was a presenter at the Association for the Advancement of Sustainability in Higher Education (AASHE) 2008 biannual conference, the Campus Community Partnerships for Sustainability (2007 and 2009), the Bluegrass Energy Expo (2004, 2006 and 2007), and Sierra Club Activist Weekend (2003, 2005 and 2006). He was an organizer of the 2007 Lexington Bike Summit and a steering committee member of the Bluegrass Partnership for a Greener Community since 2005, and a charter member of the Community Farm Alliance-Fayette County chapter.
The search committee conducted an extensive national search process, reviewed 57 applications and selected 10 finalists. After interviewing those finalists, the search committee recommended "four outstanding candidates," said search committee member Richard S. Levine, architecture professor and director of the Center for Sustainable Cities.
"From among the final four, the search committee came to the consensus that Shane Tedder was the strongest all-around candidate and the one that would best serve UK's interests. Of all the candidates, Shane appeared to have the clearest idea of the meaning of sustainability as well as demonstrating the soundest approach to dealing with the many conflicting pressures that a sustainability coordinator at UK will be likely to face," said Levine.
"The university conducted an extensive and thorough search, utilizing representatives from various sectors of our institution. This process resulted in the hiring of a sustainability coordinator who, in conjunction with the President's Sustainability Advisory Committee, will be an effective facilitator of the university's sustainability efforts in its pursuit to become a sustainable campus," said David W. Hibbard, director of UK Environmental Health & Safety.
After assigning ongoing projects within Residence Life to students in the Sustainable Campus Internship Program, Tedder will assume his new duties within a few weeks.
"I am very excited about the challenges and opportunities of this new position," said Tedder, "and I look forward to working closely with the entire university community to continue to enhance our efforts to become a model sustainable campus."