Trade Four Wheels for Two: Bike Voucher Applications Open Wednesday, April 24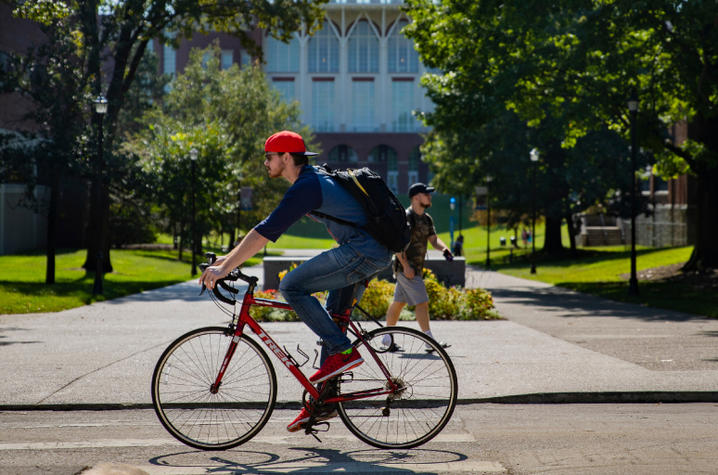 LEXINGTON, Ky. (April 23, 2019) — University of Kentucky Transportation Services is now accepting applications for its 2019 bike voucher program. Now in its fifth year, the program offers qualified applicants $400 each in vouchers that are valid at any of five participating local bike shops. 
"The bike voucher program has been a great catalyst to get people who have considered giving up their permit to actually make the leap. It's just the push many students and employees need to seriously think about how they commute and how that affects their health, their budget and our campus community as a whole," said Sandra Broadus, UK Transportation Services' alternative transportation manager. "The bike voucher program has been a tremendous success, and I'm looking forward to another great year for this program."
The vouchers may be used toward the purchase of a new bike or toward bicycle gear and accessories. Participants will sign a car-free commitment for two years but may purchase up to 40 additional single-day parking permits per fiscal year if they are needed. 
Vouchers are awarded to reduce the number of motor vehicles on campus. To be eligible, applicants must have had a parking permit this past fiscal year (July 1-June 30) or be new to the university. Residential students are not eligible for the bicycle voucher program but are encouraged to sign up for the Big Blue Cycles fleet. 
Those who are interested in the bike voucher program but who do not meet the eligibility requirements are encouraged to sign up for Commute Club. 
The bike voucher program is part of a suite of transportation options available to the UK community. These programs are designed to help shift from driving a car to campus to another mode of transportation. 
Anyone interested in bike commuting but unsure of what routes to take are encouraged to take advantage of personalized commute planning assistance offered by Transportation Services. 
To learn more about the bike voucher program or to apply, visit here. The application window will close on Aug. 31. 
UK Transportation Services strives to improve the quality of life on campus by offering responsive, sustainable and reliable access to infrastructure and mobility solutions. To learn more about transportation options, follow Transportation Services on Twitter @UKParking, or visit us online at www.uky.edu/transportation.