UK Alumni Donate to Students' Futures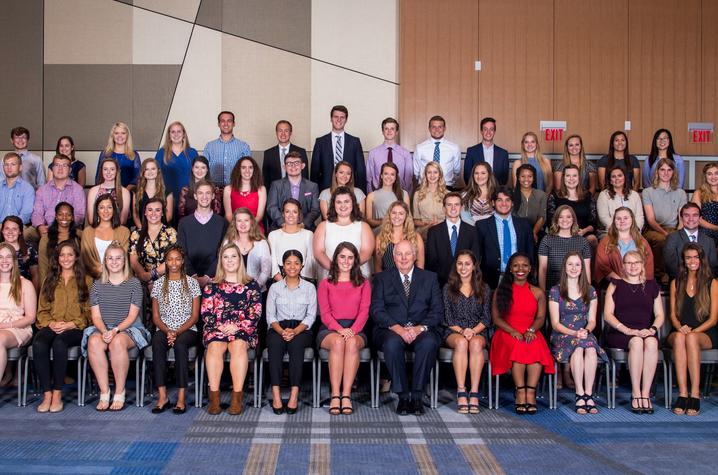 LEXINGTON, Ky. (Jan. 9, 2019) — What will $223,918 buy?
At the University of Kentucky, it buys a future for scores of young people. During the 2017-18 academic year alone, 179 UK students received a scholarship from the UK Alumni Association. During this recent fall semester, 100 UK students benefited from scholarships granted by individual local clubs all across the country.
For some of those UK students, their tuition will be paid. Others will be able to sleep in safe housing or enjoy regular, healthy meals because of those scholarships. Others can buy all the books their professors require of them.
Each and every scholarship funded by the Alumni Association, alumni clubs or individual alumni and friends of the university is transformed into a young person's education today and a career tomorrow that will someday support families in the future.
That dedication of Wildcat alumni to the current student body is not lost on a single scholarship recipient.
"I am forever grateful for having received this alumni scholarship," UK student Hannah McCloy said, "because it showed me that there are people who support me and want me to succeed. It made me feel that, although UK is a large university, someone recognizes me as an individual and as an important part of the UK community."
The alumni who work hard to fund those scholarships — sometimes, a single dollar bill at a time — are buying a future for a stranger.
The Fayette County Alumni Club, for example, considers "raising money to fund scholarships for the students to be the most important responsibility we have, because we know just a little financial help can be the difference in these students being able to continue attending UK or having to give up," said Peggy Barton Queen ('86), president of the Fayette County Alumni Club. "We are always brainstorming for new and creative ways to increase our contribution."
The club's newest fundraising strategy has been particularly successful. The club made arrangements with a local bourbon distillery to produce a limited edition run with a percentage of sales going directly into its scholarship fund. 
They dubbed it "Wildcat Love" Bourbon, and it quickly became a commemorative piece as the fall 2018 semester began, when fans noticed the bottle's label predicted UK would break the football team's losing streak against Florida this season. Sales skyrocketed!
"The University of Kentucky provides such a wonderful education and experience to our students," Queen said. "We want to help as many young people as we can 'see blue.' A strong student body with positive experiences while attending the University of Kentucky helps foster a strong alumni commitment in the future, which in turn benefits the generations to follow. We are thrilled to be a part of this legacy."
All the members of the Jacksonville club must do to raise money for their UK scholarship fund is take advantage of Buffalo Wild Wings Restaurant's generosity and eat there "during game watches." 
The restaurant's program "has been a wonderful partnership and a steady source of scholarship funding for many years. Anything we can do to help our students succeed, whether through a scholarship or as an information resource, is a good opportunity to serve the future generation," said Nicole Blackwelder, president of the Jacksonville club.
Chip Halfhill in McCracken County, Kentucky, said his club members feel they are simply "doing their job" when they embark on their annual fundraising golf scramble or promote their alma mater to high schoolers, primarily because each member remembers the "financial burden" of all the expenses associated with college. In fact, "Almost all of the current board members of our McCracken County UK Alumni Club received a scholarship to attend the university at one time or another.
"I recall when I received scholarships, both while attending UK as an undergraduate and (later) in medical school. I can't begin to express the gratitude that I had both at the time of receipt of those scholarships and continue to have even today," Halfhill said. "They were game-changers for my wife and I and allowed me to concentrate on school without having to borrow additional money or take on an additional job while in school."
In Dayton, the year's big fund-raiser is a Derby party raffle. One club member is so devoted to the project, an entire room in her home is dedicated to nothing but storing raffle items.
"Supporting students of today is going to be critical to our future," said Dayton's club president Kevin Collins, who also manages the scholarship program. "If a scholarship can make a difference in a student being able to attend UK and possibly becoming the next leader, researcher to come up with a needed cure, or a teacher of the next generation of students, then the money is well spent!"