UK Alumnus Helps Return US Capitol to Original Grandeur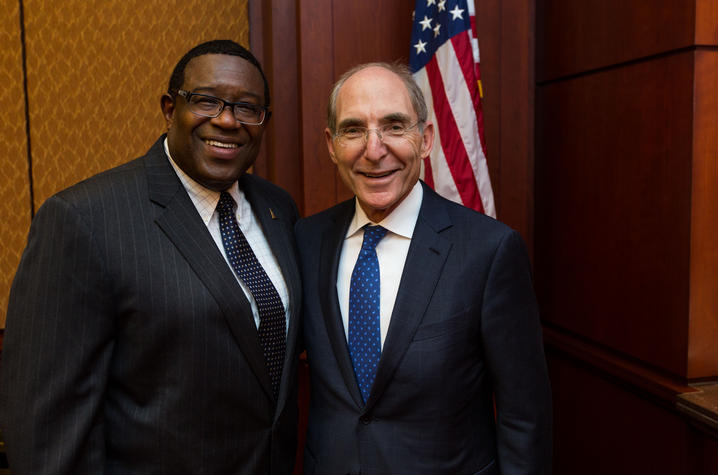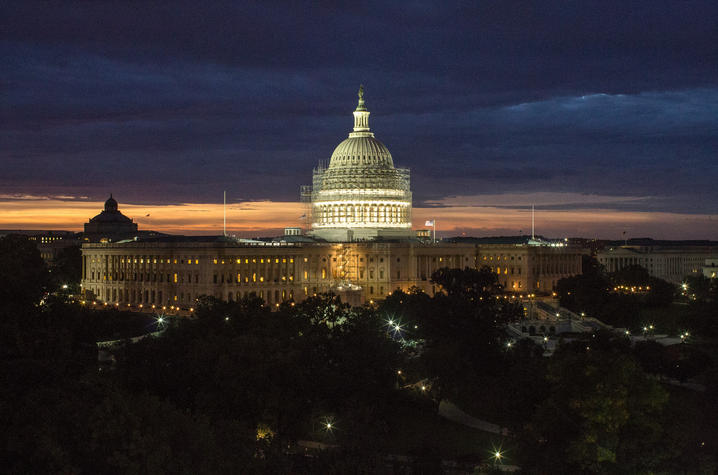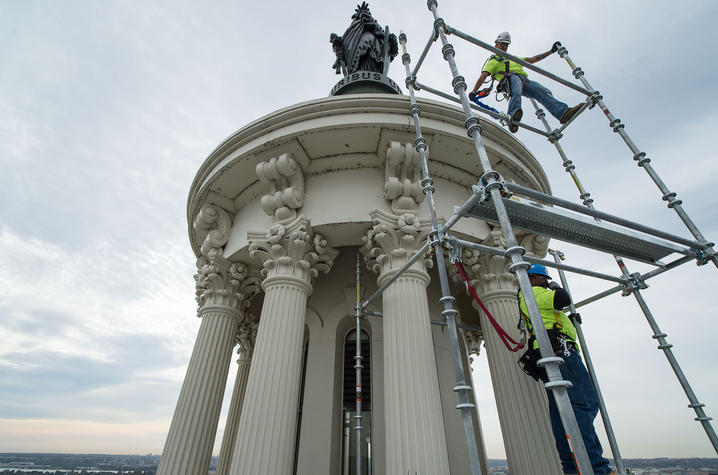 Leaders of the U.S. Capitol Dome Restoration project, including UK alumnus Eugene Poole Jr., talk about the work that was done on the building, which was completed in November 2016. Photos of restoration and video courtesy of Architect of the Capitol. 
Just a few drops.
In 1999, a few drops of water found their way to the rotunda floor from the upper levels of the U.S. Capitol Building.
Those drops would set in motion what became known as the U.S. Capitol Dome Restoration project.
And the recent successful completion of this multi-year, nearly $60 million dollar project will not go unnoticed, as the nation's 45th president is sworn into office on the building's steps in front of more than a million spectators and viewers of live TV broadcasts around the globe Jan. 20, 2017.
Helping to ensure the dome returned to its original splendor by that fated date was Project Manager and Capitol Jurisdiction Project Executive for the Architect of the Capitol Eugene Poole Jr., a 1985 architecture graduate of the University of Kentucky and native of Hopkinsville, Kentucky.   
"It is an awesome honor to serve as an ambassador for the United States Capitol building and a tremendous responsibility," Poole said. "In 1985 when I was in college at UK, if anyone were to have told me that I would, (in the future), become the project manager for the iconic Dome Restoration project and be the jurisdiction executive for the U.S. Capitol building, I would have laughed and said, 'No way!'; but, here I am, and it's simply awesome!"
Since 1999, several years of study and numerous pilot projects were initiated to extensively assess the overall condition of both the interior and exterior dome shells. The project design required many trade professionals and industries coming together to fully assess, vet and define the project scope requirements before initiating design protocol and subsequently drafting the statement of work and execution.
In 2008, Poole was assigned project manager with the responsibility to manage various phases of the U.S. Capitol dome project, including the interim painting phase and the two-year Dome Restoration Design Revalidation. In 2012, he managed procurement actions for the issuance and award of the complete restoration of the U.S. Capitol dome.
"Our main goal was to ensure that we performed the work in a responsible manner that is consistent with industry standards while also protecting the existing historical fabric, performing great historic preservation, minimizing any impact to the daily business of Congress, and keeping the project safe for all workers and consultants," Poole said.
The execution of the Dome Restoration project was accomplished in three phases:
· Exterior: Repair of iron exterior cracks by metal stitching, removal of 150 years of built-up paint to reveal intricate details, preparation of iron substrate, and repainting exterior dome shell with high performance epoxy coating system.
· Interior: Upgrading of electrical, mechanical, fire alarm, communications and lighting systems in interstitial space of the dome.
· Rotunda: Removal of 150 years of built-up paint from the inner dome coffers to reveal details of 1850s iron work that expresses the masterful levels of artistry during that era.
The project also called for the repair of iron work, upgrading mechanical and ventilation systems, and replacing the entire rotunda lighting system with energy efficient lighting. To see photos of the restoration process, the dome prior to restoration and other restorations in the building's history, visit www.aoc.gov/dome/images. 
Poole's studies and work experience made him the perfect fit to take on such a monumental restoration. His interest in architecture started early and even shaped his college choice.
"I chose architecture because even as a child, I was interested in the built environment. I was very curious and precocious about how things fit together, and at age 12, I knew I wanted to be an architect," Poole said. "I chose the University of Kentucky because of its outstanding accredited program and world class professors, many of whom have made significant strides globally in the architecture profession and overall construction industry. The UK College of Architecture (now UK College of Design) faculty comprises a diverse and mainly eclectic group of industry professionals that both challenge and provoke the thought process while simultaneously stimulating and demanding the best personal performance of each student."
And while he did find time to attend the occasional UK basketball game, Poole, like many other UK architecture students who followed him, spent most of his waking hours designing and constructing models in the studio and working in the wood shop. He also recalls many of the lessons and advice faculty offered him along the way, from scholarship recommendations by then-dean, Anthony Eardley, to encouragement to explore sustainable design by Richard Levine, to lessons in how to navigate the architecture profession and educate the public from Professor Clyde Carpenter, to advice on how to manage projects from a legal perspective from John Russell Groves.
After graduation, Poole's architecture and Air Force ROTC studies at UK propelled him to a valuable military career in the field of design.
His service took him throughout the U.S. and overseas to Guam, Japan, Korea, Saipan, England and Germany and afforded him many opportunities. "As an Air Force officer, (captain), I was an architect during my entire Air Force career and experienced an enormous level of responsibility and accountability as I managed millions of dollars of construction and executed all types of new construction, renovations, upgrades, retro-fits, demolitions, building reassignments, restorations and horizontal construction for the Department of Defense."
While he may have never imagined taking on leadership of the U.S. Capitol Dome Restoration project, Poole was honored to do so.
"The most rewarding part of my job is the visual actualization of the work being performed and the three dimensional results of those efforts. It is extremely gratifying to design a project, then, watch that project become a reality," he said. "Restoration of this historic building is the pinnacle of my professional career."