UK Earns a STARS Silver Rating for Leadership in Sustainability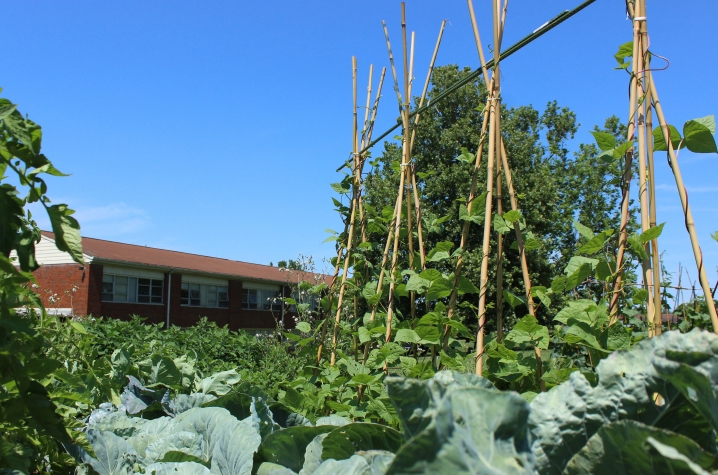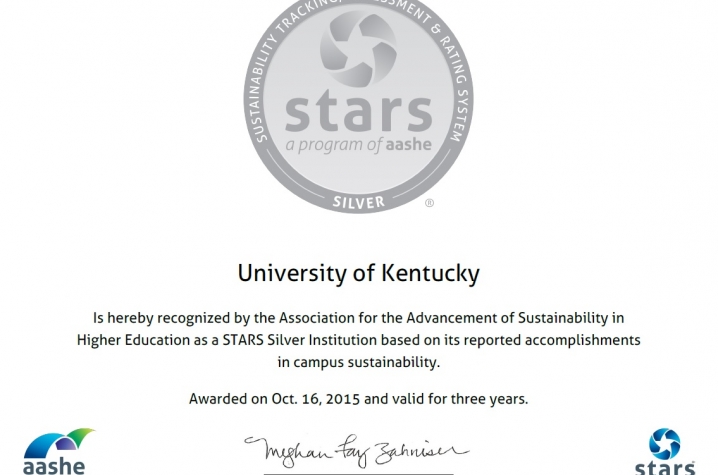 LEXINGTON, Ky. (Jan. 13, 2016) — The University of Kentucky has earned a STARS Silver Rating in recognition of its sustainability efforts from the Association for the Advancement of Sustainability in Higher Education.
STARS, the Sustainability Tracking, Assessment and Rating System, measures sustainability performance within academics, engagement, operations, and planning and administration. Rating more than 700 institutions on six continents, STARS is the world's most widely recognized standard for higher education sustainability.
"Earning a silver rating from STARS is very exciting for our campus, and the full report, available online, is a comprehensive resource for anyone interested in learning more about our efforts," said UK Sustainability Coordinator Shane Tedder.
In the fall of 2012, and in the midst of an unprecedented campus transformation, sustainability was adopted as one of the seven core principles in the Campus Master Plan. This has underpinned the university's efforts to carry out its multi-faceted mission of education, research, service, and health care in an environmentally responsible and energy-conscious manner.
UK received innovation credits for the Sustainability Challenge Grant Program and the Food Connection. Innovation credits are reserved for new, extraordinary, unique, ground-breaking, or uncommon outcomes, policies, and practices that greatly exceed the highest criterion of an existing STARS credit or are not covered by an existing STARS credit.
Using the U.S. Green Building Council's (USGBC) Leadership in Energy and Environmental Design (LEED) system, silver level certification has been targeted for almost all new capital construction projects. When the projects currently under construction are complete, UK will have 24 buildings — a total of more than 3 million gross square feet — certified by the USGBC, representing more than 15 percent of total building space.
Important steps have also been taken to enhance UK's greenspaces and urban forests. The university recently adopted Campus Landscape Guidelines that include requirements and guidance to prioritize ecology and environmental stewardship and enhance sense of place. The Tracy Farmer Institute for Sustainability and the Environment has also formed a diverse working group focused on urban forests. And for the past four years, UK has been recognized as a Tree Campus USA by the National Arbor Day Foundation recognizing the care and growth of campus trees.
Sustainability continues to guide advances in transportation options at UK. In the summer of 2015, a new partnership with Lextran was launched to allow all UK students, faculty and staff to ride any bus route free of charge. And more than 900 new or upgraded bicycle parking spaces were installed.
Through degree programs and a multitude of courses, including Sustainable Agriculture (SAG), Natural Resources and Environmental Sciences (NRES), and Environmental and Sustainability Studies (ENS), students learn about the pillars of sustainability and its impact in today's world.
UK's STARS Silver Rating will stay in effect for three years. For more information about UK's sustainability efforts, visit http://www.sustainability.uky.edu/. 
MEDIA CONTACT: Whitney Harder, 859-323-2396, whitney.harder@uky.edu