UK Hosts 100 International Fulbright Students For Global Health Seminar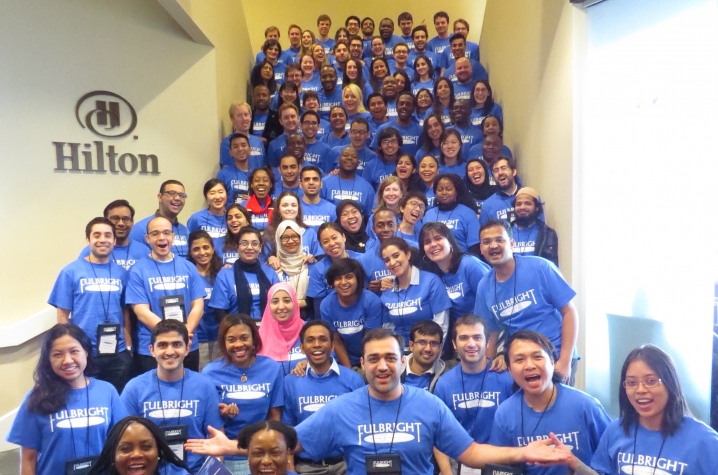 LEXINGTON, Ky. (March 13, 2015) — The University of Kentucky International Center hosted 100 Fulbright students from 55 different countries for the 2015 Fulbright Global Health Innovations Seminar from February 25 to March 1.
As one of the Fulbright Program's enrichment activities, the seminar supported the Fulbright Program's overall mission – "to increase mutual understanding between the people of the United States and the people of other countries," said Lana Muck, deputy director of the U.S. Department of State.
Fulbright students, who study public health and related areas in the U.S., attended a variety of events during the seminar. Muck said this seminar helped Fulbright students get a better understanding of American culture.
"Through this enrichment seminar, Fulbright students developed a better understanding of contemporary U.S. life and culture, as well as policy formulation and important global public health issues," Muck said.
Thomas Mohren, a student from the Netherlands, who is pursuing a Master of Science degree on insect flight at the University of Washington in Seattle, said the seminar was about networking and learning about different cultures.
"The most interesting thing for me was meeting with people from all over the world," Mohren said. "Not just talking about global health related issues, but also how life is in other countries."
Rama Dhenni, a student from Indonesia, who studies immunology at the University of Cincinnati, said participating in this seminar was a beneficial experience.
"I learned a lot about the problems of global health, and how we can be involved to solve those problems," Dhenni said.
Muck said UK was selected among a wide range of colleges and universities across the nation. She said UK did a good job hosting the event.
"The Fulbright Program invited a diverse group of colleges and universities to submit proposals to host the Global Health Innovations seminar. In selecting our seminar host sites, we look for the most comprehensive and innovative proposals," Muck said. "The University of Kentucky did a good job reflecting the interdisciplinary nature of global health and drawing on faculty and students across the university's many colleges."
The Seminar is sponsored by the U.S. Department of State.
MEDIA CONTACT: Rebecca Stratton and Blair Hoover; (859) 323-2395; rebecca.stratton@uky.edu blair.hoover@uky.edu