UK ITS' Mark Buede Presented Life Saving Award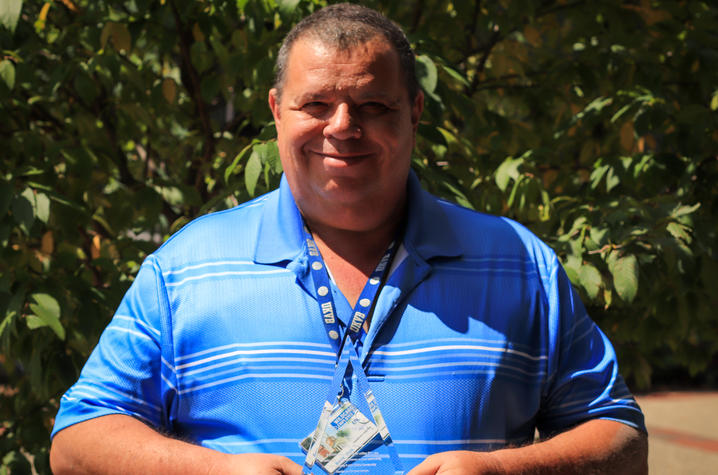 LEXINGTON, Ky. (Oct. 4, 2019) — Honorable deeds deserve great recognition. Mark Buede, a University of Kentucky Information Technology Services (ITS) systems operator, has been presented a Life Saving Award by the Kentucky Emergency Numbering Association and the Kentucky Association of Public Safety Communication Officials (KENA/APCO).
Buede's name has recently appeared in the local news due to his critical role in a child abuse arrest. While delivering a pizza for his second job at Papa John's, Buede was faced with an incredibly suspicious situation, leading to a 911 call. This ability to recognize a harmful situation and act on it led to the rescue of two young girls.
Buede's outstanding citizenship was brought to the attention of KENA/APCO, who recognize 911 callers who have saved and protected lives. The organization has honored Buede for making the call on Nov. 10, 2018, that ultimately saved and changed the lives of the young girls in danger. Buede was presented with a plaque as the recipient of this year's Life Saving Award. 
This is not the only honor that Buede has received for his solicitude. He was recently recognized by the Lexington Police Department with a public service medal.
For more information about ITS and its employees, visit www.uky.edu/its/.