UK Welcomes South African Visitors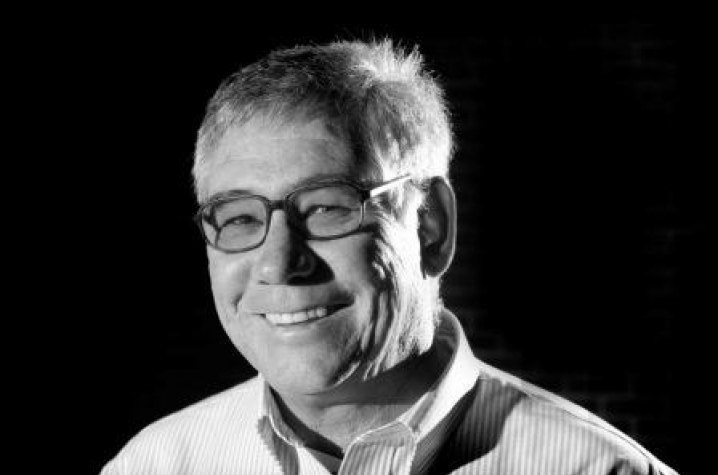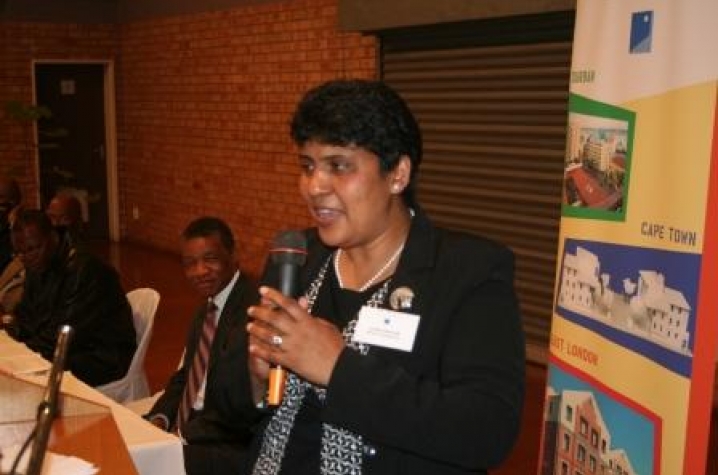 LEXINGTON, Ky. (March 18, 2011) − They went from 33 degrees Celsius to 33 degrees Fahrenheit. However, leading South African historian and sports figure Andre Odendaal and his wife, Zohra Ebrahim, the recently appointed chairperson of South Africa's Social Housing Regulatory Authority, have been impressed by the warm welcome of Central Kentucky residents, as well as the robust academic support of the University of Kentucky.
Both possess profiles that few men and women have attained in social work, business, sports, academia, history and politics, but they are humbly tight-lipped when asked to describe these accolades in detail.
Odendaal is a scholar-in-residence on campus and teaching "Sport and Society: Historical Perspectives on South Africa from the Earliest Times to the Present" this semester as a part of the College of Arts and Sciences South Africa Initiative, titled "Kentucky and South Africa: Different Lands, Common Ground."
Ebrahim is back and forth to South Africa, due to her new government post and other leadership roles, but she has plans to talk with Gatton College of Business and Economics students when she returns to campus in April.
"This is our first time in Kentucky, and we're having a lovely time," said Odendaal, who has taken a sabbatical from the role of CEO of Western Province Cricket Association and is working on his seventh book, among other projects. "I've really been able to step back, reflect and learn about new things here. That is what a sabbatical is all about. I'm surrounded by supportive people and the topics and visitors of 'Kentucky and South Africa' are impressive, from comparisons with Appalachia in public health to the forthcoming visit of Nelson Mandela's close comrade, Ahmed Kathrada."
In helping out an old friend, Odendaal is also helping himself

Andre Odendaal has known A&S Dean Mark Kornbluh for a decade.  "I jumped at Mark's idea to become involved with the South Africa program," he said. "Mixing my love of sport and academia is a change, but sport is a common way of connecting and linking across continents, and my students seem to be enjoying it."
The original Robben Island Museum director has three goals for his class of more than 100 students. "I want them to understand South Africa, become more aware of  the world as young people and also show how sport can be a window into society," Odendaal explained. "I'm amazed at comparative aspects of the two countries — both in sport and political issues. We've really been able to relate South African history with the American experience."
Odendaal recently wrote "The Story of an African Game," a book which is the first to cover in detail the history and experience of black African cricketers in South Africa. Odendaal was the only white first-class cricketer to play in the black leagues during the apartheid era in South Africa and he was for several years the chairman of the Transformation Committee of the United Cricket Board in South Africa.
A CEO in the boardroom, a player on the field and a historian in the classroom, Odendaal is all over the map, literally and figuratively. "I'm bringing so many dimensions into this space," he said. "All of the strands that have made up my life are, in a way, coming together here in Kentucky."
Ebrahim: a leader and self-starter in her own right
Zohra Ebrahim's quiet confidence belies an exhaustive list of regional and international awards steeped in leadership and governance. During South Africa's anti-apartheid movement, Ebrahim organized civic associations, which she describes as community-based organizations formed in the absence of government. "For example, we would organize for basic needs like electricity," she explained. "If you looked at the way people lived in the 1980s and the early 1990s, we needed these types of groups."
Ebrahim coordinated across color lines, especially in townships and organized around issues, rather than race. She continues to work in the multicultural vein, through projects like the Aspen Global Leadership Network.
"Aspen pairs young and established leaders from all over the world," Ebrahim said. "It's a stimulating thing — you have a wide range of people who all have clear opinions. We benefit from the varied insights."
Ebrahim chaired the Social Housing Company, which was awarded the Govan Mbeki Award for excellence in the provincial and national categories in November 2009 and Organisation Development Africa, a niche strategic management and public sector consultancy.
The savvy business and commercial developer was also the first black woman to head the SA Institute of People Management; she is currently a member of the Institute of Directors. From November 1999, Ebrahim was a non-executive director of Edcon and was deputy chairman of the group and chairman of the Remuneration Committee at the time of its purchase by Bain Capital in May 2007.
In July 2007, Bain Capital invited her to be an independent director of the new holding company of Edcon. She continues to chair both the Edcon Remuneration as well as the Transformation Committee. She has also been a director of Fifth Quadrant Actuaries and Consultants since 2002 and chairs their Remuneration Committee.
Most recently, Ebrahim became chair of South Africa's Social Housing Regulatory Authority. "South Africa's housing program is unique," she said. "We're one of the only countries where affordable housing amounts to giving cash amounts to owners for the title. This leads to its own sets of problems."
South African democracy expands along with the family

"Twenty-one years ago, Nelson Mandela was freed. I'm privileged to have been involved in change," Ebrahim said proudly.
Both Ebrahim and Odendaal were involved in politics during the anti-apartheid movement in South Africa. While Ebrahim organized civic associations, Odendaal fought his battles on the cricket field and by being productive as a historian.  "Things were actually simple," said Ebrahim. "It was a scary time, but we were a part of something big and unstoppable. It was easy to know the path to follow."
Odendaal compared the anti-apartheid movement to the recent political revolution in Egypt and other areas of the Middle East and Northern Africa, with its youthful energy, optimism and focus.
The pair's first two children were born around the time of democracy, which made that period doubly special for them, and their youngest, eight-year old Nadia, is in fourth grade at Glendale Elementary School in Lexington. "She's learned how to cycle and her Skype tag in January was, 'I love the snow, America is awesome!'" said Odendaal.
Like the rest of the UK community, Ebrahim and Odendaal are looking forward to honored guests Ahmed Kathrada and Barbara Hogan visiting Lexington in April.
Kathrada (Kathy) was one of the big names, including Mandela, involved in the Rivonia Trial, which led to life imprisonment with hard labor. Kathrada spent more than 26 years in prison, until he was released in 1989. Kathrada held various roles in the new South African government, including Parliament and President Mandela's parliamentary counselor. He also served as chairman of the Robben Island Museum Council.
Hogan was the minister of public enterprise and former minister of health in South Africa. The former political activist in the anti-apartheid movement is most well known for leading South African efforts to fight AIDS and advocate for HIV/AIDS prevention. In 2009, Time magazine named her one of the 100 most influential people in the world.
"Our involvement in the movement pales in comparison to them, "Ebrahim said."So many people contributed to the change, but Ms. Hogan and Mr. Kathrada sacrificed so much."
Humble to the end.
For more information on the South Africa Initiative visit www.southafrica.as.uky.edu.
MEDIA CONTACT: Erin Holaday Ziegler, (859) 257-1754 ext. 252, erin.holaday@uky.edu