UK Working to Grow Debate in Asia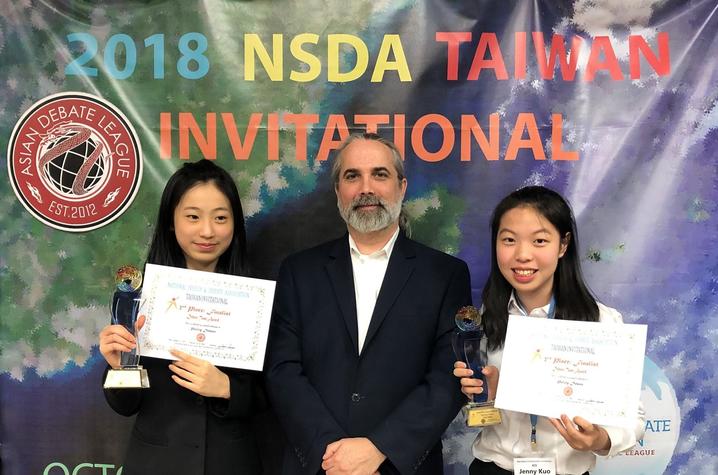 LEXINGTON, Ky. (Oct. 25, 2018) — What do you do the day after your team goes on an 18-1 winning streak, brings home tournament victories over Harvard University (twice), Wake Forest University, Northwestern University and Dartmouth College? If you are Dave Arnett, director of the University of Kentucky Intercollegiate Debate Team, you catch a flight to Taiwan to represent UK at the NSDA (The U.S. National Speech and Debate Association) Taiwan Fall Invitational, an international debate collaboration.
The NSDA Taiwan Fall Invitational is designated as a UK Tournament of Champions qualifier. The UK Tournament of Champions is a collaborative effort between UK and NSDA China and annually brings over 35 states and four countries to Lexington to compete in what many call the "most prestigious speech and debate tournament on the planet," according to Arnett.
The UK Tournament of Champions will be held in Lexington April 27-29, 2019.
On this trip to Asia, while Arnett was in Taipei, he delivered a presentation on the benefits of debate. He also met with coaches, parents and school administrators on growing debate in Asia.
Arnett will travel to Asia again for the third annual Tournament of Champions China held in Shanghai Dec. 22-23, 2018.
 It looks like Arnett and the debate team won't be slowing down anytime soon.
The UK Intercollegiate Debate Team is housed in the School of Information Science within the College of Communication and Information. The team is directed by Dave Arnett.