Watch Live: 2017 December Commencement Ceremonies
LEXINGTON, Ky. (Dec. 15, 2017) — Today, the University of Kentucky December 2017 Commencement Ceremonies will recognize the accomplishments of undergraduate, graduate and professional students who will have completed their degrees by the end of the fall 2017 semester.
Two ceremonies will take place at 10 a.m. and 2 p.m. Friday, Dec. 15, in Rupp Arena. Doctoral, master's and baccalaureate degree recipients are now recognized together based on their colleges.
More than 1,000 students are expected to participate in the ceremonies. Overall, 1,797 undergraduate, 845 graduate and 116 professional degree candidates had their degrees approved by the UK Board of Trustees.
Friday's ceremonies include:
10 a.m.: ceremony for students in the Colleges of Agriculture, Food and Environment; Education; Engineering; Fine Arts; Medicine; Social Work; Public Health; Pharmacy; Martin School of Public Policy and Administration; Patterson School of Diplomacy and International Commerce
2 p.m.: ceremony for students in the Colleges of Arts and Sciences; Gatton College of Business and Economics; Communication and Information; Design; Health Sciences; Nursing
Graduate Stories
While all graduates are celebrated for their tremendous achievements, many have particularly interesting stories to share about their lives and time at UK.
Kevin Massey was a 16-year-old high school athlete at Indiana's Franklin Central High School when he received a frightening diagnosis: he had an inoperable brain tumor. While in the hospital and given no more than 24 hours to live, the lifelong UK fan was surprised with a visit from Coach John Calipari. Calipari told him if he could get out of the hospital and into UK, Massey would be part of his staff. Proving prognoses wrong, Massey made it through the night, and then a month, and then a year. After starting school at UK, he became the manager for the basketball team, and players and coaches became his second family. Massey will graduate Friday with a degree in health communication from the UK College of Communication and Information. Read more about Massey: http://uknow.uky.edu/student-life/brain-cancer-survivor-basketball-team-manager-set-graduate-uk.
After Martha Tillson graduated from high school in New England several years ago, she tried college life but determined it wasn't for her. That decision led to an adventure of hitchhiking across the United States, meeting people from various backgrounds, and accumulating myriad experiences. When Tillson hit Lexington, she decided to enroll at UK and is completing bachelor's degrees in both social work and psychology. Many of the people Tillson met in her travels struggled with substance misuse, which has informed her research interests. Tillson will share her story as the student speaker during the 10 a.m. ceremony. Read more about Tillson: http://uknow.uky.edu/student-life/december-graduate-finds-home-and-purpose-uk-college-social-work.
When Seth Johnson hasn't been fighting fires for the Georgetown Fire Department, he has been working toward his degree in international studies with a focus on Russia/Eurasia and comparative politics. Johnson, 38, will graduate this Friday. The full-time firefighter, who is also raising three children ages 3, 8 and 10 with his wife, has been attending UK part time since transferring from the Kentucky Community and Technical College System. He even studied abroad in Russia during the summer of 2014. Johnson is seeking a career on an international level, "advancing not only U.S. interests, but the interests of mankind."
Honorary Degrees
Jewell Deene Ellis, an educator and former teacher trainer, and L. Stanley Pigman, an engineer and entrepreneur, will receive honorary degrees at the 10 a.m. ceremony.
Read more: http://uknow.uky.edu/professional-news/ellis-pigman-receive-honorary-degrees.
Student Speakers
In addition to UK President Eli Capilouto, a student representative will address the audience at each of the ceremonies, as per UK tradition. Martha Tillson, from Lexington, is graduating with bachelor's degrees in both social work and psychology. She will give the Commencement address at the 10 a.m. ceremony. Sarah Gossett, from Taffy, Kentucky, is graduating with a bachelor's degree in integrated strategic communication from the UK College of Communication and Information. She will deliver the Commencement address at the 2 p.m. ceremony.
Read more: http://uknow.uky.edu/student-life/tillson-and-gossett-deliver-december-2017-commencement-addresses.
Livestream
Both ceremonies will be streamed live at www.uky.edu/uknow, the university's news website. Full video of each ceremony will be available within two weeks after Commencement on the university's YouTube channel, www.youtube.com/universityofkentucky.
Social media users are encouraged to use the hashtag #UKgrad.
For more information about UK Commencement, visit www.uky.edu/commencement.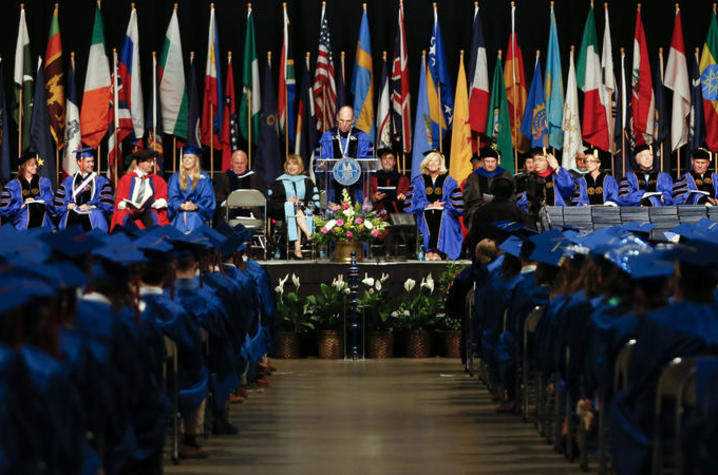 UK is the University for Kentucky. At UK, we are educating more students, treating more patients with complex illnesses and conducting more research and service than at any time in our 150-year history. To read more about the UK story and how you can support continued investment in your university and the Commonwealth, go to: uky.edu/uk4ky. #uk4ky #seeblue