'Water Justice' Workshop Promotes Equal Access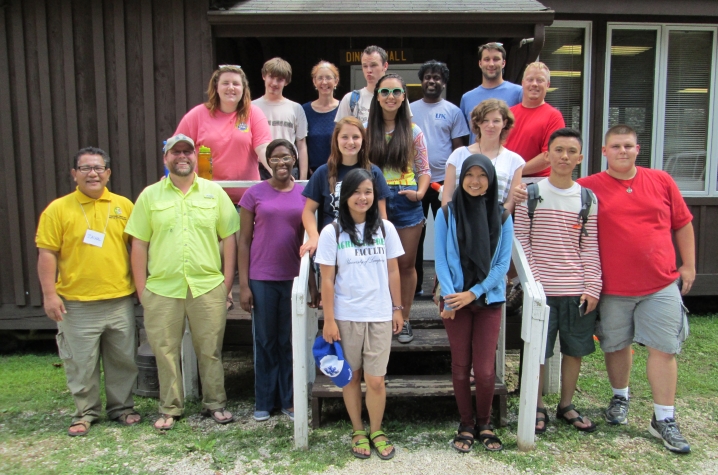 LEXINGTON, Ky. (July 21, 2014) — A "water justice" workshop organized by the University of Kentucky's Appalachian Center was held July 7-11 in Robinson Forest to promote equal access to water resources and inclusive decision-making concerning these resources on local, regional and global scales.
Participants included Kentucky high school students, public school educators, UK faculty and staff, biology and biosystems engineering majors, natural resources and environmental science majors, a faculty member and three undergraduates from the University of Lampung, Indonesia, visiting scholars from Denver University and Eastern Kentucky University, and representatives from the Kentucky River Watershed Watch, Kentucky Division of Water, Upper Tennessee River Roundtable, the Kentucky Riverkeeper and Green Forests Work.
The group received training in watershed mapping and monitoring, water quality testing, and macroinvertebrate and habitat analysis. Participants discussed the relationship between communities sharing a watershed, problems of pollution and privatization and different models of water distribution, including community water supply and community forestry techniques from Indonesia that could be adapted for use in Appalachia.
At a public summit on water justice, held Saturday, July 12, in Memorial Hall, attendees had the opportunity to "meet a salamander," use the Bluegrass Greensource enviroscape, and learn participatory decision-making techniques used by the Kentucky Water Resources Research Institute, based at UK. Alan Fryar facilitated a Skype conference with young people from Morocco and Turkey, to talk about water issues in their countries.
Zainal Abidin, who attended the workshop with undergraduates from the University of Lampung majoring in agricultural economics and forestry, is a participant in a long-term exchange UK has with agricultural extension and community forestry faculty in Indonesia. In the spring of 2015, these students will be in touch, through Skype, with students in Ann Kingsolver's Global Appalachia course at UK.
The UK Appalachian Center seeks to connect conversations in Appalachia with conversations in other mountain regions of the world. The center organized a Global Mountain Regions conference in 2012 and has hosted a number of visiting scholars from mountain regions. During the coming academic year, there will be a Fulbright visiting researcher from the Himalayan region and visiting scholars from the Catalan region of Spain and from Sardinia, Italy, who are doing comparative research on mountain environments.
Those interested in free educational resources generated through the water justice workshop and summit may contact Shane Barton, UK Appalachian Center Program Coordinator, at shane.barton@uky.edu or 859-257-4852.