Ag Biotech Student is First in Collaborative Master of Medical Sciences Program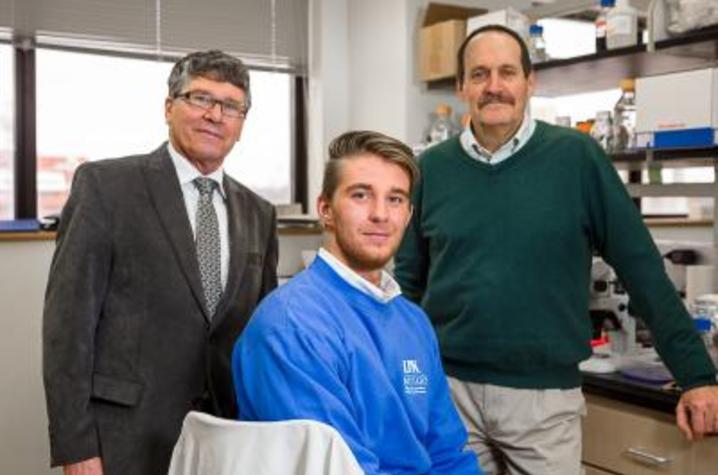 LEXINGTON, Ky. (Jan. 27, 2016) — As a third-grader, Ellis Shelley was not a typical child. A self-described science nerd, he often would rush home from school and into the barn to check on chick eggs in the incubator. The Albany, Kentucky, native could explain exactly what was happening in each phase of the 21-day incubation cycle.
"When I took reproductive physiology during my undergraduate studies, I recalled that experience and realized science was always where I was destined to be," he said.
After finishing up his bachelor's degree in the University of Kentucky College of Agriculture, Food and Environment in agricultural biotechnology, Shelley will begin his master's degree in medical sciences. He is the first UKAg student in the program, a collaboration between CAFE and the UK College of Medicine.
"This newly formed University Scholars program combines the strengths of the undergraduate agriculture biotechnology program in the College of Agriculture, Food and Environment with the master's of medical sciences program in the College of Medicine," said Joe Springer, director of the program and professor in the UK College of Medicine. "This partnership across our two colleges is a unique approach that will greatly enhance the placement of our students in professional schools, graduate degree awarding programs and industry."
"This is the first partnership between the two colleges and that's a big deal," said Bob Houtz, chair of the UK Department of Horticulture who also serves on the coordinating committee for the agricultural biotechnology program. "All our agricultural biotech students already do research; we're trying to make the transition seamless, so that many of them can continue the same research in their master's of medical sciences studies."
Shelley's undergraduate research has focused on helping a local truffle farmer use biotechnology to take a lot of guesswork out of his production practices. His mentor is UK horticulture professor Seth DeBolt.
"Ellis is an extremely strong student; he's very bright," DeBolt said. "We've been able to work with a local entrepreneur and apply biotechnology that could help him with his truffle orchard. This is a very expensive business and usually unpredictable."
He and Shelley came up with a way to potentially detect the presence of truffles underneath the soil, lessening the entrepreneur's risk.
"By developing this biotechnology, we hope to give Kentucky farmers a tool to make the truffle become a major cash crop for the state," Shelley said.
"Learning advanced problem-solving like this is going to be an advantage for Ellis as he goes into his master's program," Debolt added.
Shelley said he eventually wants to pursue a medical career, and he and DeBolt will decide soon what research project they'll pursue for Shelley's master's program.
MEDIA CONTACT: Aimee Nielson, 859-257-7707.