From AHEC Health Career Campers to Wildcats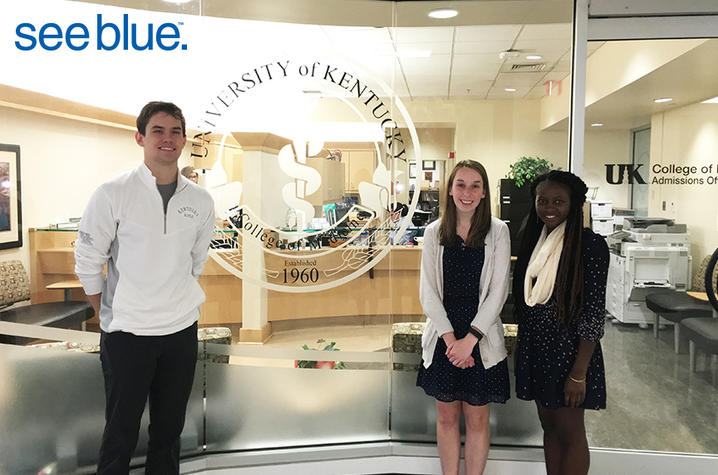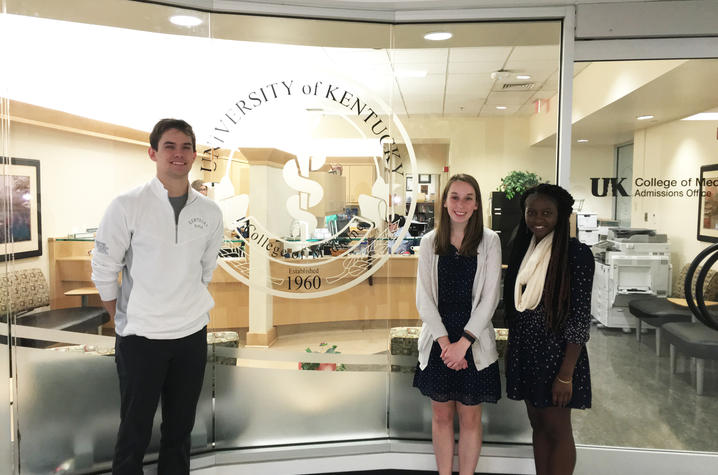 LEXINGTON, Ky. (June 17, 2016) – Established in 2005, the Area Health Education Center (AHEC) Pipeline Program works to further the interest of students in health professions. One of the goals of AHEC is to increase the number of health care providers in the Commonwealth.
A popular manifestations of this program is the Summer Health Careers Camps. Open to Kentuckians, who are juniors or seniors in high school, camps allow students to interact with professionals from a variety of medical fields. There are two camp options, Summer Enrichment Camp, which lasts four weeks or Health Researchers Youth Academy, which lasts two weeks. Both camps are located at UK and students stay in residence halls. Funded entirely by the University of Kentucky College of Medicine, this program is free to applicants who are accepted.
Many students who participate in these camps choose to complete their medical studies at UK. As one of only three universities in Kentucky where students can begin medical training, UK is a natural choice for local students to attend medical school. Three first-year medical students, who previously completed the AHEC summer health camps share their experience and how it influenced their decision to enter health professions. 
Stella Achenjang, First-Year Medical Student
Stella, born and raised in Cameroon, moved to Kentucky with her family when she began high school. Her interest in the AHEC program was initiated by her sister, a fourth-year medical student at UK. Stella attended the Health Researchers Youth Academy in 2010, an experience she says was valuable in developing her understanding of medical research. In addition to reading articles and studies, campers were given opportunities to develop their understanding of research protocols. The interest that was sparked that summer helped Stella realize she would like to be involved in research during medical school. Not only did Stella attend the camp as a high school student, she also served as Resident Advisor in 2015.
Nicki Frost, First Year Medical Student
Nicki, a Lexington native, attended Centre College for her undergraduate studies before coming to UK. An aspiring OB/GYN, Nicki attended the Summer Health Careers Camp in 2009 and came back in 2012 and 2013 to serve as a Resident Advisor. The camp Nicki attended had a clinical focus and gave her the opportunity to observe clinicians in an authentic setting. One of the most important skills Nicki learned was how to shadow. Though shadowing can be "awkward" she was able to learn the best ways to ask questions while observing. Shadowing is an important educational tool for those in the health field and the camp enabled Nicki to eliminate the learning curve before starting medical school.
Cody Manning, First-Year Medical Student
For Cody, camp was especially helpful; he knew he wanted to go into a medical field, but wasn't sure which one he said "By the end of AHEC I knew I'd end up doing this [medical school]." After attending the 2009 camp Cody served as a Resident Advisor in 2012 and 2013. For a physician hoping to practice in Kentucky like Cody, this camp is an opportunity to become acquainted with the specific needs of this patient population. Cody has accepted a scholarship with the United States Army and will be stationed outside of the state following medical school.
AHEC provides high school students with a more complete picture of what medical training is like and how they will use their skills to improve the health of the Commonwealth.
For more information about the residential summer camps at the University of Kentucky contact Michael Witt at michael.witt@uky.edu, email healthcareers@uky.edu or call 859-323-1378.
UK is the University for Kentucky. At UK, we are educating more students, treating more patients with complex illnesses and conducting more research and service than at any time in our 150-year history. To read more about the UK story and how you can support continued investment in your university and the Commonwealth, go to: uky.edu/uk4ky. #uk4ky #seeblue
Media Contact: Olivia McCoy, olivia.mccoy1@uky.edu, 859-257-1076