Baptist Health Joins UK HealthCare Organ Failure and Transplant Network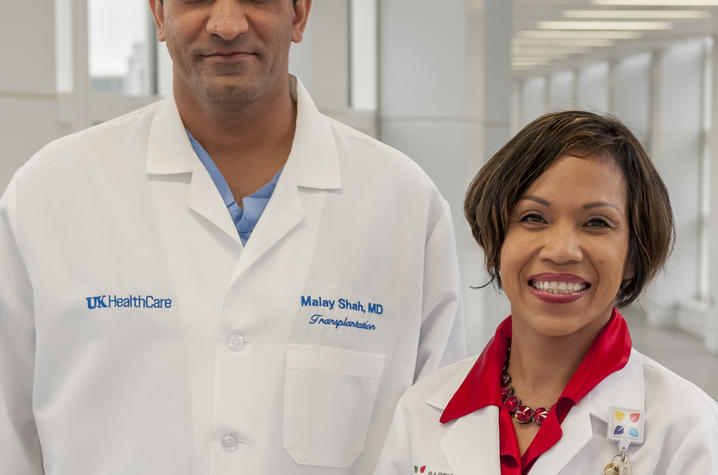 LEXINGTON, Ky. (April 15, 2016)  ̶  The Baptist Health system recently became a member of the University of Kentucky Organ Failure and Transplant Network (OFTN), a new UK HealthCare initiative focused on providing patients in organ failure with access to state-of-the-art care, including organ transplantation.
The OFTN will comprise systems, hospitals and independent physician practices across Kentucky and beyond. Its aim is to optimize the care of patients with advanced kidney, lung, liver and heart failure by providing seamless continuity of care from initial diagnosis through organ transplantation.
"The genesis of the Organ Failure & Transplant Network arose out of our realization that the existing model was not serving patients or the overall health care system well. Often, patients reached us too late, or not all, and missed the full benefit of services we offer," said Dr. Michael Karpf, UK executive vice president for health affairs. "By building a network, we have a structure in place to support local providers in their efforts to manage patients with a very complex set of problems. Many of them will remain in the care of their local Baptist Health provider longer, close to home and family, with a little more support from us and open lines of communication."
Under the OFTN umbrella, UK HealthCare and Baptist Health can offer a continuum of clinical expertise that will enhance the coordination and quality of care for Baptist Health patients who have reached advanced organ failure. Given Baptist Health's statewide coverage, its addition to the network greatly extends care to Kentuckians in organ failure.
"Our practitioners want to stay informed and would rather send Baptist patients to a center where we have already been in communication, have been involved, and know what to expect when the patient returns to our care. We are also in a better position to prepare the patient for what lies ahead," said Steve Hanson, Baptist Health CEO. "This formal affiliation allows us to work more closely with UK toward the goal of providing the best organ failure and transplant care for patients."
The UK Transplant Center has experienced unprecedented growth during the last five years as the program has grown to meet the state's needs for end-stage organ failure management, including organ transplantation. Referrals are received throughout the state and region. Heart transplants set an all-time record in 2015, and abdominal transplant referrals have increased 164 percent to more than 1,400 since 2005.
As UK specialists have begun seeing increasing numbers of patients in end-stage organ failure, the need to collaborate with referring physicians around the care of the patient has grown.
"Internally, we are placing a stronger emphasis on multidisciplinary care of these patients," said Dr. Roberto Gedaly, director of the UK Transplant Center. "We are working toward a seamless continuum of care so that those who present in our specialty clinics in organ failure receive the best evidence-based care management. If transplant becomes indicated, we can anticipate it and plan for that transition in the care plan."
By working together and developing new models of "shared care," patients of providers belonging to OFTN can receive care close to home as long as possible while maintaining access to advanced medicine offered at UK HealthCare. Many of UK's resources and capabilities are not available elsewhere in the state, such as the bridge-to-transplant options available in the UK Gill Heart Institute's Heart Failure Program.
Kentucky faces some of the highest rates of organ failure and mortality in the nation. With nearly 1,000 Kentuckians waiting for an organ transplant because of organ failure, the affiliation may also put more power behind raising awareness around the importance of organ donation.
As a member of the OFTN, Baptist Health also gains access to clinical education and training; affiliate administration and network support; and community outreach and education. OFTN members will choose the network-provided services that meet the unique needs of each.
Already, some Baptist Health providers have chosen to participate in mini fellowship programs and to shadow UK physicians to learn more about issues surrounding the patients they refer.
The Organ Failure and Transplant Network is an outgrowth of longstanding relationships UK has forged with Norton Healthcare and Nephrology Associates of Kentuckiana in Louisville and Western Kentucky Kidney Specialists in Paducah to provide state-of-the-art care for patients in heart, lung, liver, and kidney failure who require higher level care, including organ transplantation.
UK is the University for Kentucky. At UK, we are educating more students, treating more patients with complex illnesses and conducting more research and service than at any time in our 150-year history. To read more about the UK story and how you can support continued investment in your university and the Commonwealth, go to: uky.edu/uk4ky. #uk4ky #seeblue
Media Contact: Kristi Lopez, kristi.lopez@uky.edu