Glen Campbell's Physician, Dr. Ron Petersen, to Speak at Annual Sanders-Brown Center on Aging Symposium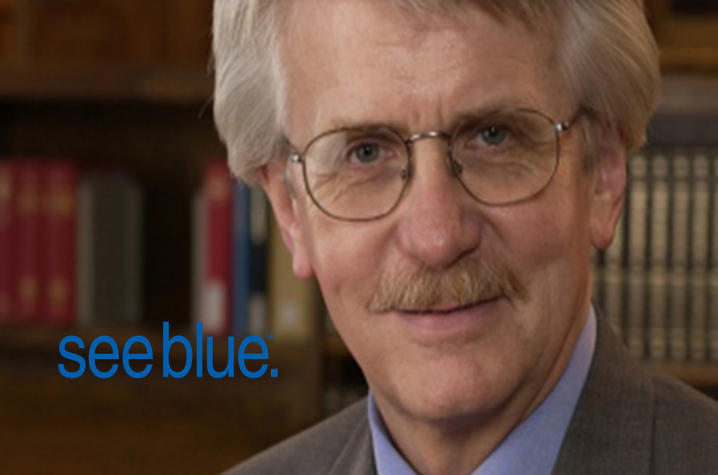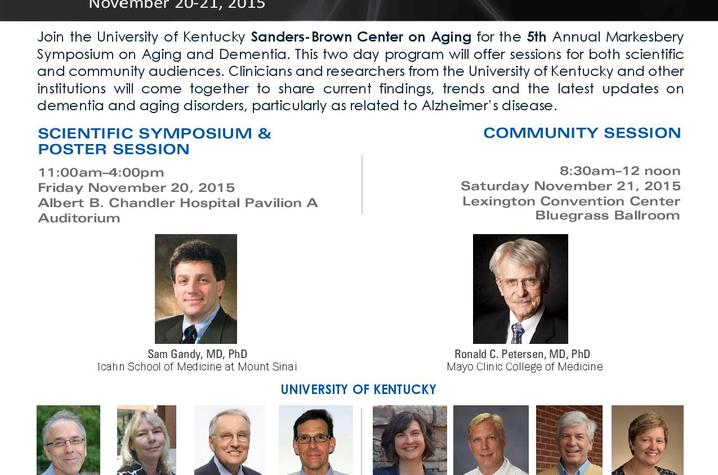 LEXINGTON, Ky. (Nov. 17, 2015) — Many people think there's never been a darker time for Alzheimer's disease (AD).
There's no cure, they point out. The field is littered with treatment failures; the last time the FDA approved a drug to treat the symptoms of Alzheimer's disease was 2003. 
Dr. Ronald Petersen is adamant that this is wrong-headed thinking. "We learn even in failure," he said, "and we know more than ever before about how and when the AD disease process begins."
Petersen is the director of the Mayo Clinic Alzheimer's Disease Center and the Mayo Clinic Study of Aging, a population-based study of aging with a cohort of more than 2,800 men and women. The study generates a massive amount of data that might help tease out the causes, markers and subtle signs of AD.
Petersen is coming to UK as the keynote speaker for the community session of the fifth annual Sanders-Brown Center on Aging's Markesbery Symposium on Nov. 21 to reinforce the idea that there is hope.
He will bring with him a clip from the documentary "Glen Campbell: I'll Be Me." Petersen has helped care for the country music star since he was diagnosed with AD in 2011.
"Glen Campbell's situation is a terrific example of both how frustrating and confusing AD can be, but also how the support of family and others can make the best of a bad situation," said Petersen, who is professor of Neurology at the Mayo Clinic in Rochester, Minnesota. 
The title of Petersen's presentation for the Markesbery Symposium's community session is "How early can we diagnose Alzheimer's disease?" In addition to the Glen Campbell clip, he'll share the story of a 53-year old woman recently diagnosed with AD.
"We've made great strides in the last decade or so, and are now able to detect the disease earlier than we formerly could," said Petersen. "While we currently have very little in the form of drug therapies to treat AD once it's diagnosed, we still encourage an early diagnosis to allow for lifestyle modifications and planning for the future."
The research community is focused on biomarkers as a means to that end. Biomarkers are biological hallmarks of disease: the urine contains hints that a patient has diabetes, for example, or the blood can tell someone whether they perhaps have prostate cancer.
(Sanders-Brown researchers have also been looking into biomarkers for AD. For the story click here)
Identifying AD's current biomarkers — amyloid and tau — require advanced imaging techniques or lumbar punctures for an accurate diagnosis.  The hope, says Petersen, is that a simpler test — blood or urine, perhaps — will be developed to reveal changes in the brain before irreversible cognitive decline has begun.
Also on Saturday, a research highlights session with moderator Fred Schmitt and researchers from Sanders-Brown: Erin Abner, Steve Scheff, Donna Wilcock, and Greg Jicha — will present the latest findings on research into age-related dementias and answer questions from the audience.
On Friday, Nov. 20 is the Markesbery Symposium's scientific session, with a poster presentation and a keynote address by Dr. Sam Gandy, Ph.D., of the Icahn School of Medicine at Mount Sinai, who will discuss new concepts in the development of therapeutics for AD.  Sanders-Brown researchers Steve Estus, Elizabeth Head, Mark Lovell, and Dick Kryscio will also discuss their research at the session. Petersen will be presenting as well. 
"We are fortunate to have accomplished scientists like Drs. Petersen and Gandy here to complement the work of our own researchers for this very important weekend," said Linda Van Eldik, Ph.D., director of the Sanders-Brown Center on Aging. "The Markesbery Symposium has traditionally been a time when researchers convene to share their ideas about the diagnosis and treatment of age-related dementias like Alzheimer's disease, and from those conversations often come new collaborations and meaningful progress."
Both sessions are free and open to the public, however, registration is required.  For more information on registration call (859) 323-6040, email Paula.Thomason@uky.edu, or go to http://www.centeronaging.uky.edu
MARKESBERY SYMPOSIUM
Scientific session: Nov. 20, 2015
11 a.m.- 4 p.m.
University of Kentucky Albert B. Chandler Hospital Pavilion A auditorium
Community session: Nov. 21, 2015
8:30 a.m. - noon
Lexington Convention Center Bluegrass Ballroom
(Free breakfast provided)
The symposium is named in honor and memory of the late Dr. William R. Markesbery, founding director of the Sanders-Brown Center on Aging and Alzheimer's Disease Center at UK. Dr. Markesbery's legacy of groundbreaking research at the Center on Aging has formed the bedrock for the quest to understand and treat Alzheimer's disease and to improve the quality of life of the elderly.
The Sanders‐Brown Center on Aging (SBCoA) was established in 1979, and received funding as one of the original ten National Institutes of Health Alzheimer's Disease Centers in 1985. Internationally acclaimed, the SBCoA is recognized for its contributions to the fight against brain diseases associated with aging.
Media Contact:  Laura Dawahare, Laura.Dawahare@uky.edu, (859) 257-5307