Houston, We Have a Problem: Astronaut Jim Lovell to Headline Sanders-Brown Annual Dinner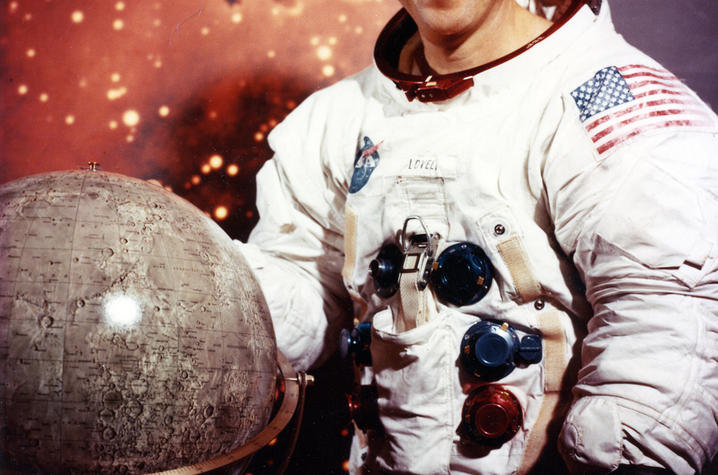 LEXINGTON, Ky. (March 23, 2016) — You'd be hard pressed to find someone who hasn't heard the phrase, "Houston, we have a problem."
Those five words scrambled NASA Flight Control in Houston and made Capt. Jim Lovell, commander of Apollo 13, an enduring national icon.
On April 7, 2016, almost 46 years to the day Apollo 13 splashed down safely in the Pacific Ocean after one of the most harrowing chapters in space exploration to date, Lovell will be the featured speaker at the University of Kentucky's Sanders-Brown Center on Aging Foundation's annual dinner.
In 1970, space exploration was starting to become a routine enterprise in the public's eyes, and the Apollo 13 mission was, according to an MSNBC documentary, "the moon mission people ignored." But that changed when two of the spaceship's three oxygen tanks exploded, leaving the crew stranded without electrical power, computers or the use of their propulsion system approximately 200,000 miles from Earth.
"I floated back to look at the tank gauges, and one was at zero, and the second one was going down," he recalled.  "Then I looked out the window and I could see gas escaping at a fairly high rate.  It didn't take much to put two and two together and know we were in really big trouble."
That moment, says Lovell, was like a "lead weight sinking to the bottom of my stomach."
But with the inventiveness of the staff at Houston's Johnson Space Center and the courageous spirit of Lovell and his crew Fred W. Haise Jr., and John L. "Jack" Swigert Jr., the astronauts repurposed what little they had on board with them to modify the lunar module into an effective lifeboat that would return them to Earth safely against all odds. The dramatic story of Lovell's calm, careful command and the teamwork of his co-astronauts and ground crew has been immortalized in books and on film, and earned Lovell the Congressional Space Medal of Honor, the Presidential Medal of Freedom, and the Neil Armstrong Outstanding Achievement Award from the National Aviation Hall of Fame.
At the Sanders-Brown annual dinner, Lovell will share how teamwork was an essential element in the success of Apollo 13's safe return to Earth and how that same team spirit can help patients with Alzheimer's or other age-related dementias — and their families — persevere through terrible strife.
"Having Captain Lovell come is a delight for us, since he personifies the qualities that we see in the Sanders-Brown researchers and in the families touched by Alzheimer's disease," said Bennett Prichard, COAF board member and dinner committee chairman. 
The UK Sanders-Brown Center on Aging has been conducting research on Alzheimer's disease, stroke and other age-related disease for more than 35 years. In 1985, the Center was one of the first ten National Institutes of Health-funded (NIH) Alzheimer's Disease Research Centers, and today is one of only a handful of centers that has enjoyed continuous ADC funding.
The SBCoA Foundation was founded to support this internationally prestigious research center, underwriting the work that identifies mechanisms for healthy brain aging and age-related diseases and exploring treatments that may slow down, cure and/or prevent these diseases entirely.
The dinner will take place Thursday, April 7 at the Lexington Center Blue Grass Ballroom starting with a cocktail reception at 6:30 pm. The dinner and program begins at 7:30 p.m. Individual tickets are $175; table sponsorships start at $1,500. For more information contact the Foundation Office at 859-323-5374.
Media Contact: Laura Dawahare, laura.dawahare@uky.edu