National Institutes of Health Directors Join Rogers and Health Leaders to Discuss Scourge of Cancer and Substance Abuse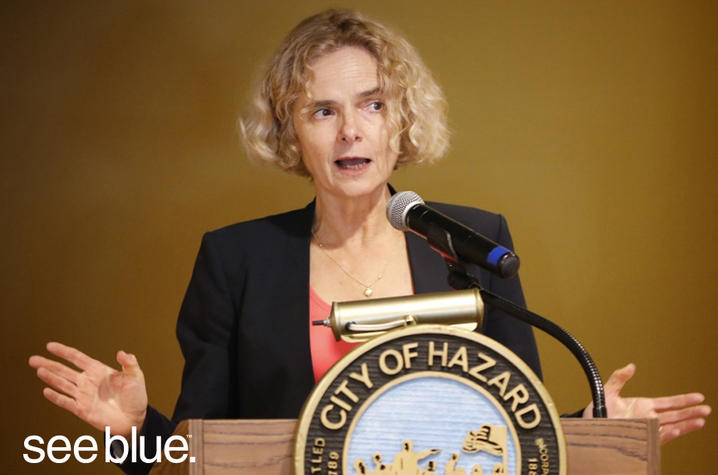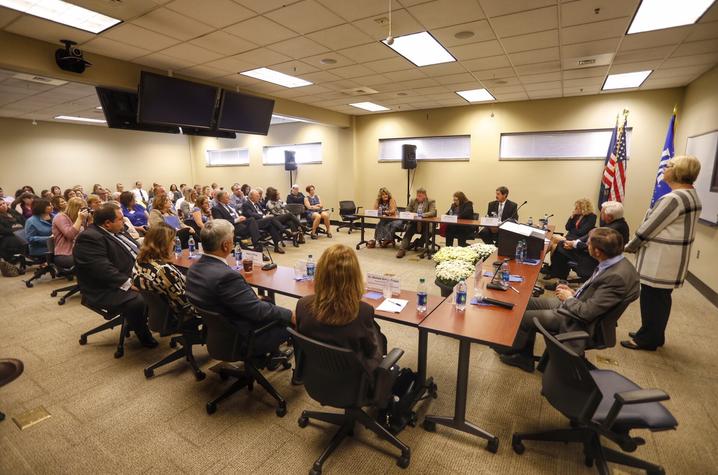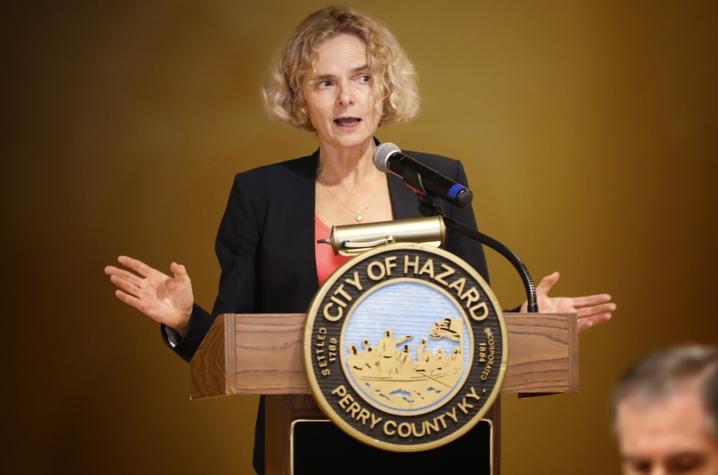 Video by UK Public Relations & Marketing
HAZARD, Ky. (Oct. 7, 2016) — U.S. Rep. Harold "Hal" Rogers along with top leaders from the National Institutes of Health spent Thursday in Hazard discussing and examining efforts to combat high rates of cancer and substance abuse disorders plaguing Kentucky's Appalachian region.
Dr. Doug Lowy, director of the National Cancer Institute (NCI), and Dr. Nora Volkow, director of the National Institute on Drug Abuse (NIDA), joined Rogers, leaders and researchers at the University of Kentucky, the UK Center of Excellence in Rural Health, Appalachian Regional Healthcare and medical leaders from across southern and Eastern Kentucky.
"We are honored to have these federal leaders like Dr. Volkow and Dr. Lowy join us in the trenches as we examine these health challenges that have plagued our region for so many generations," said Rogers. "Cancer rates in the region have been something we have been battling for many years and in more recent years this region has become ground zero for the prescription drug abuse epidemic."
As part of the day's activities, leaders met with Dr. Sam Bailey, oncologist at ARH Cancer Center in Hazard, and Dr. Tim Mullett, professor of surgery and medical director of the Markey Cancer Center Research Network, to discuss some of the particular cancer-related issues in the region.
Although rates of screenings for colorectal and lung cancers – two of the most deadly forms of cancer that persist in the region – have increased, there is still work to be done.
"Getting patients to undergo the initial cancer screenings is still the hardest part," said Dr. Bailey. "These screenings can save a person's life but it is a challenge often to get people to take that first step that is so vital in detecting cancer early before it has advanced."
As an affiliate of the Markey Cancer Center, the ARH Cancer Center refers patients to Markey that need specialized care as well as for cancer clinical trials. However, Bailey says often getting people to travel to both Lexington to UK and but also to the clinic in Hazard can be a barrier due to costs associated with gasoline and other transportation-related expenses.
"We have been proactive in raising money to provide gas cards to patients for them to use to get here to Hazard for their treatment or to UK and we've found for some patients it really makes a difference in whether or not they are able to get the care they need," said Hollie Harris Phillips, vice president of corporate strategy at ARH.
Overall, in trying to reduce the factors that cause cancer, there are no short-term solutions. "What I do know is that to make strides we have to do it all -- clinical care, education, healthier food options and promoting more exercise," said Mullett. "Things are better now than they were 30 years ago in terms of engagement but things are worse than they were 30 years ago because of the consequences of obesity and lifestyle issues."
Despite the challenges that remain, Lowy commended local health leaders in their efforts to confront the issues impacting their community.
"To see the way you have marshalled your resources in a multi-pronged way to seek answers to the issue of cancer as well as the very difficult situation occurring with the severe problem of prescription drug addiction is impressive," said Lowy. "I applaud you for not just focusing on one problem. You really are a community that has come together to try to deal with the multifaceted nature of health and health problems in your community."
Also part of the day's activities was a roundtable discussion on the prescription drug epidemic in the region.
Participants in the discussion included Dr. Michelle Staton-Tindall from the UK Center for Drug and Alcohol Research, Nancy Hale from Operation UNITE, Tim Robinson from Addiction Recovery Care, and a former drug addict who shared her story of prescription drug abuse and her recovery.
"I cannot tell you how valuable this day has been to me because it gives me a perspective that you can't get by reading journals or through scientific meetings," said Dr. Volkow. "I hope we can continue this relationship and continue the discussion on how to battle this epidemic together."
UK is the University for Kentucky. At UK, we are educating more students, treating more patients with complex illnesses and conducting more research and service than at any time in our 150-year history. To read more about the UK story and how you can support continued investment in your university and the Commonwealth, go to: uky.edu/uk4ky. #uk4ky #seeblue
Media Contact: Kristi Lopez, kristi.lopez@uky.edu