UK Ag Students Grew Strong Through Their College Years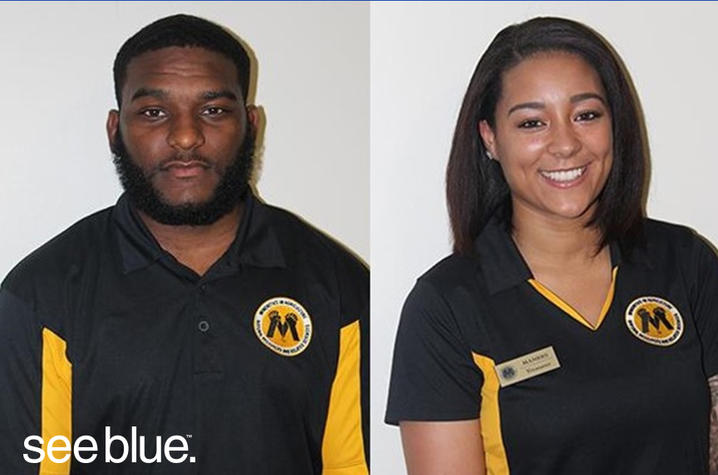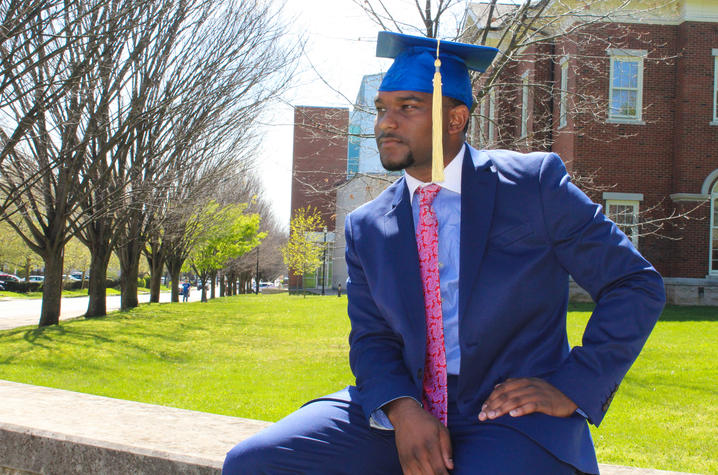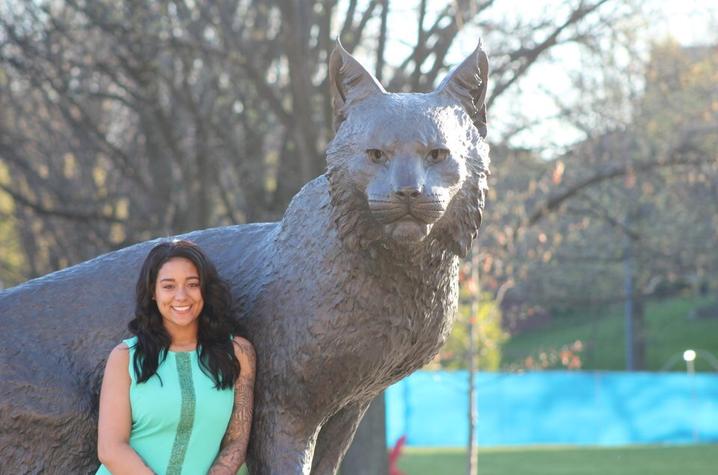 LEXINGTON, Ky., (May 4, 2016) — Jeffrey Mitchell Jr. and Shalara Wells will walk across the Rupp Arena stage at the University of Kentucky's Commencement ceremonies this Sunday (May 8) with a well-earned sense of pride and accomplishment. Mitchell will be the first person in his family to ever graduate from college, while the fact that Wells will receive her degree on Mother's Day holds some extra special significance. Both are graduating from UK's College of Agriculture, Food and Environment.
Mitchell, from Lousville, Kentucky, grew up in an urban environment far from any farm pastures, yet always had a love for animals. During his teenage years at Cenral High School, he developed a strong interest in horses. While he did not grow up with any close role models in the equine industry, he was intrigued by the chance to study equine science business and management at UK.
"Over the years, I have seen people react with great surprise when I tell them about my passion for horses and my desire to make it my career," Mitchell said. "The business side of the equine industry is not something you see a lot of African-American males aspiring to. That's fine with me and makes me feel like I stand out in a crowd, not only because of my diversity, but also thanks to the education and experience I have been able to obtain while here at UK. It feels like I've gained a second family with similar interests during my time here."
Mitchell credits UK's award-winning MANRRS (Minorities in Agriculture, Natural Resources and Related Sciences) chapter for helping develop him as a well-rounded person. The UK chapter of MANRRS just brought back to campus its fourth consecutive National Chapter of the Year Award.
"It's a terrific organization," Mitchell said. "I would not be where I am today without MANRRS."
Upon graduation, he plans to pursue a career in the animal health industry.
Quentin Tyler, assistant dean and director of the Office of Diversity in the College of Agriculture, Food and Environment (CAFE), had high praise for Mitchell.
"I have known Jeff for over four years and he has flourished academically, professionally and socially during his time at UK. The summer before his freshman year, he would always call my office and inquire about scholarships and other opportunities."
Tyler, who has served as the national professional president of MANRRS, added that Mitchell has been a great role model to other students and has been instrumental in the success of the UK chapter of the organization.
Wells, the valedictorian of her senior class at Hopkins County Central High School in Madisonville, Kentucky, will graduate with a degree in animal sciences on Sunday. Also a member of UK's MANRRS chapter, her path to graduation could very easily have gotten off track, yet she persevered.
While tackling a challenging course load, Wells is raising her son, Kyson, who turned five at the beginning of April. She also held down a full-time job during her years at UK, and took care of her now deceased mother during her final months.
"A great deal of my time, energy and attention has been diverted away from my academic pursuits during my four years at the university," Wells said. "Not only is walking across the stage a huge accomplishment for me, I think it symbolizes more than a diploma. I am living proof that with determination and the right people supporting you, anything is possible. Thanks go to my MANRRS family, phenomenal advisors and wonderful professors that have shown me compassion and patience through my tumultuous times."
The weekend following her graduation from UK, Wells will leave for a month of study abroad in the Dominican Republic. Upon her return, she will begin work on a MBA degree at UK.
Wells' long-term goal is an ambitious one.
"I hope to someday own and operate a conservation and rehabilitation organization for exotic, endangered animals such as tigers and lions," she said.
Natasha Saunders, extension associate for the Office of Diversity in CAFE said, "Shalara is an outstanding young woman who has managed to overcome and prevail with grace and resiliency despite the numerous obstacles life has thrown her way. It has been a joy to watch this young lady blossom into the fearless woman she has become; a bright young woman with blazing intelligence, energy and determination."
Yes, Jeffrey Mitchell Jr. and Shalara Wells both will remember UK's Commencement ceremonies of May 8, 2016 for a very long time.  
This week, UKNow is featuring stories about our May and August 2016 graduates who will participate in the May 2016 Commencement Ceremonies this Sunday, May 8, at Rupp Arena. Undergraduate ceremonies will take place at 9 a.m. and 2 p.m., and the Graduate and Professional ceremony will take place at 7 p.m. More than 2,400 undergraduates and approximately 500 graduate and professional students are expected to participate, marking the largest Commencement in UK's history. Overall, more than 3,200 undergraduate and 1,500 graduate and professional degree candidates have been submitted to the UK Board of Trustees for approval. For more information, visit www.uky.edu/commencement
UK is the University for Kentucky. At UK, we are educating more students, treating more patients with complex illnesses and conducting more research and service than at any time in our 150-year history. To read more about the UK story and how you can support continued investment in your university and the Commonwealth, visit  uky.edu/uk4ky. #uky4ky #seeblue
MEDIA CONTACT:  Carl Nathe, 859-257-3200; carl.nathe@uky.edu.