Happy 150th, University of Kentucky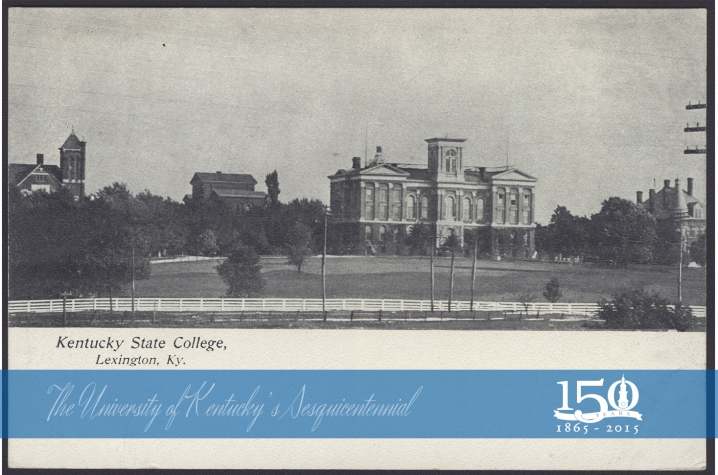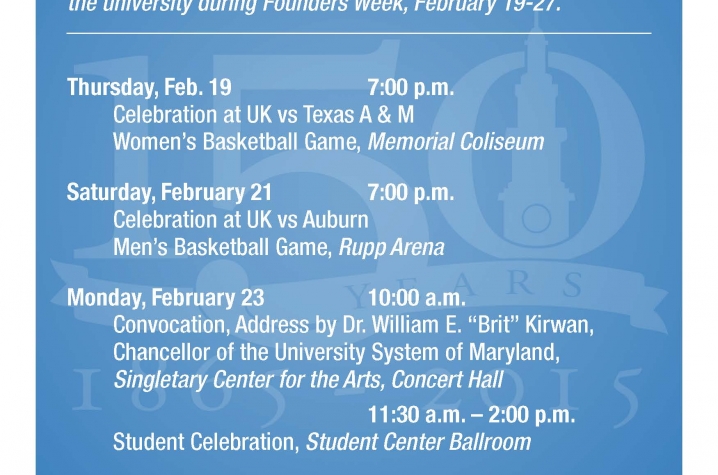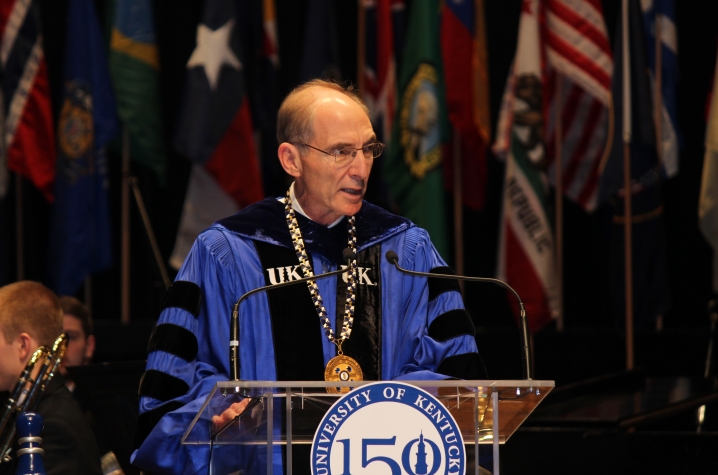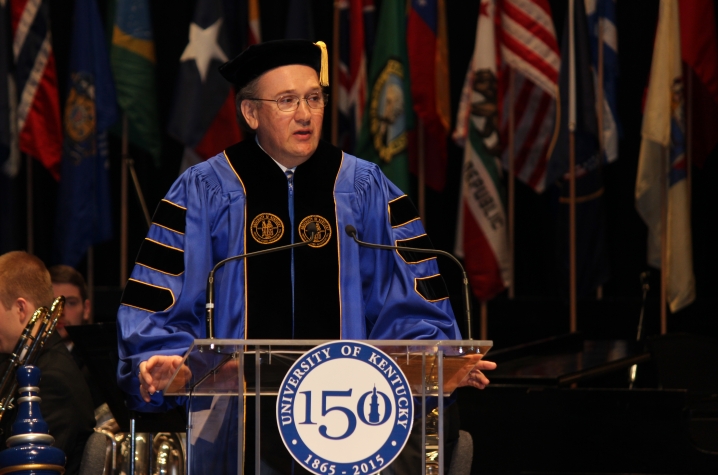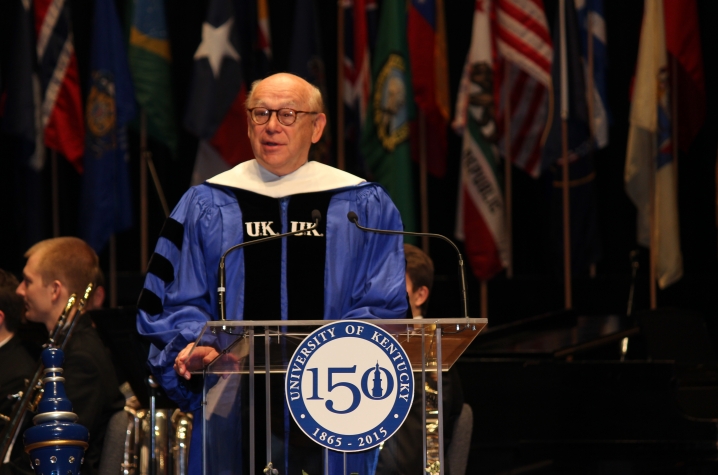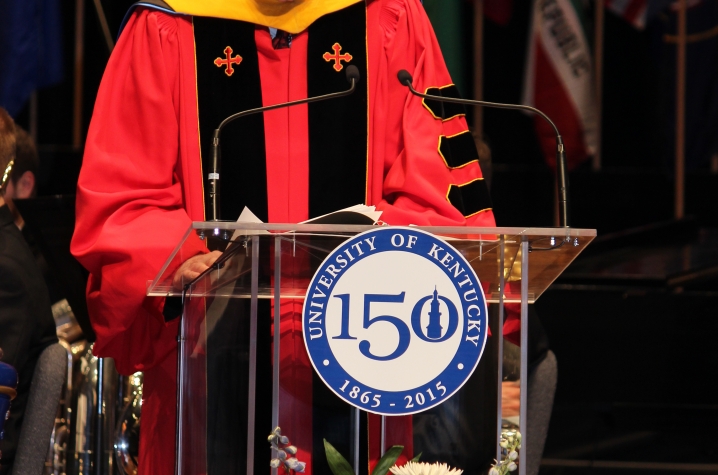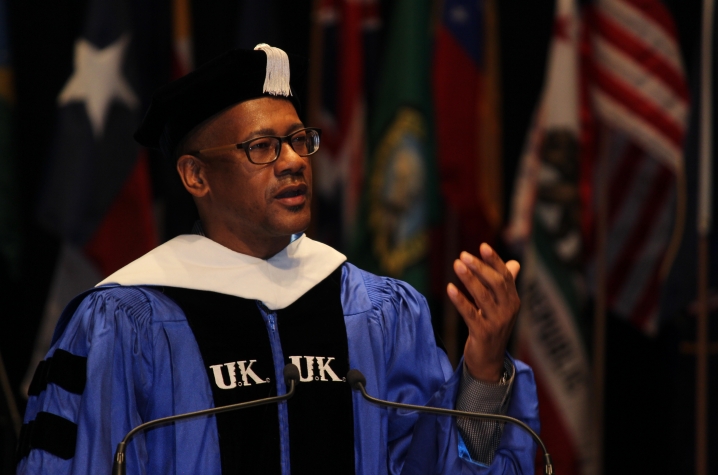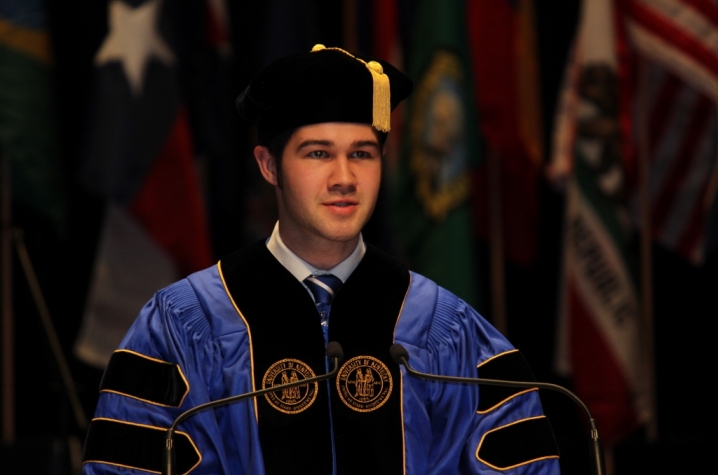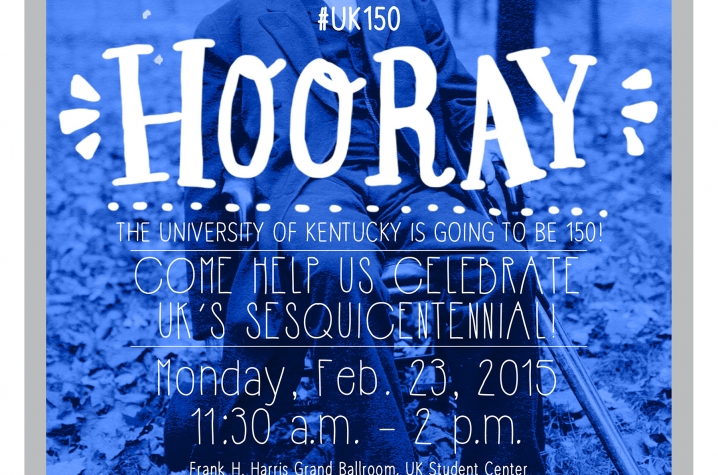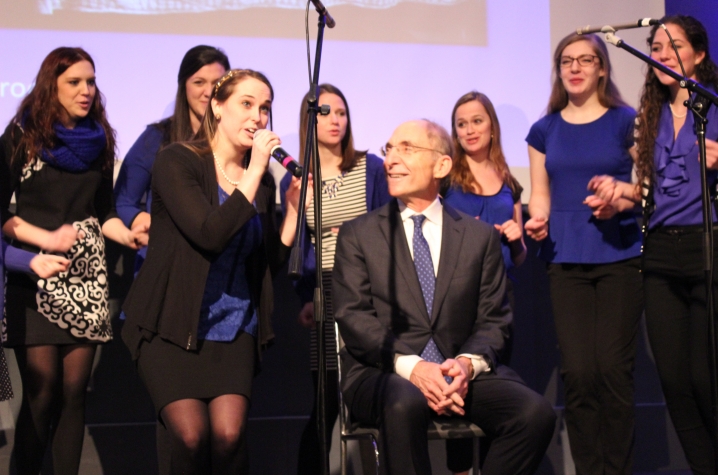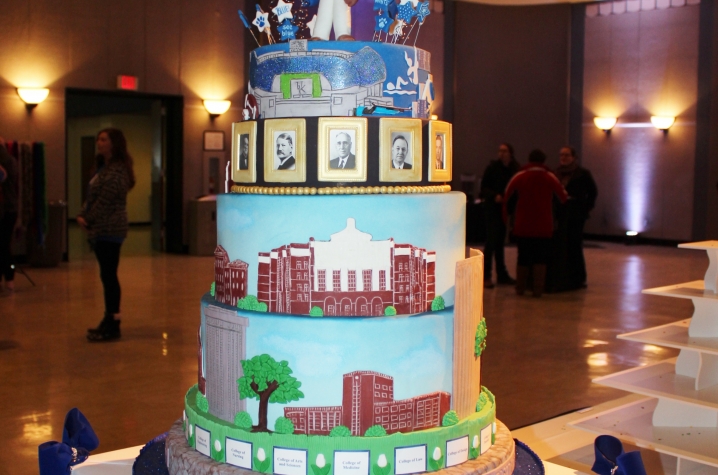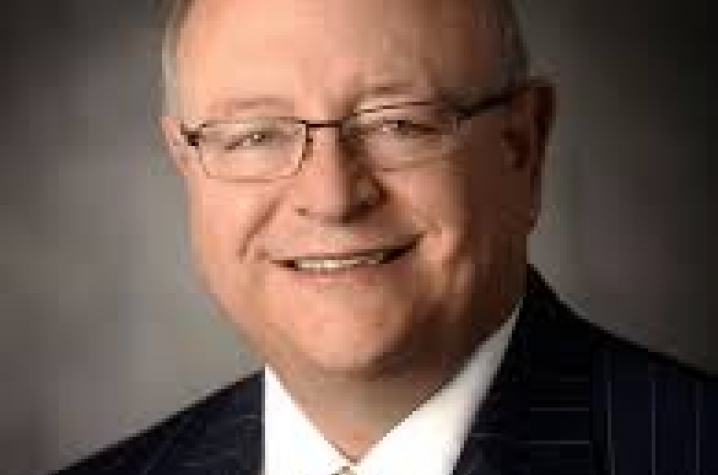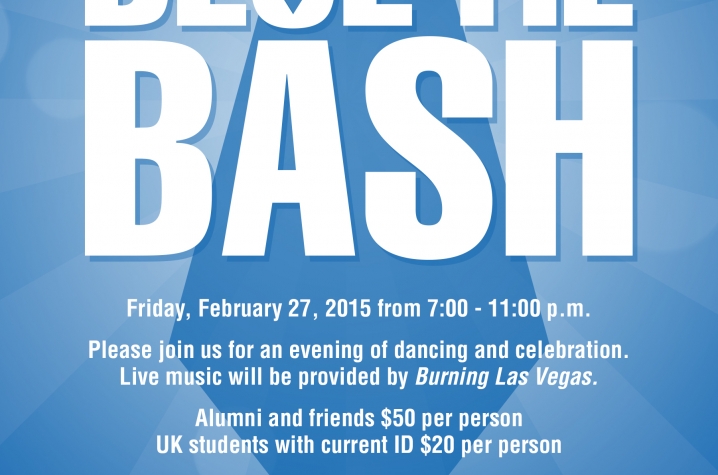 View full University Convocation above.
Video by Kody Kiser and Amy Jones-Timoney/UK Public Relations and Marketing.To view captions for this video, push play and click on the CC icon in the bottom right hand corner of the screen.  If using a mobile device, click the "thought bubble" icon in the same area. 
LEXINGTON, Ky. (Feb. 24, 2015) — As the Commonwealth digs out from under a record-breaking snow storm in some communities, the University of Kentucky has returned to full operations just in time to celebrate its sesquicentennial. Founders Week, a week of festivities honoring the university's 150th anniversary and celebrating the students, faculty, staff, alumni and advocates of the institution, runs through Feb. 27. 
In February 1865, just before the end of the Civil War, farmer and lawyer John Bryan Bowman challenged the Kentucky state legislature to take advantage of the opportunity offered by the Morrill Land-Grant Act of 1862 to build a public university in Lexington. Though located in the Bluegrass, the Agriculture and Mechanical College of Kentucky University would go on to serve the better interests of the entire Commonwealth.
From its beginnings with only 190 students and 10 professors, A&M College was committed to the state of Kentucky. The institution's work (and name, eventually becoming University of Kentucky in 1916) evolved and expanded with the passage of the Hatch Act of 1887 and the Smith-Lever Act of 1914, which added UK's experiment station and cooperative extension network.
Today, UK's campus is enjoying great growth in classrooms and campus facilities. It covers more than 918 acres; is home to more than 30,000 students, 14,500 employees including 2,300 full-time faculty; more than 90 nationally ranked academic programs; and boasts an annual budget of more than $3 billion. In addition, UK is one of only eight universities in the U.S. that has well-established programs in agriculture, engineering, medicine and pharmacy on a single campus.
To commemorate the students, faculty and staff who came before and to solidify the blueprint for 150 more years of success, UK will present several events recognizing and celebrating those who make the university the exemplary land-grant, flagship institution it has become.
UK Athletics opened Founders Week with recognition of the milestone as part of the UK Hoops game vs. Texas A&M University Feb. 19, and the same is planned for the UK Men's Basketball game vs. Auburn University on Feb. 21. The festivities included performances at each game by the university's popular a cappella groups, Paws and Listen and the acoUstiKats, respectively.
On Founders Day, Feb. 22, the campus literally lit up at sunset in celebration of the sesquicentennial as blue lights shine on Central Hall I and II, Haggin Hall and Woodland Glen I. In addition, Memorial Hall began playing UK's Alma Mater for the week. 
As classes returned to regular schedule on Monday, Feb. 23, UK hosted two events in honor of the anniversary, a convocation and a student celebration. The convocation, at the Singletary Center for the Arts, featured faculty and administration in academic regalia; a poem in honor of the sesquicentennial by alumnus and Kentucky Poet Laureate, Professor Frank X Walker; performances by the UK Sesquicentennial Ensemble and UK Women's Choir; and an address by alumnus and University System of Maryland Chancellor William E. "Brit" Kirwan.  
View the full University Convocation above.
To read poet Frank X Walker's poem, "Seedtime in the Commonwealth," visit online at http://uknow.uky.edu/content/seedtime-commonwealth.
Respected academic leader William E. "Brit" Kirwan has been chancellor of the University System of Maryland since Aug. 1, 2002. Prior to that he served as president of Ohio State University from 1998-2002 and president of the University of Maryland, College Park from 1988-1998. He had served on the University of Maryland faculty for 24 years. A 1960 alumnus of UK with a bachelor's degree in mathematics, Kirwan is also the son of UK's seventh president, Albert D. Kirwan. His master's and doctoral degrees were earned at Rutgers, The State University of New Jersey.
A highly sought speaker on a range of topics in higher education, including diversity, access and affordability, academic transformation and cost containment, Kirwan has also authored many articles and has been profiled and cited in academic and mainstream publications. In March 2013, he delivered the prestigious Robert H. Atwell Lecture at the 95th annual meeting of the American Council on Education.
Kirwan has received numerous state and national awards for outstanding service and academic leadership including the 2010 TIAA-CREF Theodore M. Hesburgh Award for Leadership Excellence, considered one of the nation's top higher education honors. Continually active in higher education on a national level, he chairs the National Research Council Board of Higher Education and Workforce and co-chairs the Knight Commission on Intercollegiate Athletics. Kirwan co-chairs the U.S. Senate Education Committee's Task Force on Government Regulation of Higher Education, and he serves on the Association of Governing Board of Universities and Colleges' National Commission on College and University Board Governance.  He also serves on the Business-Higher Education Forum. Kirwan is married to Patricia Harper Kirwan, also a 1960 graduate of UK.
To read Kirwan's keynote address, "On, On U of K," visit online at http://uknow.uky.edu/content/u-k-0. 
Immediately following the convocation Monday, the sesquicentennial student celebration began in the Student Center. This reception for students included free T-shirts, cupcakes, a photo booth for souvenir pictures, a performance by Paws and Listen, and a special birthday cake commemorating UK's 150th birthday. 
On Tuesday, the university will celebrate faculty and staff at a reception. The event will feature an exhibition of rarely seen images from UK's history. The reception, which will also include refreshments and UK 150 giveaways, will run from 11 a.m. to 2 p.m. Feb. 24, at M.I. King Library Building.
Several members of UK Fellows Society will come together on campus Wednesday, Feb. 25, to celebrate the sesquicentennial. The invitation only luncheon being held at Alumni Gymnasium will recognize the contributions of donors who help the university advance its mission of education, research and service.
Another leader in higher education will participate in Founders Week on Thursday, as President Emeritus of University of California Mark G. Yudof presents a university address at 3 p.m. Thursday, Feb. 26, at the Singletary Center Recital Hall.  
Mark G. Yudof, who served as the 19th president of the University of California (UC) from June 2008 through September 2013, is a professor of law at the University of California, Berkeley. As UC President, he led a university system with 10 campuses, five medical centers, three affiliated national laboratories, a statewide agriculture and natural resources program, and more than 230,000 students.
Yudof served as chancellor of the University of Texas system from August 2002 to May 2008, and as president of the four-campus University of Minnesota from 1997 to 2002. Before that, he served as dean of the law school at the University of Texas at Austin from 1984 to 1994, and as the university's executive vice president and provost from 1994 to 1997.
President Emeritus Yudof is a renowned authority on constitutional law, freedom of expression and education law. A Philadelphia native, he earned both his law degree and bachelor's degree from University of Pennsylvania.
Founders Week will end with a bang, or maybe we should say a bash, Blue Tie Bash, as members of the UK family and supporters of the university come together to party on the floor of Rupp Arena. The event will feature live music by Burning Las Vegas, heavy hors d'oeuvres and a cash bar. Blue Tie Bash will run from 7 to 11 p.m. Friday, Feb. 27.
Tickets for the Blue Tie Bash are $50 for general admission and $20 for students with a current UK ID. No tickets will be sold at the door. Tickets must be purchased by Wednesday, Feb. 25, by visiting the UK Alumni Association website at www.ukalumni.net/BlueTieBash. Free valet parking will be available via Manchester Street. The Bash will not be accessible from the Lexington Convention Center.
In addition to participating in Founders Week, Big Blue Nation can also share their favorite moments from the week or their time at UK on social media using #UK150.
For more information on UK's 150th anniversary and Founders Week, visit UK's sesquicentennial website at www.uky.edu/uk150. 
MEDIA CONTACT: Whitney Hale, 859-257-8716; whitney.hale@uky.edu