Teaching, Learning and Serving Communities in Ecuador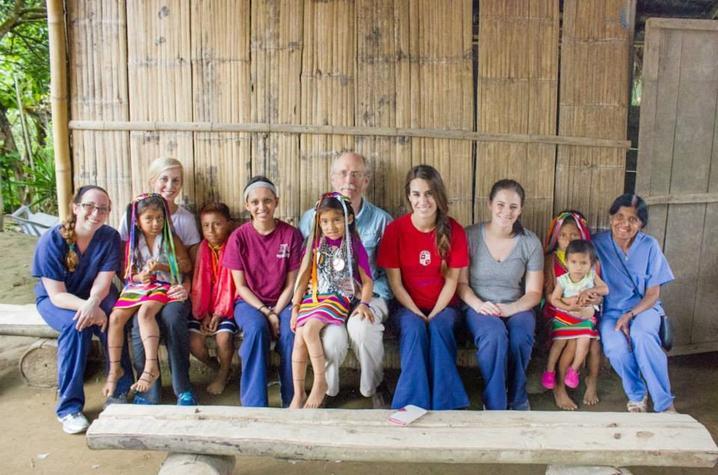 Thursday, June 1, 2017
What began as a small medical mission trip to Ecuador in 2002 has evolved over the last 10 years into a treasured partnership between UK and the local community. I recently had the opportunity to experience its value first-hand.
Shoulder to Shoulder Global, one of UK's leading Global Health Initiatives, was formed with the goal of improving the health and quality of life in Ecuadorian communities, many of which are suffering the effects of poverty, including high rates of preventable health problems and very limited access to safe water, among other issues.
The original 2002 program was designed for a group of pediatric medical residents and led by Dr. Thomas Young, professor of pediatrics at the University of Kentucky College of Medicine. Since that time, the program has grown exponentially, allowing UK faculty, staff and students to work with Ecuadorian professionals and community leaders to discover improved ways to teach, learn, and serve vulnerable communities in Ecuador.
During its 10 years of operation, Shoulder to Shoulder's Santo Domingo health clinic has provided more than 58,000 medical consultations and 21,000 dental consultations. Each year, UK faculty, staff and supporters of Shoulder to Shoulder participate in four week-long brigades. The brigades alone have seen approximately 20,000 patients, and now, they have about 150 participants each year – many of whom are UK students.
In May, I had the opportunity, along with several colleagues from various colleges and the UK International Center, to see the incredible growth of the program during a visit to Shoulder to Shoulder. We got to see one of the brigades in action in the city of Santo Domingo: our students, faculty, staff and community members working in strong and dependable teams, under challenging working conditions, applying what they had learned in the classroom and making use of the limited resources they had at their disposal. Despite the challenges they faced, they were always eager and ready to receive their next patient with a commitment to excellent care.
STSG is a model for transformative learning and service experience abroad, which not only enhances our students' professional skills, but also teaches them how to work in multidisciplinary teams and treat patients using holistic approach. Moreover, it exposes our student to a different reality—a different set of challenges in another part of the world.
It was rewarding to see students out of their element, building relationships with patients while overcoming language barriers, and seeing them identify alternative ways to treat patients when circumstances didn't allow for standard or optimal practices. But more than anything, it was rewarding to see students engage with the community, and evolve and grow with each other during their experience abroad.
Students and faculty participated in reflections every night, which I was able to experience as well. During reflections, students had the opportunity to ponder what they had seen that day, share any challenges they had faced, and discuss difficult issues with their peers. This helped students better understand both each other and their specialties in profound ways. It also helped students find comfort in the challenges and frustrations with which they dealt – because working in small rooms with multiple people and patients in a 90-degree weather was not standard practice for any of them. It took patience and effort to adjust and make things work, and I was extremely proud of their determination to learn and to serve
But even in the most extreme circumstances, the teams came together in collaboration and supported each another. This was, in my view, the epitome of interprofessional healthcare creatively being put into action.
We must continue encouraging our students to seek opportunities that will push them out of their comfort zones and provide new experiences. We know that the most exciting possibilities for tomorrow most often occur today at the intersection of professions and disciplines – that nexus of ideas where discovery, whether at the cellular or community levels, is most likely to be created.
It is our responsibility as a flagship and land-grant institution to provide students with opportunities that will enable and support them to become the globally competent, engaged leaders we seek to develop at the University of Kentucky.
Programs like Shoulder to Shoulder help students understand the value of working with people from different areas and walks of life. It teaches them that having strong local allies in a community is key to success, and gives them great opportunities to find their calling in serving others.
Because as Dr. Tom Young reminded the students one evening, the philosopher and physician Albert Schweitzer said, "The purpose of human life is to serve, and to show compassion and the will to help others."
I encourage you to learn more about Shoulder to Shoulder Global and how you can get involved.
Thank you, again, to the members of the UK family who are taking part in this important work.
Timothy S. Tracy
@UKYProvost
#seeblue #blueabroad