Celebrating Student Success - December Commencement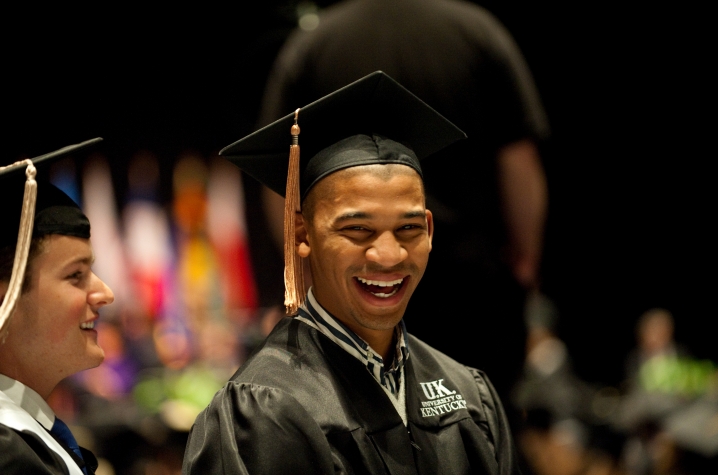 At the end of the fall and spring terms, the University of Kentucky celebrates the work of our student scholars. We gather in recognition of their achievements and award them their degree during our Commencement Ceremonies.
Over the last 16 months, I have interacted with our ambitious students – tomorrow's leaders who, in profound ways, are leading today. Their academic degree – earned through hard work and a lasting commitment to learning – is one piece of the education we offer at the University of Kentucky.
Students are engaged in our laboratories and research centers; they lead student organizations and serve our community; and they set good examples as members of the UK family. The activities that happen across our institution every day are incredible and inspiring. They teach us valuable lessons and they honor the Promise – a Kentucky Promise that binds us to this place and to each other.
In a few short weeks, we will gather again for the University of Kentucky's Winter Commencement. As past ceremonies have shown, this will be a celebration worth of our students' many accomplishments. Below are important details about Commencement, the registration process and information that will help you and your family make arrangements.
WHERE: The 2012 December Commencement Ceremonies will take place at   
              Memorial Coliseum.
WHEN: Friday, Dec. 14, 2012
  The undergraduate ceremony will take place at 6 p.m.
  The graduate and professional student ceremony will take place
  at 1:30 p.m.
REGISTRATION: The deadline to register for Fall Commencement is Monday, Dec. 3.
Students can download an e-invitation for the Commencement Ceremony to send to family and friends.
Additional information about December Commencement, including cap and gown information; parking and travel instructions; reception details; and other frequently asked questions can be found on the Commencement website. 
To the graduating class, I extend my sincerest thanks for all that you have given to the pursuit of our Kentucky Promise. With the education you have been provided and the passion and talent you possess, you make true our timeless covenant. You open the door to a bright future for your families, for your Commonwealth and for a world so much in need of all that you are and all that you will be.
Thank you … and remember to "see blue." forever.