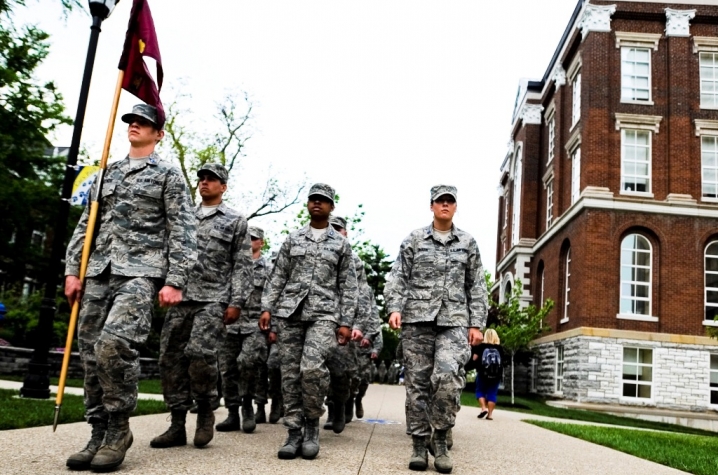 The fall 2012 semester is moving fast as midterms are behind us and finals are rapidly approaching. Faculty and staff have been tirelessly committed to their efforts in teaching, research, patient care and transformative service. Our community has engaged in an open dialogue about our future – asking for an even greater contribution from the UK family to help shape this process. I imagine that for many, the upcoming Thanksgiving holiday will be a welcome rest from our important work. Before the well-deserved respite, there is another holiday also deserving of thanks and reflection. Sunday, Nov. 11, marks our nation's Veterans Day. 
November 11, 1918, marked the end of WWI and was forever set aside to honor those who answered the call of military service. Originally called Armistice Day, Nov. 11, became Veterans Day in 1954 to include those Americans who had served in WWII and Korea. President Dwight D. Eisenhower issued the first Veterans Day proclamation, which stated, "in order to insure proper and widespread observance of this anniversary, all veterans, all veterans' organization and the entire citizenry will wish to join hands in the common purpose."
The University of Kentucky – the Commonwealth's land-grant institution established, in part, to provide military training – has long honored those who have served our country. Our Reserve Officer Training Programs have been a part of the campus from its beginnings and continue to produce top-notch officers for both the Army and Air Force. Memorial Hall and Memorial Coliseum both are dedicated to our fallen heroes, and much of our historical infrastructure can be attributed to the original GI Bill after WWII veterans flooded our classrooms. 
Today, the University continues its longstanding tradition of honoring those men and women who have served or are serving in our military. I'm extremely proud of the work going on here at UK to support our more than 500 student veterans, through the Veterans Resource Center and other campus departments, garnering us national recognition for our support and programing designed to assist veterans and their families. The "Military Times EDGE Magazine" ranked UK 7th in the nation as "Best for Vets" in 2011.
The University of Kentucky will hold its annual Veterans Day observance at 11 a.m. on Monday, Nov. 12, on the Main Building Lawn. All campus veterans will be treated to a light lunch and will receive a lapel pin in recognition of their service. Of course, all are welcome to attend to acknowledge those who have sacrificed in the service of our country. Non-veterans will also receive a lapel pin for their support. 
Unfortunately, Mary Lynne and I will be out of town and unable to attend, but we sincerely extend our heartfelt thanks and gratitude to all of our veterans at UK and across the country.