3 Kentucky Civics/History Teachers to Receive 2019 Clements Awards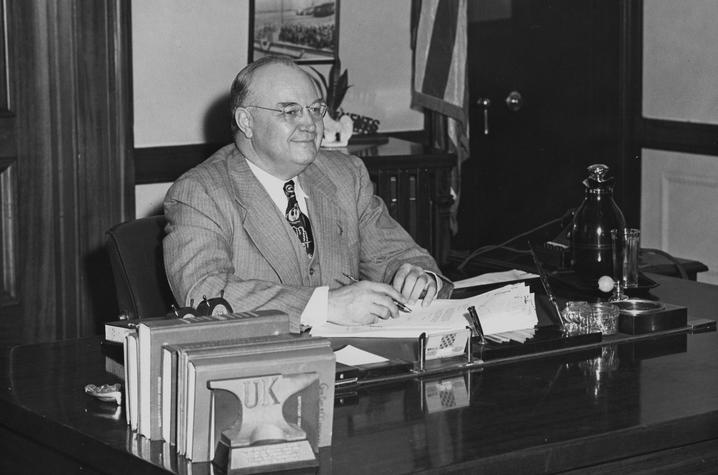 LEXINGTON, Ky. (July 25, 2019) — The National Archives and the University of Kentucky Libraries Wendell H. Ford Public Policy Research Center will present this year's Earle C. Clements Innovation in Education Awards for Civics and History Teachers to three elementary and middle school teachers from Kentucky. The ceremony recognizing the 2019 winners will be presented 4 p.m. Thursday, Aug. 8, in the Great Hall of the Margaret I. King Library Building. The event is free and open to the public.
This year three history, social studies and/or civics teachers from around the Commonwealth have been selected to receive the prestigious Clements Award. The 2019 recipients are:
The award winners were chosen based on their ability to demonstrate knowledge and enthusiasm for the subject, commitment to raising student awareness of the importance of public service, their impact on student success and their use of creativity and innovation while teaching.
The Clements Award honors Earle C. Clements for his lifelong commitment to education and public service. Clements' political career included service as a county sheriff, clerk and judge; terms in the state senate and as governor; and terms in both the U.S. House of Representatives and U.S. Senate, where he was a close colleague to future President Lyndon Baines Johnson.
Created in 1934, the National Archives and Records Administration (NARA) is responsible for preserving and providing access to the records of the U.S. Government. NARA has more than 40 facilities across the country, including 14 Presidential Libraries, containing more than 10 billion pages of textual records; 42 million photographs; miles and miles of film and video; and an ever-increasing number of electronic records. For more information, visit www.archives.gov.
The Special Collections Research Center at UK Libraries sustains the Commonwealth's memory and serves as the essential bridge between past, present and future. By preserving materials documenting the social, cultural, economic and political history of Kentucky, the center provides rich opportunities for students to expand their worldview and enhance their critical thinking skills. Special Collections Research Center materials are used by scholars worldwide to advance original research and pioneer creative approaches to scholarship. UK Libraries Special Collections Research Center is the Archives, the Louie B. Nunn Center for Oral History, the King Library Press, the Wendell H. Ford Public Policy Research Center, the Bert T. Combs Appalachian Collection, the John G. Heyburn Initiative and ExploreUK.