Outstanding Staff Awards Presented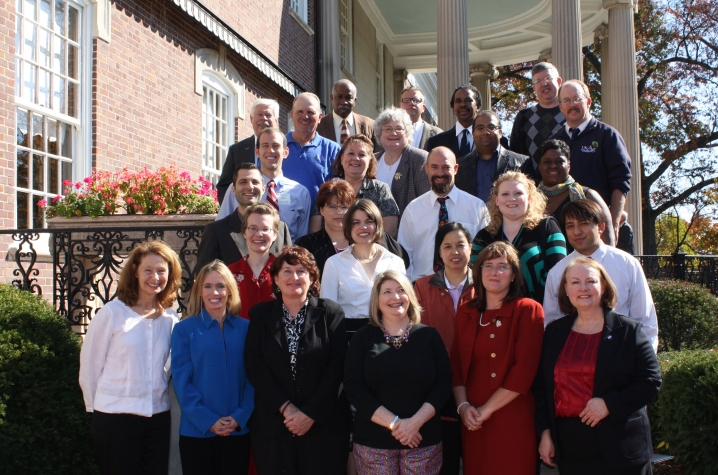 LEXINGTON, Ky. (Nov. 13, 2012) — For the third year, the University of Kentucky Staff Senate has hosted an event to recognize some of the best of the best.
Every year all the staff employees who have been proudly referred by their own work units as their best employees of 2011-12 are honored by an award presentation with UK President Eli Capilouto. The event was held this year at Spindletop Hall.
Award recipients included:
Carl Redmond – College of Agriculture, Entomology
David G. Smith – College of Agriculture, Facilities Management
Teresa Powell – College of Agriculture, Economics, Lincoln Trail Farm
Marilyn Hooks – College of Agriculture, Facilities Management, UKREC
David Rechtin – College of Agriculture, Biosystems and Agricultural Engineering
Joseph Kupper – College of Agriculture, Plant and Soil Sciences
Lucy Combs – College of Arts & Sciences
Peter Idstein – College of Arts & Sciences
Charlene Monaghan – College of Communication & Information
Chunmei Wang – College of Dentistry, Oral Health Research
Tyler Witty – College of Dentistry, Computer Support Services
Cynthia Jennings – College of Education
Patricia Adolph – College of Education
Hussamuddin Nasir – College of Engineering, Computer Science
Libby Weir – College of Engineering, Chemical and Materials Engineering
Carlo Labudiong – College of Health Sciences
Tony Grace – College of Nursing
Tammy Kamer – College of Pharmacy, Pharmaceutical Sciences
Todd Sizemore – College of Pharmacy
Laura Lakes – College of Public Health
Crystal Gabbard – Human Resources
Scott Hall – Human Resources
Terri Weber – Human Resources
Denny Haynes – Office of the Treasurer, Payroll
Joe Spencer – Student Affairs
John Herbst – Student Affairs
Tony Downing – Student Affairs
Amanda Williams – UK Libraries
Sharon Clark – UK Libraries
Sherree Osborne – UK Libraries
Jamie Wheeler – Undergraduate Education
Susan L. Herrick – Undergraduate Education