UK Names Its Great Teachers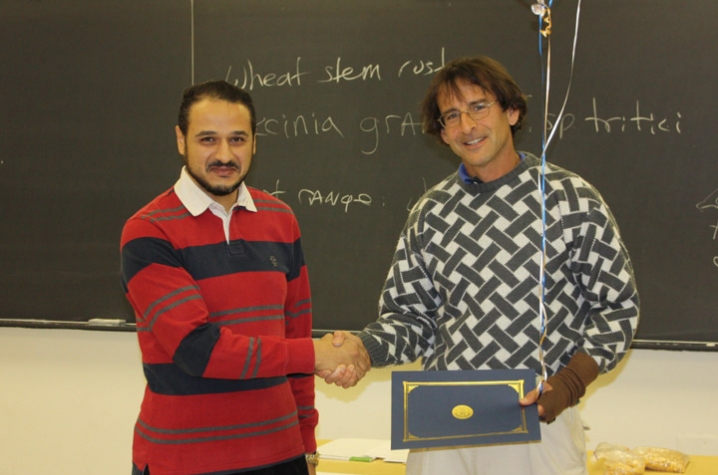 LEXINGTON, Ky. (Dec. 15, 2010) — Six University of Kentucky professors have been recognized for their excellence in the classroom as the UK Alumni Association announces the recipients of its 2011 Great Teacher Awards.

The 2011 recipients are:
-- Fred Danner, College of Education -- Fred Danner, a professor of educational psychology in the UK College of Education, previously served as chair of the college's Department of Educational and Counseling Psychology from 1981 to 1989, and again from 1997 to 2000. He received his doctorate in developmental psychology from the University of Minnesota in 1974 and completed post-doctoral work at the University of Pittsburgh. His research interests include cognitive development, adolescence, motivation, health psychology and the effects of sleep deprivation on learning and behavior. He has received numerous grants for research studies in the areas of adolescent cognitive development and sleep deprivation, and has authored or contributed to four books and nearly 100 research reports and journals. He is a member of the Society for Research in Child Development, Society for Research on Adolescence, the American Educational Research Association and the Sleep Research Society.
---Dwight Denison, Martin School of Public Policy & Administration -- Dwight Denison isn't an ivory-tower academic. In the midst of his research, Dennison said, "I often find myself asking, what would students find beneficial in this?"  Denison's childhood career goals ranged from engineer to lawyer to city manager, but he ultimately chose to pursue a doctorate in public policy and administration primarily because he wanted to work with students. When asked why, he replied, "The rewards from teaching – empowering people to meet their aspirations." That isn't to imply that he doesn't enjoy the research side of his job; Denison sees research as the yin to teaching's yang. "I do think there is an important connection between teaching and research. Without research the classroom could get mundane and without teaching to get feedback, the research could grow stale."
--Cliff Jackson, College of Fine Arts -- A native of Gary, Ind., Cliff Jackson received his bachelor's degree in music from Oberlin Conservatory of Music and pursued graduate studies at the Manhattan School of Music. Cited for his sensitive accompaniments and insightful musicianship, Jackson has been the pianist for many internationally renowned artists. His skill as a collaborative artist has earned Jackson a place on the stages of Carnegie Hall, the Kennedy Center, and other famous venues. Jackson was awarded a coaching fellowship by the American Opera Center at the Julliard School, where he was a coach for two years. He was also the recipient of the Gramma Fisher Scholarship by the American Institute of Musical Studies in Graz, Austria. Jackson is known as an outstanding coach of vocal repertoire ranging in scope from Baroque through 20th century opera, in addition to a breadth of song literature encompassing the vastly divergent stylistic periods. In 2009, Jackson was named Coach of the Year by Classical Singer magazine.
--Erin Koch, College of Arts & Sciences – Arial anthropology professor Erin Koch's research interests include medical anthropology and ethnographic studies of science and technology to examine health inequalities, biomedical knowledge and practices, and power. "I am thrilled and honored to have been nominated and presented with the Great Teacher Award," she said.
--Pamela Stein, College of Dentistry -- Stein attended UK for her undergraduate studies, and received her D.M.D. degree from UK College of Dentistry in 1990 and a master's degree in Public Health from UK in 2009. She practiced general dentistry in Mt. Olivet and Carlisle, Ky., for 13 years. In 2003, she was appointed as a full time faculty member at the UK College of Medicine where she taught anatomy to undergraduate, nursing and professional students. In 2010, Stein joined the faculty at the UK College of Dentistry. She is currently an associate professor teaching public health, local anesthesia, and geriatrics. Her honors include the Holsinger Teaching Award in anatomy and neurobiology, the Abraham Flexner Master Educator Award for Outstanding Teaching and Mentorship., and the UK College of Nursing Teaching Excellence in Support of Professional Nursing Award. Stein is also a past recipient of the Distinguished Professor Award from the UK Panhellenic Council for inspiring students and making a difference on campus. 
--Paul Vincelli, College of Agriculture -- Paul Vincelli is an Extension Professor and Provost's Distinguished Service Professor. Before joining the faculty of UK in 1990, he was an assistant professor at the University of Wyoming. His bachelor's degree in botany and master's in plant pathology are from Rutgers University, and he earned his doctorate in plant pathology from Cornell University. His professional experiences include serving as a Peace Corp volunteer in Nicaragua and Colombia (1977-1980) and as a Fulbright Scholar to Uruguay in 2005. His teaching was heavily influenced by a six-month sabbatical with Dr. Jo Handelsman (University of Wisconsin), a nationally recognized leader in teaching biology at the undergraduate level. He is the recipient of the American Phytopathological Society's Excellence in Teaching Award and the Master Teacher Award of the Kentucky Chapter of Gamma Sigma Delta. His teaching is characterized by several dimensions: a heavy reliance on inquiry and active-learning principles in order to engage students and promote their cognitive skills; a belief in the worth and dignity of each human being, and an overarching faith in student potential. 

Started in 1961, the Great Teacher Award is the oldest continuous award that recognizes teaching at UK. The nominations are made by students. Selection of the award recipients is made by the UK Alumni Association Great Teacher Award Committee, in cooperation with the student organization Omicron Delta Kappa. Great Teacher Award recipients each receive a citation, an engraved award and a cash stipend.

The Award recipients will be honored at a recognition dinner on Tuesday, Feb. 8, 2011 at the Hilton Downtown Lexington in the Grand Kentucky Ballroom. 

For more information about the Great Teacher Awards, contact Gretchen Bower at 859-257-8700 or visit www.ukalumni.net.