UK Professor of Higher Ed Receives Research Award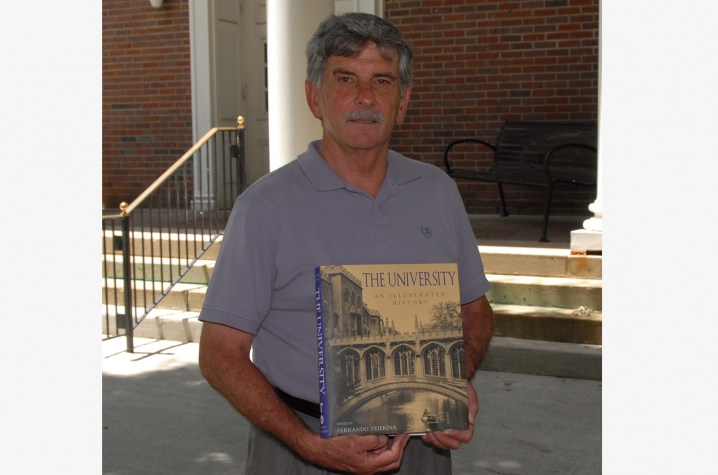 LEXINGTON, Ky. (Nov. 23, 2011) — Professor John Thelin, of the University of Kentucky Department of Educational Policy Studies and Evaluation in the College of Education, was recently named the recipient of the Outstanding Research Achievement Award by the Association for the Study of Higher Education (ASHE).
The award was presented at the annual national conference on Nov. 18 in Charlotte, N.C.  Each year ASHE selects one scholar to receive the award "for outstanding contribution to research to an individual whose published work advances understanding of higher education in a significant way."
Also, a second edition of one of Thelin's books is out.  A week ago The Johns Hopkins University Press announced publication of a new, second edition of Thelin's book, "A History of American Higher Education." Originally published in 2004, this book is used in most Ph.D. programs in higher education nationwide, including such universities as Harvard, Stanford, Vanderbilt, Indiana University, Cornell, University of Washington, University of Georgia, Penn, Pennsylvania State University, University of Illinois, Claremont Graduate University, University of Maryland, Columbia, and more. The second edition features a new, added chapter dealing with the decade 2000 to 2011.  The Johns Hopkins University Press also is working with Beijing University Press to translate the book into Chinese and distribute for use in graduate programs at universities in China.
Thelin has been at UK since 1996. In those past 15 years, he has become nationally renowned as UK's go-to expert for all things related to higher education policies and issues.
"I try to be useful in current policy discussions," says Thelin, who also has a joint appointment with the UK Martin School of Public Policy and Administration. "My goal is to bring a historical perspective when looking at today's significant higher education issues. UK has been a very hospitable place for me to pursue these interests."
MEDIA CONTACT: Jenny Wells, (859) 257-5343; Jenny.Wells@uky.edu