UK Veterinarian Honored by American Veterinary Medical Association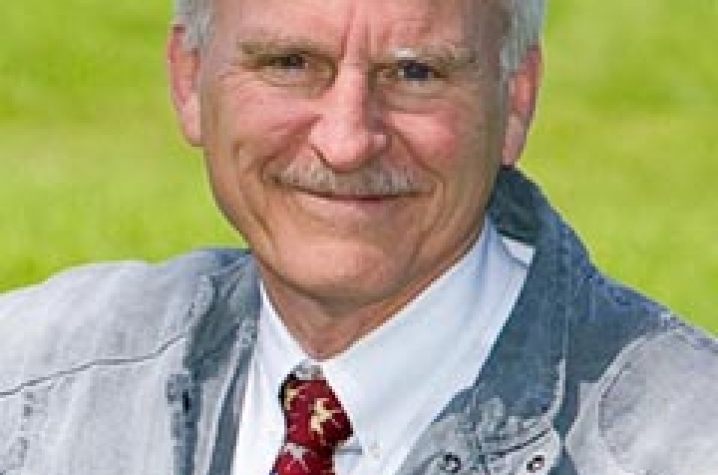 LEXINGTON, Ky. (Aug. 9, 2011) — Craig N. Carter, director of the Veterinary Diagnostic Laboratory and a professor in the University of Kentucky College of Agriculture, has received the American Veterinary Epidemiology Society Karl F. Meyer/James H. Steele Gold Headed Cane Award.
The American Veterinary Medical Association (AVMA) honored some of the nation's top veterinarians during an awards ceremony July 19 at the association's annual convention in St. Louis, Mo. In making the announcement, the AVMA stated, "Each recipient has worked tirelessly to improve the lives of both animals and people around the country and the globe. These individuals represent the very best in all areas of veterinary medicine, from education and public service to research and private practice."
This annual award recognizes and honors the achievements of an individual concerned with animal health who has significantly advanced human health through the practice of veterinary epidemiology and public health.
Carter received his veterinary and doctoral degrees from Texas A&M University and is a Diplomate of the American College of Veterinary Preventive Medicine.  He worked at Texas A&M as well, leaving there in 2005 to join UK as a full professor of epidemiology in the Department of Veterinary Science and the College of Public Health.  During his 30-year career, he has been a leader in the development of novel epidemiological surveillance, outbreak cluster detection, decision support and laboratory information systems.
Carter currently has more than 200 scientific publications and presentations and two books to his credit, including the James H. Steele biography completed in 2009, which benefits student scholarships at the University of Texas School of Public Health. He was named Kentucky Veterinarian of the Year in 2009 and Texas Specialty Veterinarian of the Year in 2004.
Currently president of the American Association of Veterinary Laboratory Diagnosticians, Carter has held several leadership positions in veterinary organizations. In addition, he has been the executive director of the World Association of Veterinary Laboratory Diagnosticians since 2001, overseeing the planning of five international veterinary conferences in conjunction with the World Organisation for Animal Health.
For more information, visit www.avma.org.