Journalism Professor Receives Fellowship to Work With Ukrainian University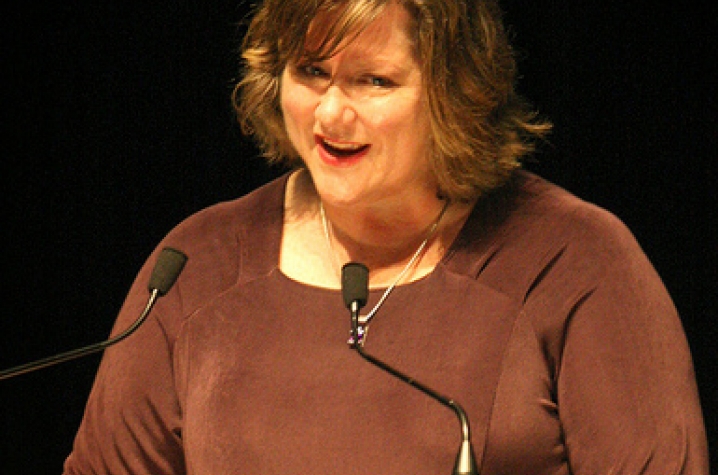 LEXINGTON, Ky. (July 13, 2012) — Beth E. Barnes, professor and associate dean of undergraduate and international studies in the UK College of Communication and Information, was recently awarded a fellowship from Open Society Foundations to work with the National University of Kyiv-Mohyla Academy in Kiev, Ukraine. By acting as a consultant for a developing journalism program, Barnes will guide the international effort to improve the curriculum of graduate media studies.
The Mohyla School of Journalism at the National University of Kyiv-Mohyla Academy is the first journalism school in Ukraine to focus on media research. The main specialization of the school is news and coverage of important public events through different types of media including television, radio, print and Internet.
In addition to a master's in journalism and doctorate in mass communication, the school offers programs in the "Digital Future of Journalism" and "Digital Media in Universities." The program is looking to strengthen methodology and theory courses to give students and faculty practical guidance in their research projects in order to provide a more comprehensive, media research-centered program that will interest and serve Ukrainian scholars.
Barnes' responsibilities for the 2012-2013 academic year include working on-site with the departments during two separate weeklong visits in addition to continual correspondence.  Her initial effort will be focused on compiling sample syllabuses from exemplary courses in the United States as well as a suggested bibliography that can be used either for faculty resources or directly toward the curriculum.
"Having faculty who are committed to giving back to the academic community is an invaluable asset to the college," said Dan O'Hair, dean of the College of Communication and Information. "Dr. Barnes taking her expertise internationally will benefit not only the future of media research as a discipline, but also the students and colleagues she works with, both here at UK and overseas."
The Academic Fellowship Program with Open Society Foundations supports promising local scholars and assists progressive universities in more than 17 countries of South Eastern Europe and Eurasia. This program includes the enlisting of an international expert who will offer advice on curriculum development and academic planning. Barnes was selected to fulfill this role for the Mohyla School of Journalism, and she will help it to develop a media research-centered curriculum that will better serve the interests of Ukrainian scholars and professionals alike.
"I'm excited for the opportunity to work with colleagues at Mohyla," Barnes said.  "There is growing interest in media education and strengthening of journalism worldwide.  I look forward to learning more about the challenges in Ukraine as well as providing examples from U.S. journalism and mass communication education."
Barnes also serves as director of the School of Journalism and Telecommunications at UK.  She is involved in media research as well as accreditation for journalism and mass communication. She serves on UK's International Advisory Council in addition to leading several study abroad courses for students in the College of Communication and Information.  She heads a team from the School of Journalism and Telecommunications that has been working with media training and advocacy groups in Botswana and Zambia since 2008.