Play by UK's Brown Addresses Kentucky's Risk for an HIV Outbreak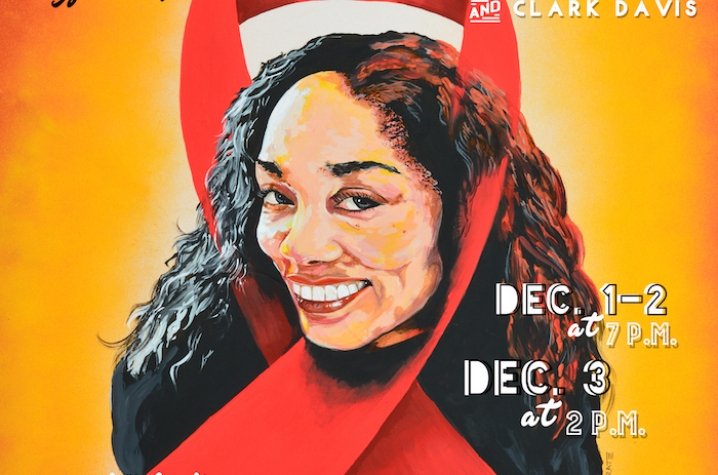 LEXINGTON, Ky. (Nov. 22, 2016) — According to the U.S. Centers for Disease Control and Prevention, Kentucky is vulnerable for an HIV outbreak based on intravenous drug use. Out of 220 counties in the country that are at risk, 54 of those counties are located in Kentucky. Lisa A. Brown, director of student and multicultural affairs in the School of Journalism and Media in the University of Kentucky College of Communication and Information, says that although these numbers are startling, we are not powerless in reversing these trends.
Brown, an avid playwright, is using her artistic skills to bring attention to Kentucky's vulnerability of an HIV epidemic. She will debut her most recent production, "Positively Unbreakable," on World AIDS Day, Dec. 1, at the Lyric Theatre and Cultural Arts Center in Lexington. The play will run through Dec. 3.
"Positively Unbreakable" is the fictitious, but riveting story of a married woman who is expecting her first child. Fearing that she is experiencing complications from the pregnancy, she and her husband discover that she is HIV positive. Interwoven within the storyline is an intravenous drug user whose path has indirectly crossed with the expectant mother. The play also explores the issues of teenage promiscuity and peer pressure, homophobia, and the growing population of senior adults who are contracting HIV.
"I enjoy writing about issues that people are grappling with daily, whether it's loss of a job, a strain in a relationship, or learning that you have been diagnosed with an illness," Brown said. "My objective is to provide hope in what may seem like a bleak situation."
Brown says she was commissioned in 2011 to produce a skit focusing on HIV after being approached by Maxine Thomas, director of the Louisville Presbyterian Theological Seminary, who was sponsoring a women's empowerment conference. After writing and producing the skit, Brown didn't give any more thought to the production until late last year.
"I awakened one morning and I felt an urgency to revise the script without fully understanding why."
Brown wasn't aware at the time that the CDC would issue a report outlining Kentucky's risk for an HIV outbreak based on the increasing number of intravenous drug use.
In what she terms as combining the arts with advocacy and activism, Brown hopes that "Positively Unbreakable" will help educate Kentuckians about their risk for contracting HIV. She will be partnering with the Lexington-Fayette County Health Department, which instituted a clean needle exchange program. The health department will share information about their program with theater patrons. Brown is also partnering with AVOL (AIDS Volunteers) Inc. Both of these organizations will provide free, confidential HIV screenings during a health fair an hour before the play begins.
Velma Grant, president of the Frankfort/Lexington (KY) Chapter of the Links Incorporated and one of the actors in "Positively Unbreakable," hopes to reach a large audience with this production.
"It is relevant to me because a national initiative of the Links is to educate our community on the incidence and prevalence of HIV/AIDS," she said. "We want the African-American community to know how this disease can be prevented."
"Positively Unbreakable" stars Nieta Wigginton, a Lexington native whose prior stage credits include, "Blues for an Alabama Sky," "Cat on a Hot Tin Roof," "Oak & Ivy" and "U.S. vs. Fear." Joining Wigginton on stage is Whit Whitaker, UK music performance and arts administration alumnus. Whitaker has performed in "To Kill a Mockingbird," "Crumbs from the Table of Joy," "Don Quixote" and "The King and I." "Positively Unbreakable" also features UK music performance sophomore Clark Janell Davis, who reigned as the 2015-2016 Miss Kentucky. She recently performed in the UK Opera Theatre's production of "Ragtime."
Tickets for "Positively Unbreakable" are $10 in advance and $15 at the door. They are available by calling the Lyric box office at 859-280-2218, online at www.lexingtonlyric.com, or on site at 300 E. Third St. A portion of the proceeds will be used to benefit AVOL.
For more information, contact Lisa A. Brown at 859-492-3036.
UK is the University for Kentucky. At UK, we are educating more students, treating more patients with complex illnesses and conducting more research and service than at any time in our 150-year history. To read more about the UK story and how you can support continued investment in your university and the Commonwealth, go to: uky.edu/uk4ky. #uk4ky #seeblue