Public Health Inducts Four Into College's Hall of Fame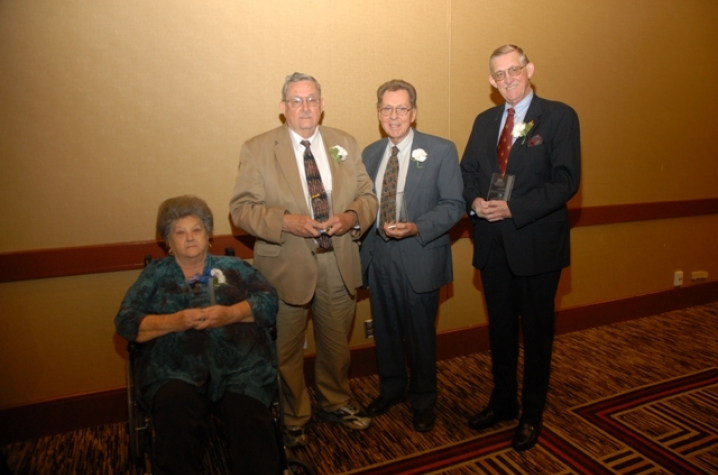 LEXINGTON, Ky. (Nov. 16, 2010) − The University of Kentucky College of Public Health recently inducted four new members into the Hall of Fame during its Seventh Annual Public Health Hall of Fame recognition on October 22, 2010 held at the Hyatt Regency in downtown Lexington.
Each year, the event honors both Kentuckians and non-Kentuckians who have made major contributions to the health of populations, through process or outcome in public health activities, in Kentucky, the nation or internationally.
This year's inductees are Dr. Forrest W. Calico, Eula Hall, Dr. John Walker Poundstone and Dr. F. Douglas Scutchfield.
Calico graduated from the UK College of Medicine in 1966 and the Harvard School of Public Health in 1970. Calico served in the United States Air Force for 13 years as a flight surgeon and family physician. He has directed Family Medicine Residencies in both military and civilian settings and served as a physician executive in a large rural healthcare organization. In both capacities he focused on the responsibility of the health care infrastructure to improve population health status through collaboration among healthy community coalitions, provider groups and public health. Calico retired in 2010 as director of the UK Center for Rural Health in Danville, Ky. He served as Senior Advisor for Quality with the National Rural Health Association (2005-2007). Prior to that (1999-2004), he was the Health Systems Advisor for the Federal Office Rural Health Policy where he was responsible for the Medicare Rural Hospital Flexibility Program and actively promoted rural healthcare quality improvement.
Hall is the founder of the Mud Creek Clinic in Grethel, Ky. For more than 70 years, she has devoted her life to addressing the health care needs of her local community in eastern Kentucky. Hall began with a $1,400 donation and the commitment of two local physicians. The clinic served all those who needed it, regardless of their ability to pay. In 1977, the clinic joined forces with Big Sandy Health Care, Inc. in order to reach more people and provide more services to the community. When the clinic burned down in 1982, Hall relocated to her own house and matched $80,000 in funds from the Appalachian Regional Commission and raised an additional $40,000 within her community to rebuild the clinic. Hall has received numerous awards for her advocacy work, including honorary doctorate degrees from Berea College, Midway College and Pikeville College all in Kentucky, and Trinity College in Hartford, Connecticut. In honor of Hall, Kentucky Highway 979 which runs through Mud Creek, was renamed "Eula Hall Highway" in October 2006.
Poundstone graduated from the UK College of Medicine in 1966 and earned his master's degree in Public Health from the Harvard School of Public Health. Poundstone joined the U.S. Navy in 1970 and held many offices at home and abroad. In 1980, Poundstone left active duty to serve in the Naval Reserve, retiring as a captain. He became commissioner of health for Lexington. In his 29 years as commissioner, he developed a broad range of public health and primary care services which were nationally recognized. He has been an adjunct professor at the UK Colleges of Medicine and Public Health, president of the American Association of Public Health Physicians, vice president of the Lexington Medical Society, president of the Kentucky Public Health Association and president of the Kentucky Health Departments Association. He has also served on numerous committees related to public health and also served as a delegate to the Kentucky Medical Association.
Scutchfield is the Peter B. Bosomworth Professor of Health Services Research and Policy at UK. He is the director of both the Center for Public Health Services and Systems Research and the Center of Excellence in Public Health Workforce Research and Policy. Scutchfield earned his B.S. degree from Eastern Kentucky University, who awarded him an honorary Doctor of Science degree in 2004. He received an honorary Doctor of Humane Letters from Pikeville College. He received his M.D. from the University of Kentucky College of Medicine. Dr. Scutchfield began as assistant professor in the UK College of Medicine. He became the first professor and chair of the Department of Family and Community Medicine at the University of Alabama's College of Community Health Sciences and was subsequently named Associate Dean. He was the founding professor and director of the Graduate School of Public Health at San Diego State University. He returned to the University of Kentucky in 1997 where he was founding director of the School of Public Health.
Scutchfield is a Fellow of both the American Academy of Family Practice and the American College of Preventive Medicine (ACPM). He has served in many medical and public health professional organizations and received numerous awards for his service.