UK Math Prof Recognized for Work with Women and Mathematics Program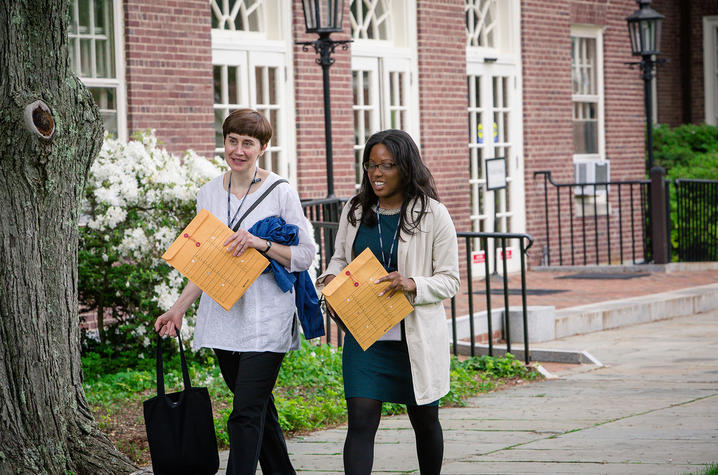 LEXINGTON, Ky. (June 6, 2019) — Margaret Readdy, professor of mathematics in the University of Kentucky College of Arts and Sciences, was recently recognized for her work as the academic program manager for the Women and Mathematics Program (WAM) at the Institute for Advanced Study in Princeton, New Jersey. Readdy helps organize WAM, a week-long summer workshop of lectures, mentoring and career development by prominent female mathematicians directed to female undergraduate, graduate, postdoc and junior faculty attendees.
The workshop, which was begun in 1993 by mathematicians Chuu-Lian Terng (University of California, Davis) and Abel Prize winner Karen Uhlenbeck (University of Texas at Austin), fosters networking through panels and informal discussions. By bringing together women at different stages of their mathematical careers from academia, government and industry, the program also seeks to eliminate the sense of isolation that women in mathematics can feel as minorities in their field.
Thanks to Readdy's work and that of her colleagues and co-organizers of the program, WAM was recently awarded the 2019 Award for Mathematics Programs that Make a Difference from the American Mathematical Society. This award, initiated in 2005, recognizes mathematical organizations that aim to bring underrepresented populations into the field and to provide models for others to establish similar programs.
"When I arrived at UK in 2000 I was the only female faculty member in the mathematics department," Readdy said. "The climate for women in mathematics and the sciences has improved, but there are still barriers preventing talented individuals from achieving their life goals. The WAM program has enabled me to take my love of mathematics to the national level and encourage women at critical life stages to soar over these barriers."
Readdy, who specializes in algebraic combinatorics and discrete geometry, was awarded a five-year grant in 2016 from the Simons Foundation to support her research with resources to travel and collaborate.