UK Veterinary Diagnostic Lab Director Receives National Honors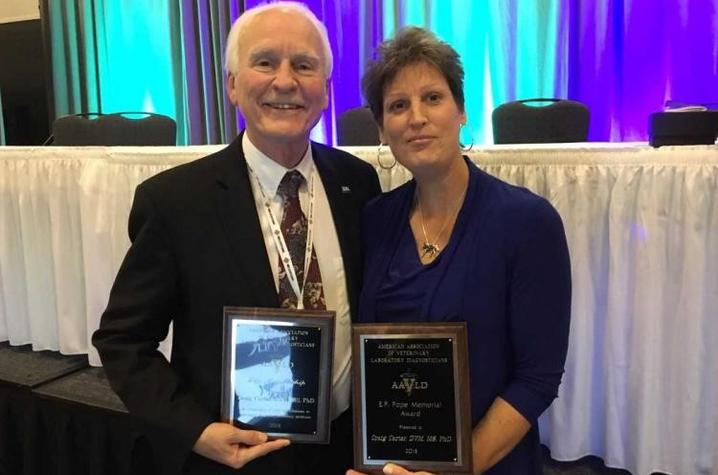 LEXINGTON, Ky. (Nov. 7, 2018) — Craig Carter, director of the University of Kentucky Veterinary Diagnostic Lab, recently received two prestigious awards from the American Association of Veterinary Laboratory Diagnosticians at its annual meeting in Kansas City, Missouri.
The E.P. Pope Award, named for one of the association's founders, is the highest award the AAVLD bestows. Carter received it for his noteworthy and significant contributions to the association related to implementing and advancing veterinary diagnostic lab medicine.
Additionally, Carter, also professor of epidemiology for the UK College of Agriculture, Food and Environment and the UK College of Public Health, received the AAVLD Life Member Award recognizing his nearly 39 years of contributions to veterinary diagnostic laboratory medicine.
"I am humbled to receive these two awards on behalf of everyone in the AAVLD and especially my faculty and staff at the UK Veterinary Diagnostic Laboratory for all their hard work every day to improve and maintain the health and welfare of animals and public health in the Commonwealth," Carter said. "Many folks are not aware that our lab is open seven days a week to serve our clients. Our faculty and staff's commitment to their work is nothing short of amazing — they make me look good every day. I am also so grateful to the entire administration of the College of Agriculture, Food and the Environment, to UK and to our clients and stakeholders for their unwavering support in the sustainment and accomplishment of our laboratory mission. Finally, I thank my wonderful and beautiful wife Ronda for believing in me and supporting my career aspirations all these years."
Carter earned a bachelor's degree and master's degree from Texas A&M University. After veterinary school, he ran a large animal ambulatory practice in Texas for five years and then later joined the Texas Veterinary Medical Diagnostic Laboratory as a clinical associate, where he created a Department of Epidemiology and Informatics to advance reporting and epidemiology services for the laboratory and its clients.
In 2005, UK recruited Carter to serve as a full professor of epidemiology, and in 2007, UK appointed him director of the UK VDL.
His research interests include infectious disease epidemiology, antimicrobial resistance, electronic animal health monitoring, computer-based clinical decision support and laboratory information systems. He has worked as a veterinary and public health consultant in more than 30 countries. Carter's military career in the U.S. Air Force and the U.S. Army spanned four decades. During his military service, he completed four wartime deployments. He commanded the first Army Reserve Veterinary unit into Afghanistan after the 9/11 attacks and retired as a colonel in 2009. He received the American Veterinary Medical Association International Veterinary Congress Prize in 2016. Carter is a diplomate of the American College of Veterinary Preventive Medicine and a distinguished scholar of the National Academies of Practice.
The mission of the UKVDL is to develop and apply state-of-the-art diagnostic methodology to improve animal health and marketability, to protect the public health and to assist in the preservation of the human-animal bond through the principles of One Health. The UKVDL is fully accredited by the American Association of Veterinary Laboratory Diagnosticians.