Winter Weather and Safety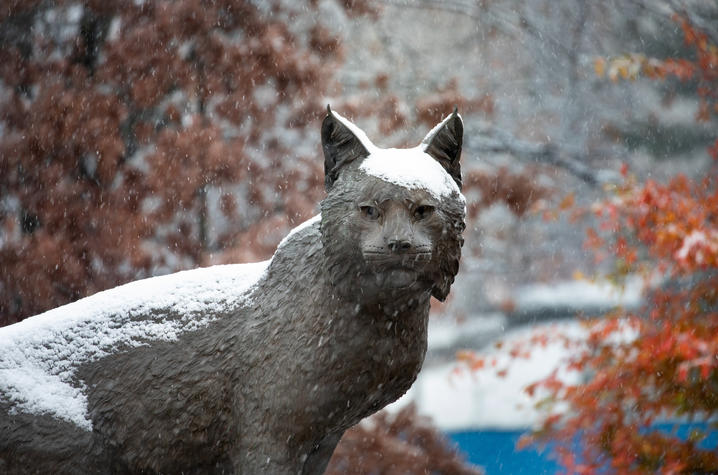 LEXINGTON, Ky. (Dec. 9, 2020) — University of Kentucky Executive Vice President for Finance and Administration Eric Monday sent an email to UK employees yesterday outlining some changes in winter weather procedures resulting from remote instruction and work due to the COVID-19 pandemic. Please see the message below.
Colleagues,
The changes that COVID-19 has made in regard to how UK employees perform their work duties and how instruction is delivered to our students are also resulting in changes to how we react to inclement winter weather.
While our goal is to always keep campus fully operational and sustain our critical missions of education, research, service and patient care, there are rare occasions when we must alter our normal schedule or close the non-health care portion of campus and operate on our severe weather staffing plan known as Plan B. Note: UK HealthCare employees shall follow the procedures and policies outlined in UK HealthCare Policy and Procedure #A09-055 UK HealthCare Plan B Staffing During University Emergencies.
In previous winters, excessive snow or ice may have resulted in cancelation of classes, closing of non-health care offices and implementation of Plan B. However, with remote working and learning practices in place now due to COVID-19, we are altering our severe weather plan for this winter.
The university has worked with emergency management officials, faculty and staff on the following policies with respect to inclement weather:
Information for faculty
Students enrolled in online classes (or hybrid classes whose schedule for the day of closure or delay was to be virtual or online) would continue course work and meetings virtually, regardless of an emergency closure, unless canceled at the discretion of the course instructor.  
The Senate Council, the UK Faculty Affairs Work Stream, and the Office for Faculty Advancement recommend faculty members include syllabus language during the winter intersession and spring semester that provides guidance for students regarding such winter weather closings during the COVID-19 pandemic, inclusive of the method of conducting class in event of a closure or delay and definition of an excused/unexcused absence in the event of a delay or closure.
Information for staff
Employees who work from home will work as normal during severe weather events causing delay or closure unless other accommodations are made by an employee's manager (see item 7 on FAQ page).  
The Human Resources newsletter, Supervisor Solutions, will include guidance to managers to consider their current operating needs and to, based on that consideration, communicate status of designated, designated to work remotely and non-designated to each employee for whom they are responsible. 
It is possible that an employee's designation may differ now from prior to the pandemic. It is important to discuss your position and Plan B category with your supervisor. For more information on employee designation and procedures on Plan B days or other university emergencies, please review HR Policy and Procedure #71.
The three designations for employees under Plan B are:
Designated employee: Regular on-site attendance is required when Plan B operations are in effect.
Designated employee via remote access: Employee may work remotely during Plan B operations.
Non-designated employee: Employee should not work unless specifically contacted by a supervisor and asked to do so.
Should non-designated employees work during Plan B, they will not receive emergency closing time off to be taken at a later date.
For anyone reporting to campus, Human Resources has information on how to navigate campus safely, including maps showing the first sidewalks to be cleared during winter weather.
Utility outages local to the employee who is working remotely are not a reason to use emergency closing leave. Instead, supervisors should discuss with employees what work they can do during the (hopefully short) period of utility outage, how to flex the schedule later in the work week, and availability of applicable leave, etc. If solutions are not sufficient for the period of the outage, the supervisor should contact HR Employee Relations.
Now is a good time to review and update your UK Alert account. UK Alert, the university's emergency notification system, is activated in times of university closings, delays, early dismissals due to weather, and other major emergencies on campus that require immediate action. Log in to myUK and click the UK Alert tab under Employee Self-Service to update your account.
The president, in consultation with senior staff, will make any decision about closing a department, unit, college or the university.
(Please note: Due to the nature of operations in a health care environment, UK HealthCare employees will follow the procedures and policies outlined in UK HealthCare Policy and Procedure #A09-055 UK HealthCare Plan B Staffing During University Emergencies.)  Given our continued responsibility for uninterrupted care for patients and their families, UK hospitals and clinics will remain open even when classes are canceled, and academic and other non-health care offices are closed.
Details about the University's severe weather procedures can be found at http://www.uky.edu/PR/News/severe_weather.htm.
You can also find the most up-to-date information during emergencies in the following places:
The UK Infoline at 859-257-5684
UK cable channel 184
Other local media outlets
Thank you for all you do.
Sincerely,
Eric N. Monday                                                                                                                                                                                                                                                                              Executive Vice President for Finance and Administration