$3.4 Million Grant Empowers UK, U of L, and State Commission to Support Kentucky Children with Hearing Loss and Deafness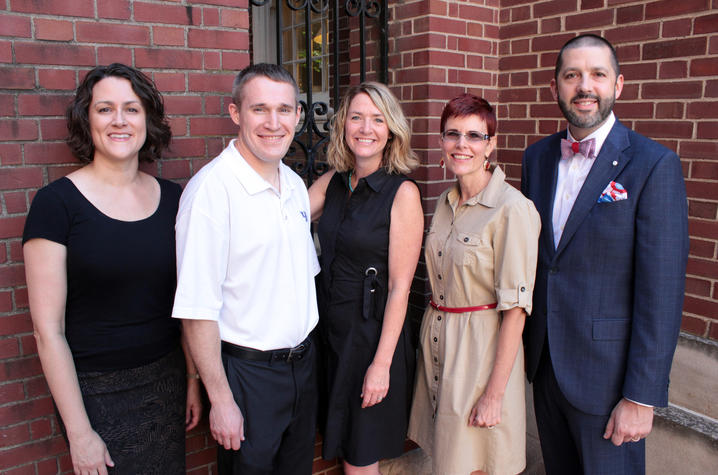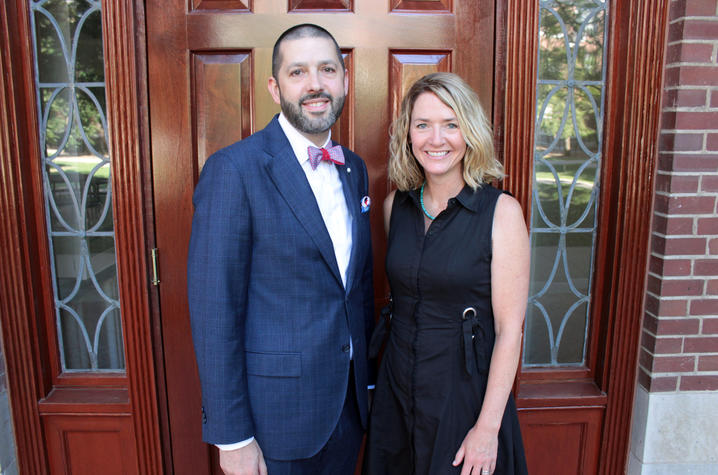 LEXINGTON, Ky. (Nov. 30, 2018) – For children with hearing loss or deafness, health interventions often focus on immediate issues related to the ear and language development, sometimes overlooking important psychosocial dynamics such as behavior and parenting patterns. But for University of Kentucky social worker and public health researcher Christina Studts and otolaryngologist Dr. Matt Bush, the critical interplay between children's hearing loss, children's behavior, and parenting is at the center of an ongoing collaboration that aims to improve the lives of Kentucky kids and families. 
When Studts and Bush first teamed up six years ago to study disruptive behaviors among children with hearing loss, they were dismayed by their findings: high rates of behavior problems, but no related therapy or interventions.
"When we compared the prevalence of behavior problems among preschool-aged kids with cochlear implants, hearing aids, and typical hearing, we confirmed that the children with hearing loss had almost double the rate of behavioral issues," Studts said. "Nearly half of the deaf and hard of hearing kids in our study were exhibiting disruptive behaviors causing impairment, compared to one in five kids with typical hearing. Their parents were concerned, too. But none of the children with hearing loss had received behavioral services, compared to eight percent of the children with typical hearing." 
An expert in early childhood and parenting interventions, Studts was well aware that behavioral problems in children are linked to an array of long-term negative outcomes in education, health and employment. For children with hearing loss, the development and maintenance of behavioral problems constitute a vicious cycle if not addressed: Hearing loss can make it difficult for a child to navigate their world and express themselves, which can result in acting out. These disruptive behaviors further impede the child's social development, as well as their hearing treatment and speech and language therapy, thereby exacerbating the challenges of hearing loss. Additionally, the challenges of parenting deaf and hard of hearing children with behavior problems often result in negative behavioral patterns between children and parents that can become entrenched over time, even when hearing and speech and language interventions are effective.
Building on their history of community-engaged research to understand and address this relationship between childhood behavior and hearing loss, Studts and Bush have now received a five-year, $3.4 million R01 grant from the National Institutes of Health/National Institute on Deafness and Other Communication Disorders to adapt and deliver an evidence-based parenting program for families of young children with hearing loss. The team will test the program at ten state-funded hearing health offices in Kentucky, led by trained "coaches" who are themselves parents of deaf and hard of hearing children. Families who participate in the program will receive a strengths-based assessment and up to six parent coaching sessions annually for three years.
"This research really is about addressing the whole child," Bush said. "We know that the earlier you intervene, the better the long-term outcomes—both with hearing loss, in terms of hearing and speech, and with behavior. In hearing health care, historically we've been very focused on the ear and the function of hearing. But as a clinician, what I've seen among kids with hearing loss is that because they have difficulty communicating, they try to use other behavior—what we sometimes call 'disruptive' behavior—to communicate their basic needs. And I've also seen the worry, stress, strain, tears, and joy of parents who are dealing with these kids. So our project is really an attempt to address the whole child and the whole family, not just address the problem or symptom of hearing loss in isolation."
In addition to Studts, an assistant professor in the UK College of Public Health, and Bush, an associate professor in the UK College of Medicine, the interdisciplinary R01 team involves additional co-investigators at UK, including speech and language pathologist Joneen Lowman, a professor in the UK College of Health Sciences, and biostatistician Phil Westgate, an associate professor in the UK College of Public Health. Julie Jacobs serves as project director.
Outside of UK, project partners include researcher Liza Creel of the University of Louisville School of Public Health and Information Sciences; Cathy Lester, health program administrator at the Kentucky Office for Children with Special Health Care Needs; and the Kentucky chapter of Hands & Voices, a national non-profit providing support to families with deaf and hard of hearing children. The team benefits from ongoing guidance from a Community Advisory Board, which is comprised of parents of children who are deaf or hard of hearing, audiologists, speech and language pathologists, early interventionists, educators, and other key stakeholders.
"In this type of community-engaged work, real involvement of stakeholders is just invaluable," Studts said. "For this project, they let us know pretty quickly that our original plans for parenting interventionists were not going to fly—that we needed to think about training parent coaches for this purpose, who would be much more acceptable to parents in the study."  
The study, designed as a hybrid effectiveness-implementation trial, seeks to determine if the parenting intervention increases positive parenting and decreases disruptive behavior in children, and if those improvements lead to better treatment compliance and language development outcomes in the children.
"In the typical-hearing population, we know that parenting interventions can improve both parent and child outcomes. But this area has been overlooked in the deaf and hard of hearing population because, among those seeking treatment, hearing and language development are the primary foci," Studts said.
As an implementation science study, measures will also assess differences in outcomes that might be associated with characteristics of the parent coaches, clinics, and communities involved.
"We are testing the effectiveness of the adapted intervention, and simultaneously learning about barriers and facilitators to real world implementation," Studts said. "This approach will facilitate rapid translation from research to practice for the underserved population of deaf and hard of hearing children."
She and Bush attribute the successful longevity of their collaboration to a "total commitment" to team science.
"The way we're approaching team science, even the way we write grants, is purposeful and strategic to benefit the whole team, not just one individual," Bush said. "We share a commitment to excellence and a belief that a team is critical, especially as it relates to complicated issues with children and research involving vulnerable populations. You really need to work with lot of different kind of people to inform what you do and inspire you to do new things."
They also acknowledge UK funding mechanisms that supported preliminary research critical to their successful R01 grant, including the Center for Clinical and Translational Science (CCTS) KL2 Program (where Studts and Bush first began their cross-college collaboration, as KL2 Scholars), two CCTS early career pilot grants, and the Value of Innovation to Implementation Program (VI2P) from the Center for Health Services Research.
"The CCTS and VI2P support here at UK set us up perfectly to develop this project and compete successfully for NIH funding," Studts said.
"Tina Studts and Matt Bush illustrate the finest aspects of team science," said Dr. Philip Kern, director of the CCTS. "They come from very different disciplines but discovered true synergy in their efforts to better understand the behavioral problems that occur in hearing impaired children. They have formed an outstanding multidisciplinary team which will have an enormous impact on the future of children with hearing loss. I am very happy that the CCTS was able to help catalyze the efforts of these talented researchers."
With six years of collaboration behind them and five years of the new R01 project ahead of them, Studts, Bush, and their colleagues remain steadfast in their mission of helping children with hearing loss improve both short- and long-term life outcomes, and to engage the whole family in their wellness.
"These kids are often neglected, ignored and marginalized in the educational system and sometimes in the hearing healthcare system," Bush said. "If we can be a source of strength and support for these families and help them address both hearing loss and behavior—that's what moves us forward."
-           -           -
The UK Center for Clinical and Translational Science is supported by a Clinical and Translational Science Award from the NIH National Center for Advancing Translational Sciences, grant number UL1TR001998.