UK Artist Wins Nettleford Fellowship in Cultural Studies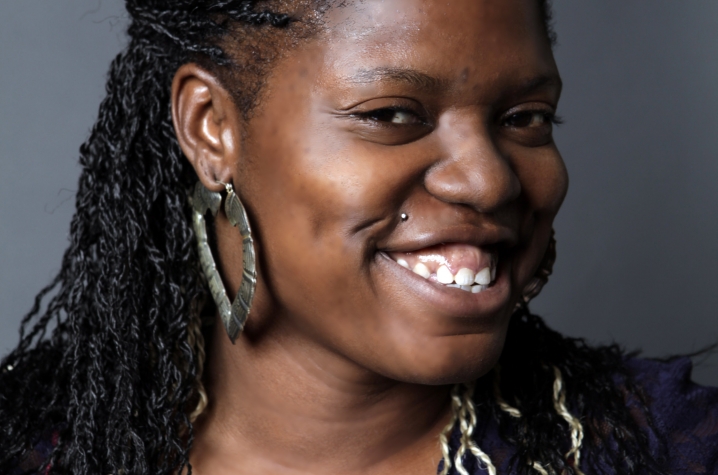 LEXINGTON, Ky. (Sept. 12, 2011) − Ebony G. Patterson, an assistant professor of painting at the University of Kentucky Department of Art, has been named the recipient of the Rex Nettleford Fellowship in Cultural Studies. The fellowship will cover project costs and travel expenses for an interactive multi-media installation that furthers her research in gender and masculinity in Jamaican dancehall culture. Patterson is the first visual artist to receive the fellowship.
"I am quite honored that I was chosen for the award and to be the first visual artist to receive the award is an even greater honor," says Patterson. "I am excited that the committee has allowed me the opportunity to do the incredibly ambitious project. I am really excited about all of what I will learn from it and how it will reshape my work."
The Rex Nettleford Fellowship is an annual award that was established in 2004 by the Rhodes Trust to mark 100 years of Rhodes Scholarships in the Caribbean. The fellowship honors the contributions made by the late Jamaican educator, scholar and choreographer Rex Nettleford to higher education and the cultural life of the Caribbean. Fellowship winners must be residents of the Caribbean under the age of 35, who are pursuing scholarship in the field of cultural studies, including studies in the creative or visual arts.
Patterson was selected as recipient of the Nettleford Fellowship from a pool of more than 30 applicants. As recipient of the Nettleford Fellowship, she will receive more than $16,000 to go toward the project and a travel grant of more than $3,000 to develop a new project. In addition to work on her project, as an award holder she is also expected to give a number of public lectures, which will be made available on the website of the Rhodes Trust.
With her fellowship funding, Patterson will execute a large-scale interactive multi-media installation with embellished objects in a setting that mimics a neighborhood photo studio. The work will be comprised of a series of 10 embellished outfits that willing participants can don to be part of the piece by acting as idealized masculinities that are documented in an elaborate installation with imagery and objects, functioning very much like props in a photo studio. At the end of each performance, participants will receive a photo document. Non-participating audience members will be able to observe this process as well as take in the embellished objects and documented images of the artwork or a live projected video feed that will be projected to several locations throughout the Caribbean. A publication of Patterson's body of work will also accompany this project, as well as an exhibition.
"I am also interested in how this project could engage members of the community to begin a conversation about the understandings of masculinity," says the artist.
Patterson, who began teaching at UK in the fall of 2007, has participated in several group exhibitions at the Brooklyn Museum, Tacoma Contemporary, Kingston's Mutual Gallery and France's Centre International d`Art Contemporain. Amid her group show credits are "Young Talent V," "Jamaica Biennial 2006" and "Jamaica Biennial 2004" at the National Gallery of Jamaica; "Royal Overseas League Travel Scholars 2002 Exhibition" presented in both London and Edinburgh; "Taboo: Identities, Race, Sexuality + The Body" presented at Kingston's Olympia Art Center and the Tuska Center of Contemporary Art at UK, which she also curated; "Rockstone and Bootheel" at Real Art Ways, in Hartford, Conn.; and "Ghetto Biennale 2009" in Port-au-Prince, Haiti. Most recently, Patterson was among the presenters at 2011 TEDxIrie presented in April in New Kingston, Jamaica.  
The UK Department of Art, at the UK College of Fine Arts, is an accredited member of the National Association of Schools of Art and Design and offers undergraduate and graduate degrees in the fields of art studio, art history and art education.
MEDIA CONTACT: Whitney Hale, (859) 257-8716 or whitney.hale@uky.edu