College of Public Health Research Center Team Receives Award for Tractor Safety Program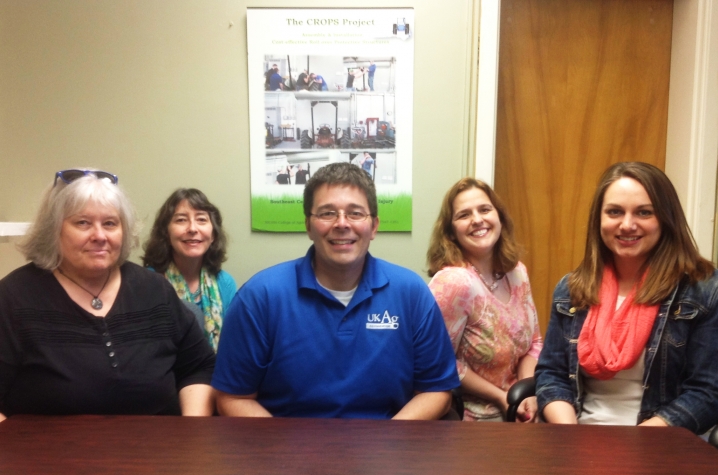 LEXINGTON, Ky. (May 29, 2015) — A research team from the Southeast Center for Agricultural Health and Injury Prevention (SCAHIP), which is housed within the University of Kentucky College of Public Health, has been awarded top honors in the National Institute for Occupational Safety and Health's (NIOSH) Evaluation Contest.
The Kentucky team was awarded the honor for its project, "The UK-CROPS Project – Cost-effective Roll-over Protective Structures," and was recognized for this accomplishment at the National Occupational Injury Research Symposium on May 21 in Kingwood, West Virginia. The aim of the project is to implement a cost-effective solution for farmers in Appalachia who are using older model tractors that are not equipped with Rollover Protection Structures (ROPS).  Nationwide, tractor-related fatalities account for as much as one-third of agricultural-related deaths. 
The project team was led by Joan Mazur, Ph.D., of the UK College of Education and Stacy Vincent, Ph.D., of the College of Agriculture. Other team members include Susan Westneat of the College of Public Health, and graduate students Jennifer Watson (College of Education), Morgan Schafbuch (College of Agriculture), and Kyle S. Wood (College of Agriculture).  
While ROPSs have been required installations on tractors for 30 years, many farmers in the Appalachian region employ older machines, and the cost of retrofitting them with these safety devices is not feasible for the farmers. The UK-CROPS project carries out a goal of NIOSH to address the barrier cost can provide to retrofits by designing and testing cost-effective ROPS plans.  In so doing, it offers a intervention tool that could not only increase farm safety, but strengthen local communities.
"The UK-CROPS Project partnership with high school Ag Power Mechanics programs in Kentucky, Tennessee and North Carolina to install CROPS in their local communities is a powerful intervention to save lives and empower youth in rural communities," Mazur said.
MEDIA CONTACT: Sarah Noble, sarah.noble@uky.edu