Center for Clinical and Translational Science Conference Focuses on Moving Discoveries to New Interventions for Health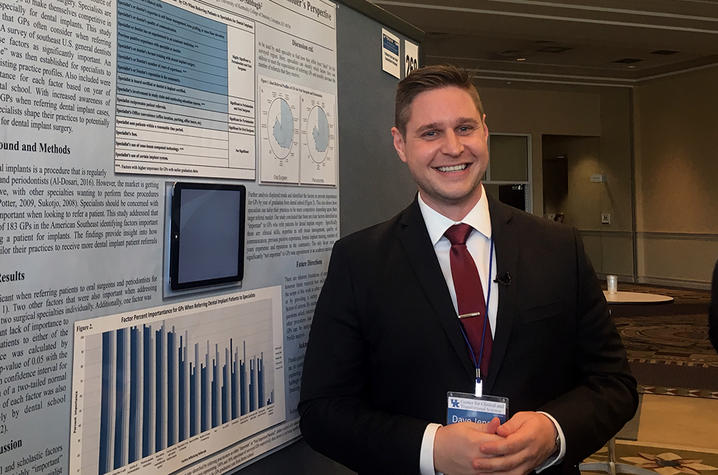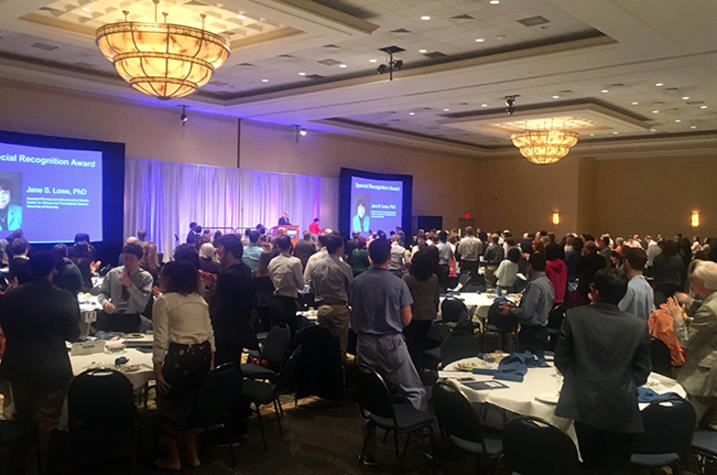 LEXINGTON, Ky. (March 31, 2017) – The 12th Annual Spring Conference of the University of Kentucky Center for Clinical and Translational Science (CCTS) was held March 30 in Lexington with more than 800 researchers, clinicians, students and partners convening to discuss the theme of "Clinical Trial Networks and Team Science:  Moving Discoveries to Interventions."
The CCTS, funded by a Clinical and Translational Science Award from National Institutes of Health, hosts the conference each year to share science and enhance research collaborations. A disease-agnostic center, the CCTS doesn't focus on any one type of disease but provides pilot funding, a spectrum of research support services, and training and education to accelerate discoveries with specific focus on health issues affecting Kentucky and Central Appalachia.
This year's conference theme acknowledges the significant challenges of translating knowledge into new interventions for individual and community health, a process which often takes years or decades. Multidisciplinary research teams and networks of clinical trials, however, can expedite the process by combining expertise and leveraging existing research systems.
"In the not-so-distance past, 'medical research' conjured the image of a single investigator, alone in their lab with a microscope," said Dr. Philip A. Kern, director of he CCTS. "But as research methods have become more specialized and health problems more complex, multidisciplinary collaboration is critical to gaining new knowledge and turning discoveries into new interventions. Combining the expertise of multiple specialties and bridging our work across the clinic, the lab, and communities is essential to making real advancements to improve health."
Reflecting the importance of a multidisciplinary approach, the conference was held in junction with the UK College of Dentistry Research Day, the UK College of Engineering Biomedical Research Day, the UK College of Health Sciences Research Day​, the UK College of Nursing Scholarship Showcase, the UK College of Public Health Research Day, and the UK MD/PhD Program Research Day. Representatives from Marshall University, a partner of the CCTS in the Appalachian Translational Research Network, were also in attendance, as were colleagues from the UK Center for Excellence in Rural Health.
A morning plenary session, presented by Anne Sales, PhD, RN, professor and associate chair for educational programs and health system innovation in the department of learning health sciences at the University of Michigan Medical School, focused on implementation science. The keynote address was delivered by R. Kip Guy, PhD, who recently joined UK as dean of the College of Pharmacy and professor in the Department of Pharmaceutical Sciences. He discussed his work in discovering and developing SJ733, a novel antimalarial drug.
Breakout sessions addressed a number of issues and initiatives in translating discoveries into new health interventions. The Multidisciplinary Value Program (MVP), a new funding mechanism aimed specifically at catalyzing team science and clinical trials at UK, was the focus of one session, and highlighted the work of two MVP teams who are working to assess the effects of e-cigarettes on airway function in asthma and improve addiction treatment for hospitalized opioid-dependent patients, respectively. Other breakout sessions centered on addressing health disparities in clinical trials, technology commercialization and entrepreneurship, implementation science, and the use of research registries. Afternoon sessions featured presentations of twelve CCTS scholars and researchers.
The afternoon poster session included nearly 300 poster presentations by researchers and students from both the CCTS and the colleges collaborating in the conference.  New to this year's conference was a partnership with the Von Allmen Center for Entrepreneurship for a "Pitch Your Poster" competition. Twenty researchers delivered two-minute "poster pitches" to judges, who awarded the following prizes:
First Place ($300): Ahmad Al-Attar, "Modulation of Epithelial Chemokine Responses by Oral Commensal Bacteria"
Second Place ($200): Tara Shrout, "Early Clinical Signatures of Stroke and Bleeding in Patients on Left Ventricular Assist Device Support"
Third Place ($100): Kai Zhang, "The Role of MCP-1/CCR2 in Ethanol Neurotoxicity in the Developing Brain"
Director's Awards ($100): Dave Jensen, "Factors Influencing the Referral of Dental Implant Patients: The General Practitioner's Perspective"; Yev Chorenkyy, "Early Detection of Pancreatic Ductal Adenocarcinoma (PDAC): Concordant Assignment among Black and Cancer Exosome Lipid Extracts"
Central to the work of the CCTS is educating and training the upcoming generation of clinical and translational researchers, and mentorship is an essential part of that mission. For this reason, each year the CCTS presents awards to mentors who have been nominated by their mentees. Awards were presented to four mentors:
Alan Daugherty, PhD, director of the Saha Cardiovascular Research Center, and chair of the Department of Physiology, and Gill Foundation Chair in Preventive Cardiology
Matthew S. Gentry, PhD, professor, Department of Molecular and Cellular Biochemistry, UK College of Medicine
Gregory A. Jicha, MD, PhD, professor, Department of Neurology, UK College of Medicine
Brian Noehren, PT, PhD, associate professor, Division of Physical Therapy, Department of Rehabilitation Science, UK College of Health Sciences and Department of Orthopaedic Surgery, UK College of Medicine
A special recognition award was presented to Jane S. Lowe, PhD, administrative director of the CCTS, who is retiring after more than 25 years of academic and research administration.
"Dr. Lowe has been at the heart and soul of the CCTS since its inception, and will be forever linked with our center," Kern said. "Over the years, as members of the leadership of the center and of the university have come and gone; as faculty, staff and students have traversed its waters; as local and national policies and priorities have changed — the one true constant of the UK CCTS has been Jane Lowe. She has faithfully served as an intrepid founder, an exacting archivist, an unrelenting challenger and our most ardent supporter.  Without reservation I can say that Dr. Lowe's leadership has been at the core of every success of the CCTS."
The full list of conference events and presenters is available here.