Collaboration of Scientists from UK, Dunbar Cultivates Success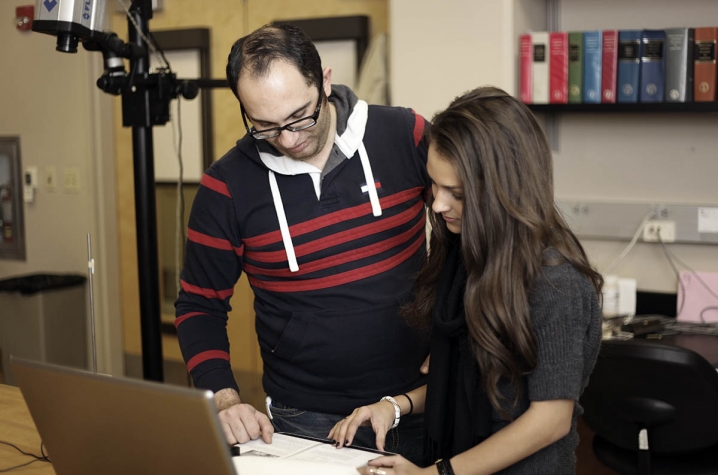 LEXINGTON, Ky. (Feb. 26, 2014) — A scientific collaboration between the University of Kentucky's Institute of Research for Technology Development (IR4TD) and two Lexington high school students showed real results, when both students were awarded prizes at the Kentucky American Water Science Fair Feb. 8.
Paul Laurence Dunbar High School students Kendall Kruszewski and Madison Donoho conducted research projects with IR4TD, guided by a mentor. Competing among nearly 700 students, Kruszewski won the Lexmark Engineering Award, and Donoho took second place for her project in the engineering category.
"This hands-on experience has allowed me to expand my knowledge within multiple fields and has instilled in me a desire to gain knowledge and insights that can contribute to society," Kruszewski said.  
IR4TD is a unique engineering research center dedicated to research, education, outreach and service at UK. The institute is the product of a long collaboration between Toyota and the university that has extended for more than 20 years. IR4TD offers two programs to assist many types of organizations: Research and Development, designed to offer new ideas and solutions, and Lean Systems, designed to offer training and coaching.
IR4TD provided a mentor for the high school students over the course of January to December 2013 to work on research projects that fulfilled a requirement of the Math, Science and Technology Center, a rigorous gifted and talented program at Dunbar that both Kruszewski and Donoho are members of. 
Kruszewski and her mentor, postdoctoral scholar Ahmad Salaimeh, chose their project based on the career fields that interested Kruszewski: medicine, engineering and computer science. The pair also looked into society's needs and determined that methods of medical diagnosis needed an upgrade. Their idea: infrared thermography as a potential method for medical diagnosis. So, they conducted a test matrix of 135 experiments to distinguish between multiple biological systems by using transient temperatures of the hand monitored by infrared thermography.
"They are very enthusiastic and they follow up with questions, start discussions, challenge and change experiments, and research on their own," said Salaimeh about IR4TD high school students having ownership of their projects.
Salaimeh directed Kruszewski toward literature relating to the project, educated her on MATLAB (a program for numerical computation, visualization, and programming), and is currently a co-author to Kruszewski's paper on the project. Salaimeh was not only Kruszewski's mentor, but test subject as well, fully engaging himself in the project and Kruszewski's learning.
"Without my mentor, the idea of such a project would have not been developed. He taught me multiple subjects," Kruszewski said. "Without learning these subjects from him and having him there to help, I wouldn't have the knowledge necessary for this project."
After presenting at the science fair and winning the Lexmark Engineering Award, Kruszewski and Salaimeh are now focused on publishing a paper on the subject and preparing for the Central Kentucky Regional Science and Engineering Fair on March 1 at UK. 
Both Kruszewski and Donoho will advance to the regional science fair taking place at UK's Student Center.
UK's IR4TD continues to practice collaboration and outreach with the mentorship of six high school students this year, up from four students last year. Salaimeh said the program is becoming competitive because of word-of-mouth from previous students. IR4TD Director Kozo Saito says the partnership benefits the institute as well.
"This broader mission of education inspires all our institute members including graduate students, faculty, and staff to participate in the high school student mentoring program," he said. "Interestingly, we probably have learned more from them than we have taught them —a very rewarding feeling, a confirmation of the value of our service principles that keeps us going."
MEDIA CONTACT: Whitney Harder, whitney.harder@uky.edu