Gill Heart Institute Cardiovascular Research Day Highlights Innovations in Cardiovascular Health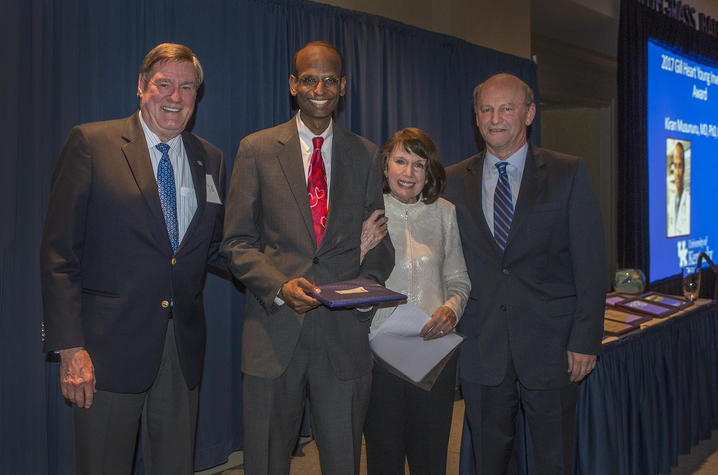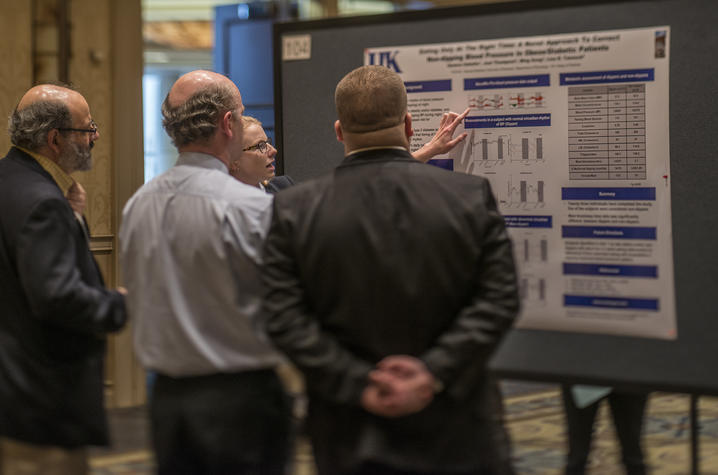 LEXINGTON, Ky. (Nov. 20, 2017) — More than 350 researchers, students and guests attended the 20th University of Kentucky Cardiovascular Research Day at the Lexington Convention Center, an annual event that celebrates the innovative research in cardiovascular health.
After opening remarks by Alan Daugherty, Ph.D., director of UK's Saha Cardiovascular Research Center and Dr. Mark Newman, UK Executive Vice President for Health Affairs, several distinguished speakers presented their research. Dr. Calum MacRae of Harvard Medical School presented "Bridging the Gaps in Cardiovascular Translation." Steven Houser, Ph.D., of Temple University presented, "Cardiac Repair and Injury."
John Charles, Ph.D., '83, of the NASA Human Research Program at Johnson Space Center gave the Distinguished Alumni Presentation, "From the Bluegrass to Beyond the Blue."
Dr. Kiran Musunuru of University of Pennsylvania was honored with the Gill Heart Institute Translational Early Career Award. He presented "Discovery and Therapeutic Genome Editing of Cardiovascular Disease Genes."
Judged poster sessions concluded with an awards ceremony recognizing the best presentations in four categories: Staff, Postdoctoral Fellow, Graduate Student and Undergraduate Student. The winners are:
Yasir Alsiraj (Pharmacology and Nutritional Sciences) An XX Sex Chromosome Complement Promotes Hypercholesterolemia and Atherosclerosis in Ldlr-/- Mice Fed Western Diet
Meenakshi Branerjee, Ph.D. (Biochemistry) Endocytosis Mediates Platelets' Responses to Viruses In The Vasculature
Lei Cai, Ph.D. (Cardiovascular Research Center) – Impact of miR-33 Antagonism on Coronary Artery Atherosclerotic Plaque Composition in Nonhuman Primates
Allison Cooke (Pathology, University of Cincinnati) - A Specific Rotamer of Apolipoprotein A-I Enables Lecithin-Cholesterol Acyl Transferase Activation by Discoidal HDL
Amanda Hoskins (Pharmacology and Nutritional Sciences) Gestational Diabetes Provokes Postpartum Cardiac Hypertrophy via Activation of Ca2+-Dependent Signaling
Hannah Russell (Internal Medicine, University of Cincinnati) Fibrinogen Depletion Attenuates Angiotensin II-induced Abdominal Aortic Aneurysm
Robert Wendroth (Biology) - Does Light Pollution Affect the Development of Atherosclerosis?
Zhihong Yang, Ph.D. (National Institute of Health) Fish Oil-Derived Long-Chain Monounsaturated Fatty Acid (LCMUFA) for Cardiovascular Diseases: A Novel Approach for Cardioprotection
The 2017 Southeast Lipid Research Conference was held in conjunction with Cardiovascular Research Day, bringing together scientists from all over the country. Topics included lipids and lipoproteins, obesity and metabolic disease, non-coding RNA and lipids, fatty liver disease and lipids and atherosclerosis.
The event concluded with a special presentation from Mark Stoops, UK Head Football Coach.
UK is the University for Kentucky. At UK, we are educating more students, treating more patients with complex illnesses and conducting more research and service than at any time in our 150-year history. To read more about the UK story and how you can support continued investment in your university and the Commonwealth, go to: uky.edu/uk4ky. #uk4ky #seeblue