Nursing Professor's Study of Anti-Tobacco Campaign Underscores Power of Community Action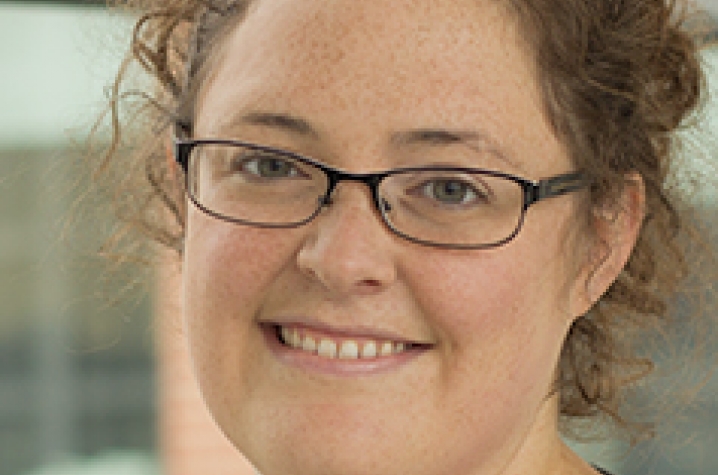 Lexington, Ky. (Jan. 26, 2016) — An anti-smoking intervention implemented and studied by University of Kentucky College of Nursing assistant professor Amanda Fallin recently proved effective in counteracting pro-tobacco promotions and ending the presence of free or low-cost tobacco products in LGBT social venues.
In San Jose, California, where a statewide smoke-free law prohibits lighting up in bars, tobacco companies targeted members of the lesbian, gay, bisexual and transgender (LGBT) community by infiltrating LBGT social venues from 2013 to 2015.   
A major tobacco company scheduled promotional visits to 10 San Jose bars during the two-year period, but more than a quarter of those visits occurred at the single LGBT bar on the list of participating venues. Studies show LGBT individuals are more likely to smoke than their counterparts and tobacco companies marketed to this vulnerable population.
Fallin, who completed a postdoctoral fellowship with the University of California-San Francisco Center for Tobacco Control Research and Education, tracked the progress of the "Butt Out of Our Bars" campaign to eliminate the influence of tobacco companies in San Jose's LGBT bars and nightclubs. The intervention, led by 34 anti-smoking and LGBT organizations in the community, was successful in passing an ordinance prohibiting the distribution of free and low-cost tobacco products in all public spaces, including bars.
Started in July of 2013, the campaign developed educational materials about smoking and tracked the promotions of cigarettes and e-cigarettes in LGBT bars. In addition, the campaign obtained more than 1,800 petition signatures from residents concerned about the promotion of tobacco products in LGBT bars. The organizers also presented information regarding the disproportionate risk of tobacco use in LGBT individuals to members of the city council. In June 2015 the city council passed an ordinance prohibiting the distribution of free or low-cost tobacco products in bars.
"This campaign used simple and cost-effective actions to counteract the influence of tobacco companies on LGBT populations," Fallin said. "The case study stands as an example of the power of community organizing to impact policy change."
To read the full article, click here. 
MEDIA CONTACT: Elizabeth Adams, elizabethadams@uky.edu