Study: Existing drug shows promise treating most prevalent type of lung cancer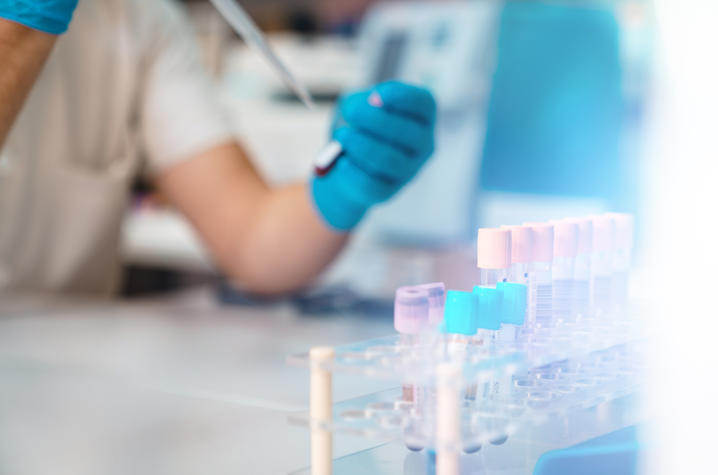 LEXINGTON, Ky. (July 19, 2023) — A University of Kentucky Markey Cancer Center research team identified an existing cancer drug that shows promise as a treatment for the most common type of non-small cell lung cancer.
The study published in the American Journal of Cancer Research shows that the Food and Drug Administration-approved medication crizotinib (also known by its name brand, Xalkori) is effective at inhibiting the growth of non-small cell lung cancer with the most common genetic mutations.
Lung cancer is the leading cause of cancer-related deaths in the U.S., with non-small cell lung cancer accounting for approximately 80-85% of cases. Certain genetic mutations are linked to non-small cell lung cancer, with mutations in the KRAS and EGFR genes the most common.
As most cases of lung cancer with KRAS or EGFR mutations develop resistance to standard-of-care treatments, identifying another therapy option like crizotinib is especially promising, says the study's principal investigator Vivek Rangnekar, Ph.D., associate director of the UK Markey Cancer Center and the Alfred Cohen Chair in Oncology Research.
"If further validated through clinical trials, the repurposing of crizotinib could have a significant impact on patient care," said Rangnekar. "By considering safe and already approved drugs for subsequent lines of treatment, particularly when cancer becomes resistant to standard therapies, medical professionals can offer effective treatment options while minimizing the adverse effects associated with aggressive treatments."
Rangnekar's team screened a library of more than 1,300 FDA-approved compounds to identify drugs capable of killing lung cancer cells with KRAS and EGFR mutations. They found that crizotinib, a drug used to treat lung cancer expressing ALK mutations, also inhibited the growth of tumors with KRAS or EGFR mutations.
Crizotinib selectively kills cancer cells by inducing the secretion of a tumor suppressor protein called Par-4. Rangnekar first discovered Par-4 and its role in cell death in prostate tissue in 1993. Since then, subsequent studies revealed that Par-4 is a tumor suppressor and that increased expression of Par-4 prevents tumor growth.
The research team included cancer biologists Nathalia Araujo, Ph.D., Ravshan Burikhanov, Ph.D., and Saptadwipa Ganguly from Rangnekar's lab; the lab of Christine Brainson, Ph.D.; and UK medicinal chemists and computational modeling experts including Sally Ellingson, Ph.D., Peter Spielmann, Ph.D., Vitaliy Sviripa, Ph.D., David Watt, Ph.D., and Chang-Guo Zhan, Ph.D. The UK team collaborated with investigators at Washington University School of Medicine and Markey's Global Cancer Consortium partner institutions Manipal Academy of Higher Education and Tata Memorial Centre.
Research reported in this publication was supported by the National Cancer Institute of the National Institutes of Health under Award Number R01CA237643. The content is solely the responsibility of the authors and does not necessarily represent the official views of the National Institutes of Health. 
UK HealthCare is the hospitals and clinics of the University of Kentucky. But it is so much more. It is more than 10,000 dedicated health care professionals committed to providing advanced subspecialty care for the most critically injured and ill patients from the Commonwealth and beyond. It also is the home of the state's only National Cancer Institute (NCI)-designated cancer center, a Level IV Neonatal Intensive Care Unit that cares for the tiniest and sickest newborns, the region's only Level 1 trauma center and Kentucky's top hospital ranked by U.S. News & World Report.  
As an academic research institution, we are continuously pursuing the next generation of cures, treatments, protocols and policies. Our discoveries have the potential to change what's medically possible within our lifetimes. Our educators and thought leaders are transforming the health care landscape as our six health professions colleges teach the next generation of doctors, nurses, pharmacists and other health care professionals, spreading the highest standards of care. UK HealthCare is the power of advanced medicine committed to creating a healthier Kentucky, now and for generations to come.