UK Receives $11.3 Million for Cardiovascular Disease and Obesity Research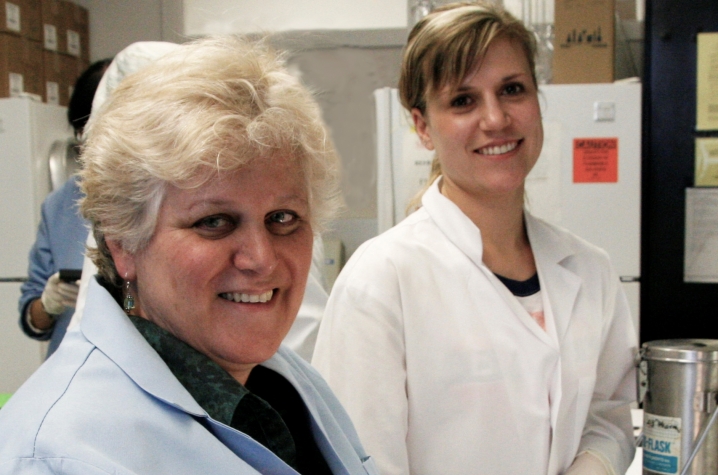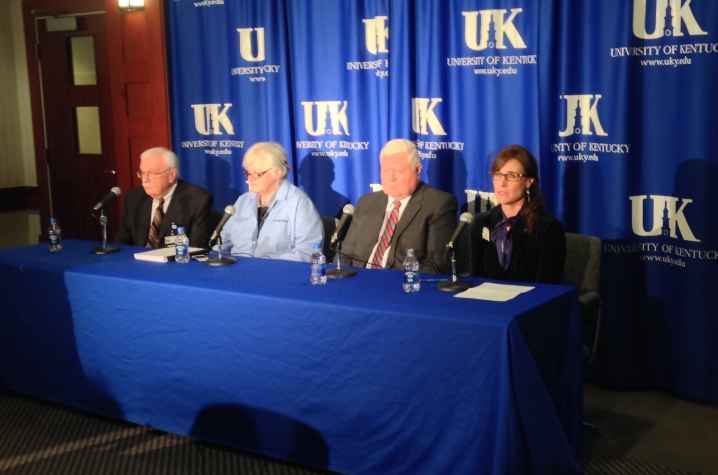 LEXINGTON, Ky. (Dec. 16, 2013) — In a time when competition for federal research funding  is tougher than ever before, the University of Kentucky has been awarded one of the largest health grants ever made to the institution: an $11.3 million National Institutes of Health (NIH) grant  supporting research focusing on issues that plague the Commonwealth - the twin scourges of obesity and cardiovascular disease.
Lisa Cassis, professor and chair of the Department of Molecular and Biomedical Pharmacology, and a faculty member of the Graduate Center for Nutritional Sciences, the Saha Cardiovascular Research Center, the Barnstable Brown Diabetes and Obesity Center, and the College of Pharmacy, is program director of the grant that supports the Center of Biomedical Research Excellence (COBRE) focused on obesity and cardiovascular diseases.
The Center supports research of promising junior faculty focused on identifying mechanisms linking the epidemic of obesity to a high prevalence of cardiovascular diseases. Junior faculty are mentored by senior investigators with a history of successful NIH funding of direct relevance to the Center's missions.  In addition, the funding supports research facilities that enhance research by this team, as well as by researchers across the UK campus.  A major objective, in addition to identifying solutions to real problems facing Kentuckians, is to assist junior faculty in competing for new NIH grants to continue this highly significant research at UK. 
"This research funding represents a win for UK in two areas: First, we will have more firepower to take on obesity and related cardiovascular diseases in the state of Kentucky. Second, we will be able to grow our next generation of excellent faculty through the mentorship component inherent in the project," said Christine Riordan, UK Provost.
This Phase 2 grant comes on the heels of initiation of a successful Phase 1 COBRE program, from which 90 percent of mentored junior faculty successfully competed for NIH funding, cutting-edge research cores were established, and pilot projects to seed additional research in this area were funded at UK.  Five hundred manuscripts were published as a result of the Phase 1 funding, with similar success anticipated in Phase 2.
"UK has made a promise to the people of this state that we will be there in the future, just as we are today, working to improve the lives of our fellow Kentuckians. This project represents the fulfillment of that promise today, as we move forward with research to improve the health of the Commonwealth, and it gives us future hope that our junior investigators will continue this work into the next generation. Today and tomorrow, we will move forward with basic and clinical research that will help real people with real health problems," said UK President Dr. Eli Capilouto.
Research to be executed under the present grant runs the gamut from laboratory research conducted at the cellular level, to bedside translational research conducted in pediatric and adult patients. The junior faculty serving as investigators on the grant are: Changcheng Zhou from the Graduate Center for Nutritional Sciences; Hongmei Ren from cardiology; Brian Finlin from endocrinology; Brandon Fornwalt from Pediatrics; and Ahmed Abdel-Latif from cardiology.
Projects focus on mechanisms for the development of obesity, the influence of obesity on recovery of the heart following a heart attack, obesity-induced inflammation and how this influences the cardiovascular system, and imaging of heart dynamics and function in obese children. 
"Cardiovascular disease is the primary cause of death for individuals who are obese," said Cassis. "We know that people who are obese are dying of cardiovascular conditions, but right now we need to do more work to understand the exact mechanisms by which obesity influences cardiovascular health. The $11.3 million in funding we have received will enable us to identify pivotal pathways that link obesity to cardiovascular diseases so that we can improve the health of people at risk for cardiovascular disease.  In addition, with Phase 2 funding we will continue to train a new generation of researchers and physician-scientists who are the future of the university."
The mentors for the project are: Cassis; Richard Charnigo, Department of Statistics; Alan Daugherty, director, Saha Cardiovascular Research Center; Gregory Graf, College of Pharmacy; Philip Kern, director, Barnstable Brown Diabetes and Obesity Center; Andrew Morris, Division of Cardiology; David Randall, Department of Physiology; Susan Smyth, chief, Division of Cardiology, Gill Heart Institute;  Deneys van der Westhuyzen, Division of Endocrinology; Nancy Webb, Division of Endocrinology; and Shuxia Wang, Graduate Center for Nutritional Sciences.
"Today we celebrate advances in cardiovascular treatment and science, as well as the tradition of academic medicine that makes UK HealthCare a great place to be a patient," said Dr. Michael Karpf, UK Executive Vice President for Health Affairs. "Our physicians and scientists combine the best of bench-to-bedside to bring the latest knowledge to bear on the treatment of our patients. Rather than just applying the most current knowledge to our clinical programs, we go a step further by creating new knowledge that benefits those who come to us for care."
The $11.3 million grant to UK comes from the NIH to support an Institutional Development Award (IDeA) Center of Biomedical Research Excellence. The IDeA program builds research capacities in states that historically have had low levels of NIH funding by supporting basic, clinical and translational research; faculty development; and infrastructure improvements.
"Institutional Development Award (IDeA) Centers of Biomedical Research Excellence (COBRE) are thematic, multidisciplinary programs that develop faculty and institutional research capabilities in states -- like Kentucky -- that historically have had low levels of funding from the National Institutes of Health," said W. Fred Taylor, who directs the IDeA program at NIH's National Institute of General Medical Sciences. "With this second phase of support, the center will be able to build on its accomplishments in advancing understanding of the mechanisms linking obesity to cardiovascular diseases, which could lead to new approaches to treatment and prevention."
###
MEDIA CONTACT: Allison Elliott-Shannon, allison.elliott@uky.edu