UK Receives $20 Million to Move Research from Laboratory to Bedside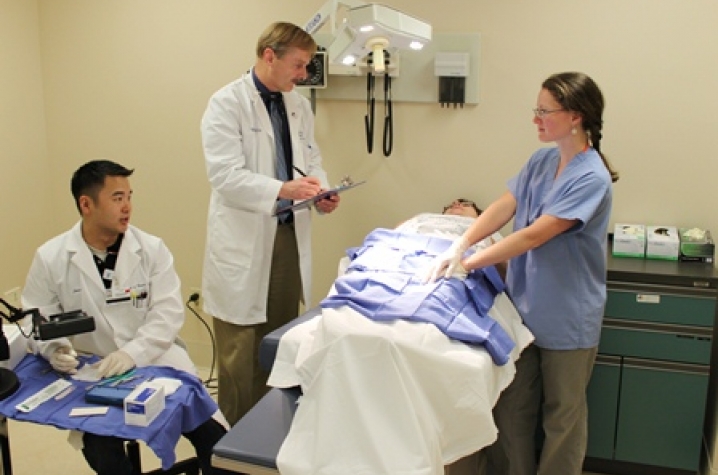 LEXINGTON, KY (June 14, 2011) — The National Institutes of Health (NIH), the largest government funding source for biomedical research in the United States, has awarded $20 million to the University of Kentucky to move research discoveries to health care solutions more quickly.

The five-year funding, awarded through the NIH's institutional Clinical and Translational Science Awards (CTSA) program, is the largest research funding award ever received by UK and will be used to support research at UK's Center for Clinical and Translational Science (CCTS), making it part of a select national biomedical research consortium. The UK center is led by Dr. Philip Kern, associate provost for clinical and translational science, who will serve as principal investigator of the program.
 
NIH launched the CTSA program in 2006 to encourage collaboration across scientific disciplines and spur innovative approaches in tackling research challenges. With the addition of the 2011 recipient institutions, the program is fully implemented and includes 60 CTSAs across the nation.  The UK Center for Clinical and Translational Science (CCTS) is the only designated CTSA in Kentucky.
The 2011 CTSAs expand consortium representation to two additional states — Kansas and Kentucky — extending the network to 30 states and the District of Columbia. With these most recent awards, the NIH is funding 60 CTSA institutions. Besides UK, the new institutions are:
Pennsylvania State University, Milton S. Hershey Medical Center, Hershey; University of California, Los Angeles; University of Kansas Medical Center, Kansas City; and University of Minnesota, Twin Cities.

"Translational research, often referred to as 'bench to bedside', means turning laboratory findings into preventions, treatments and cures for patients through collaborations across academic units with interdisciplinary research teams," said UK President Lee T. Todd Jr. "Receiving CTSA funding is evidence of the quality of scientific discovery being done at UK to improve the health of Kentuckians."
UK established its clinical and translational science center in 2006 with the goal of becoming a consortium member. "Receiving this award not only provides significant funding but also the recognition of being among the top biomedical research Universities in the country," said UK Provost Kumble Subbaswamy. "This award is the end-result of much hard work and diligence by many, many people at the university who have demonstrated their expertise in clinical research and their ability to build successful interdisciplinary collaborations."
 
CTSA funding will be used to support essential infrastructure including supporting the Clinical Research Development and Operations Center (CR-DOC) located at UK Albert B. Chandler Hospital, where patients participate in clinical research studies.  It also will be used for educational programs for future investigators, for community engagement, to fund research pilot grants and an informatics program.
 
"By receiving CTSA funding we will be able to accomplish goals that truly impact the health outcomes of people in Kentucky and beyond," said Dr. Michael Karpf, executive vice president for health affairs at UK. "Having a top biomedical research program is imperative in our plan to become a major regional academic medical center and today's announcement is an acknowledgement we are continuing to do what we need to do to meet that goal."
 
Currently, UK's translational research center is a collaboration of more than 200 individuals from 12 UK colleges, the Offices of the President, Provost, Executive Vice President for Health Affairs, and Vice President for Research, and all components of UK HealthCare across the Commonwealth.
 
"One example of our work at UK is the integration of our research strengths in cancer, heart disease and diabetes with our strengths in pharmaceutical sciences and biomedical engineering to develop novel drugs and medical devices," said Kern.
 
UK also has been the lead in developing the Appalachian Translational Research Network in collaboration with Marshall University, CTSAs at the Ohio State University and University of Cincinnati, and regional academic institutions. This network fosters collaborations, joint pilot studies, and develops community-based participatory research programs. As part of the establishment of this network, UK has also entered into a formal partnership with Marshall University to fund clinical research capitalizing on the Huntington, W.Va., university's expertise in genomics, rural medicine and cancer research.
 
"Marshall has significant strength in cancer and gene sequencing and there is considerable potential for research synergy with UK's Markey Cancer Center," Kern said.  "Overall, our goal is to promote and encourage interdisciplinary research that leads to creative new ideas and speeds the translation of scientific discoveries to health improvements for people in the Commonwealth of Kentucky, the Appalachian region, and throughout the nation."
 
For more information about the CTSA program, visit www.ncrr.nih.gov/ctsa. The CTSA consortium website, which provides information on the consortium, current members and new grantees, can be accessed at www.CTSAweb.org. For more information about the UK CCTS, visit www.ccts.uky.edu. 
MEDIA CONTACT: Kristi Lopez, (859) 323-6363 or Kristi.Lopez@uky.edu