UK Researchers to Study Nutrition in Appalachia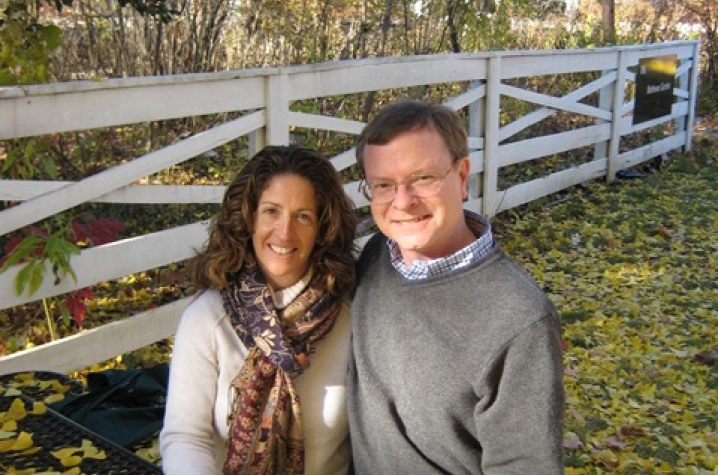 LEXINGTON, Ky. (Dec. 13, 2012) − Mark Swanson, associate professor in the Department of Health Behavior, University of Kentucky College of Public Health, and Nancy Schoenberg, the Marion Pearsall Professor in the Department of Behavioral Science, UK College of Medicine, have been awarded a three year R24 grant from the National Institute on Minority Health and Health Disparities (NIMHD) to explore ways to reduce and eliminate health disparities.
The project will address one of the nation's leading public health challenges – lack of access to healthy foods, leading to suboptimal diet, overweight/obesity and consequent health impacts – in Kentucky's Appalachian counties, a region suffering extreme disparities in diet and diet-related disease.
The grant is in response to an NIH call for proposals using community-based participatory research (CBPR), in which academic researchers partner with community members in the development, implementation, and analysis of a research project.  Swanson and Schoenberg, who met and married while obtaining their doctoral degrees in anthropology at the University of Florida, both have a long commitment to community-based work.
"One of the most important lessons of anthropology is that community members have critical expertise about their communities, the problems they face, and the kinds of solutions that have a chance of working," said Swanson. "CBPR offers the opportunity to bring academic expertise in research design, methods, and analysis together with community expertise in local realities, challenges, and opportunities to craft effective solutions to community-defined problems."
In this project, Swanson and Schoenberg are partnering with the Community Farm Alliance, a grassroots organization that has been working on agricultural and rural issues in Kentucky for more than 25 years, as well as other grassroots organizations and individuals in Eastern Kentucky. The project will receive research support from Schoenberg's community partners at Faith Moves Mountains headquartered in Letcher County.
Additional academic expertise is drawn from multiple colleges and departments across the UK campus, including Dave Fardo, biostatistics, College of Public Health; Alison Davis, agricultural economics, College of Agriculture; Alison Gustafson, dietetics and human nutrition, School of Human Environmental Sciences; and Janet Mullins, dietetics and human nutrition, School of Human Environmental Sciences.
This three-year project will begin in May 2013 and take place in Appalachian areas of Kentucky,  a region suffering from some of the nation's highest rates of obesity, lowest rates of produce consumption, and high rates of premature mortality and diet-based diseases such as diabetes, heart disease and various cancers.  
According to Swanson, "Our previous research projects in the region have repeatedly documented the relative scarcity of healthy, affordable, and readily accessible food. It is simply unrealistic to expect changes in the health profiles of Eastern Kentucky without addressing food access challenges."
The UK research team, in conjunction with interested residents, will identify key challenges and opportunities in the region, develop an intervention to address the problem of healthy food access, and implement and evaluate that intervention.
"We feel that innovation and improvement in health works best when you bring interested, talented, and diverse experts to the table. No one field or group of people has all of the answers to such a challenging question like improving access to healthy food and dietary intake," Schoenberg said.  "By working side by side with our community and research partners, we hope that we will learn about and pilot test the most appropriate, sustainable, and innovative ideas to improve food intake and, ultimately, health."
Media Contact: Ann Blackford at (859) 312-3587 or ann.blackford@uky.edu