What's Next: The Cognition of Construction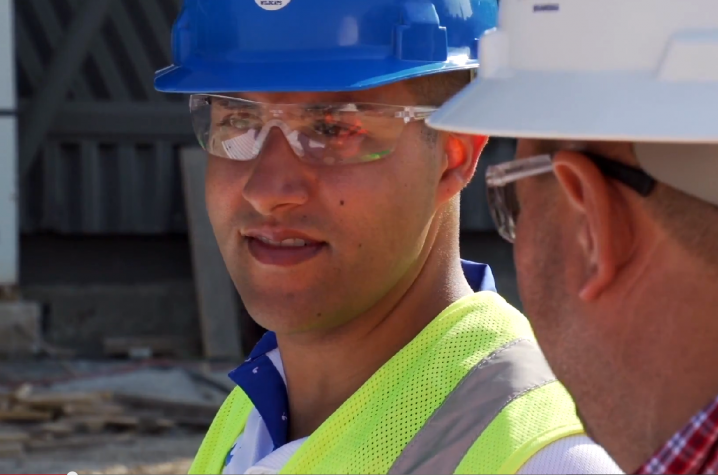 LEXINGTON, Ky. (Oct. 15, 2014) — Gabriel Dadi, assistant professor of civil engineering in the University of Kentucky College of Engineering and faculty member of the Center for Visualization and Virtual Environments (the Vis Center), studies the cognitive aspects of constuction workers and how they interpret information from different sources.  
"You've got a ton of different technologies out there that help plan and manage work, whether it be GPS technology, ground-penetrating radar, LiDAR (a remote-sensing technology using lasers), flash LiDAR, laser scanning, all these great 3-D imaging tools," Dadi said. "But ultimately, those technologies tend to stop at the trailer. They don't make it out in to the field itself."
The problem, Dadi says, is one of data fusion. Although construction managers have the ability to gather extraordinary amounts of data from all these sources, they lack ways to analyze and use it. The challenge is to find a way to synthesize this data and present it in a way that is useful to managers and work crews. 
One way to do that is by rethinking the design of traditional construction blueprints. 
"Typically those are drawn to represent the design from a legal and contractual standpoint," Dadi said. "They're not necessarily conducive to understanding how this work needs to be executed by the end user. By rethinking how we design these blueprints from more of an instructional design perspective, we can give the end user the information that's needed to effectively execute their task."
Dadi's work is featured in the above video, produced by the Vis Center as part of its "What's Next" series. It may also be viewed at "Reveal," the official website for UK Research Media, at http://reveal.uky.edu.
MEDIA CONTACT: Keith Hautala, 859-323-2396; keith.hautala@uky.edu