Gatton College Grad Students Visit Japan With the Kakehashi Project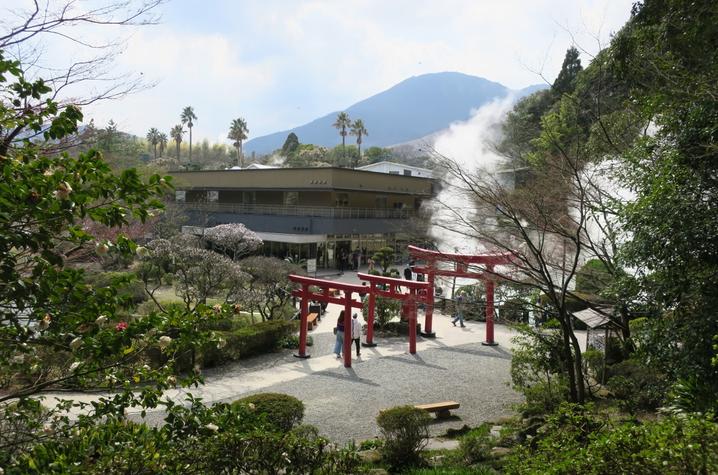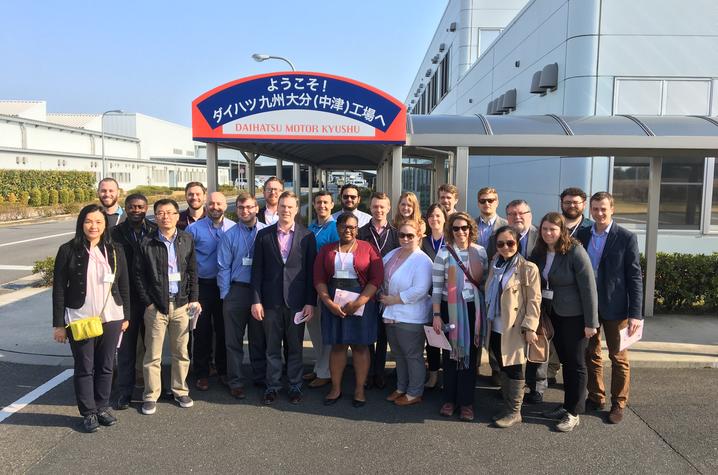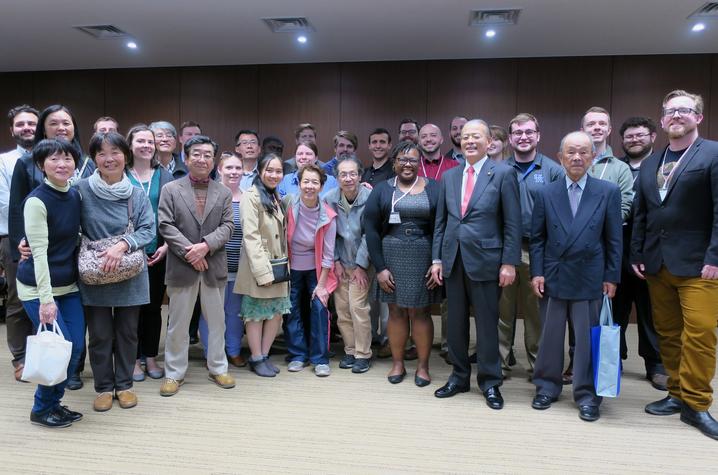 LEXINGTON, Ky. (May 3, 2018) — Twenty-two graduate students from multiple departments in the University of Kentucky Gatton College of Business and Economics recently returned from a nine-day trip to Japan as part of the Kakehashi Project, sponsored by the Japanese government and overseen by the Japan International Cooperation Center (JICE). Four university business colleges were invited to attend this program. The UK delegation was the only group of graduate students. The other attendees included undergraduate business students from Ohio State University, University of North Carolina at Chapel Hill and Rutgers University.
"My trip to Japan … was 100 times better than anything I could have imagined," said Gatton College MBA graduate and current finance graduate student Daniel Zabala.
The groups visited the Ministry of Foreign Affairs in Tokyo to learn more about the Kakehashi Project and its goals of promoting mutual trust and understanding among the people of Japan and North America and promoting a global understanding of Japan's economy, society, history, culture, politics and foreign policy. Several meetings were held with officials and professors, including Taniguchi Tomohiko, a professor at Keio University and a special advisor to Prime Minister Shinzo Abe's cabinet.
"I learned several lessons that have improved my worldview and will certainly impact my career as an economist," said economics doctoral student Samuel Acheampong.
The group traveled to Oita Prefecture on Kyushu, an island in the south of Japan, with visits to the Daihatsu Motor Kyusyu Company LMD car manufacturing facility and the Omron Taiyo Company Ltd. headquarters and factory. Omron has a unique social welfare model with goals to employ approximately 30 percent of its staff with physical and cognitive disabilities. "Omron is maximizing the capability of everyone who will be proud to make their own contributions to the society," said finance graduate student Fei Ma.
"One thing that stuck out to me was at the Daihatsu factory when something happened on the line, the managers ran to the issue and assisted the worker," said MBA student Glen Heck. "It is a team approach to put not only yourself, but those around you in a better position."
The aim of this exchange was not solely business and foreign affairs but also cultural understanding and appreciation of diversity. In Beppu, students learned about the natural thermal hot springs there and how the springs have been incorporated into Japanese culture and values. They also participated in a brief homestay near Saiki City, Japan. Every participant mentioned the outstanding hospitality of their hosts during this experience. As a part of this homestay experience, the mayor of Saiki City met with the students and their host families to express his happiness with this people-to-people exchange and hopes for continued exchange and business opportunities.
The group concluded the program back in Tokyo by sharing their experiences with the other three university groups and discussing the impact of this experience and how they hoped to share their experiences with others upon returning home. The groups then also had the opportunity to briefly visit several cultural sites in and near Tokyo such as Sensoji Temple, the Akihabara neighborhood, Meiji-jingu Shrine and Narita-san Shinsyoji Temple.
"The Kakehashi Project was a great experience for me, because it allowed me to see beyond the superficial understanding of Japan that I had gathered from media, to see the real lives and real people and how there were many things that were different but also many things in common that could bring us together," said economics doctoral student Kevin Allen.
Based upon the comments from the participants, it seems certain that although the program in Japan was only about one week, the impact on the students will last for years to come.
UK is the University for Kentucky. At UK, we are educating more students, treating more patients with complex illnesses and conducting more research and service than at any time in our 150-year history. To read more about the UK story and how you can support continued investment in your university and the Commonwealth, go to: uky.edu/uk4ky. #uk4ky #seeblue