Gatton's First Global Social Innovation Conference Showcases Sustainable Business Models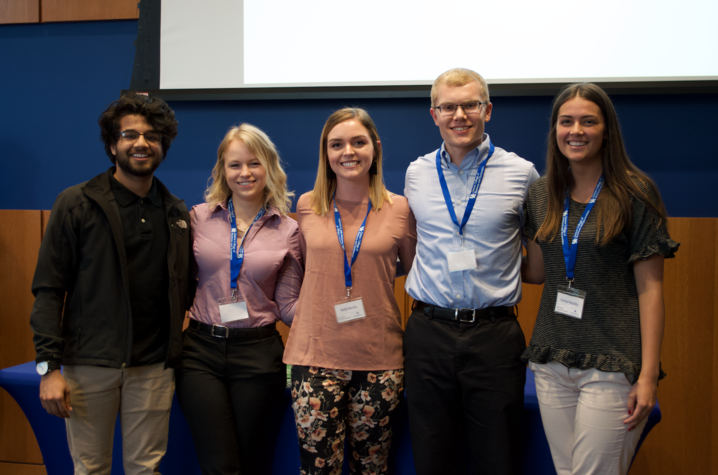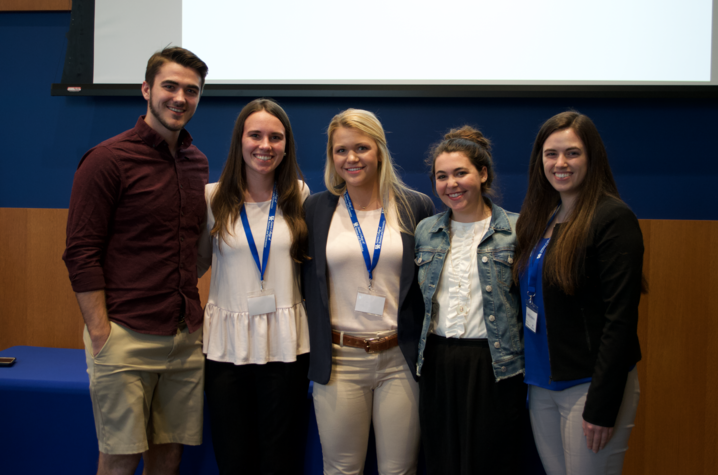 LEXINGTON, Ky. (May 23, 2019) — The University of Kentucky Gatton College of Business and Economics recently conducted its first-ever Global Social Innovation Conference. Held in conjunction with the Social Enterprise Scholars Honors Pathway, the event was inspired by the Global Social Innovation Challenge, an international social venture pitch competition, in which students present their business plans for what they believe are sustainable and socially responsible endeavors. The challenge is held on an international scale with more than 35 participating universities and students from 17 countries proposing innovations.
The Global Social Innovation Conference was made possible with funds provided by Coca-Cola which were earmarked to support sustainability and student involvement. Within the Gatton College, various groups partnered to help organize the event, including the Von Allmen Center for Entrepreneurship and the Don and Cathy Jacobs Executive Center. The events are the culmination of two sophomore Social Enterprise classes at Gatton, coordinated by faculty members John Peloza and Adam Evans, designed to incorporate social and environmental issues into the business curriculum. 
Students interested in competing in the challenge participated in a three-part series. The first was the Social Innovation Showcase, held in February 2019. Five teams had the opportunity to present their ideas on posters and receive feedback from industry leaders and the Gatton community. At another event in April, teams presented their final pitches to a panel of judges, including Gatton faculty and staff, and individuals with a high level of entrepreneurial experience. The goal of the conference, the third event in the series, was to give students the opportunity to meet and communicate with industry leaders in a workshop-style environment.
​Peloza, who currently serves as an associate professor of marketing and supply chain at Gatton, had a few words to say about the importance of the conference to the success of the students and the Gatton College as a whole.
"For business students, the real learning is in the workforce," said Peloza. "This event was an excellent opportunity for students to interact with industry leaders on a personal level. The vision for this conference was to create a nexus between business and sustainability, and the Social Enterprise Honors Pathway is central to that. The Gatton College is hoping to make this a regular part of students' experiences, and ideally expand the conference and related initiatives to the broader UK and Lexington community."
The keynote speaker was Colleen Clines, co-founder and CEO of Anchal Projects, whose mission is to address sex trafficking by creating design-centered employment opportunities for women. Additional speakers included Nicki Cashdollar, spring associate at the ag-tech company AppHarvest and former Social Enterprise Scholar; Bill Farmer, president and CEO of United Way of the Bluegrass; Kaelyn Query, founder and president of LexEffect Events and owner of Limestone Hall; Ashley C. Smith, director of education and governmental affairs at Fayette Alliance and co-founder of Black Soil, a Kentucky-based agritourism company; Jonathan Webb, CEO of AppHarvest; and Tari Young, engineering manager at Lexmark. Other companies that were involved in the event included Doodles Breakfast & Lunch, Fusioncorp, PwC, Thinksis and Social Enterprise Alliance.
The conference concluded with recognition of the two teams that earned the chance to compete in San Diego at the Global Social Innovation Challenge on June 14-15, 2019. The first team, Better Box, is a subscription box that "shifts buying behavior toward socially responsible products." Team members are Molly Barclay, Brennan Dodds, Abigail Hannifan, Sahil Patel and Emma Pressley. The second team, Swoop, is "an interactive rideshare app focused on carpooling as a means to decrease fuel emissions and enhance relationships." That team includes Macy Hagan, Allison Holt, Shelby Simpkins, Mallory Smith and Connor Widman.
According to Gatton's director of Honors Pathways Programs, Serenity Wright, students received practical, hands-on advice about real issues that first-time entrepreneurs face. The presenters addressed topics such as initial pitfalls, acknowledging personal bias, the role that culture and ethnicity play within business, and how diversity contributes to the overall growth and success of a company.
"We hope this conference empowered our students, that it deepened their drive to enhance the communities that they are a part of, and that they will continue to nurture and develop these business models in conjunction with our community partners, and go on to mentor the next class of entrepreneurs," Wright said.
The funding for the Global Scholars Program and the Social Innovation Conference came from Coca-Cola, one of the University of Kentucky's corporate partners. Coca-Cola has committed to support students in a variety of ways including annual funding for programs designed to help students promote community and sustainability initiatives on campus (Student Influence Funds). This is part of the multiyear contract that Coca-Cola has with the University of Kentucky through JMI Sports, UK's official sports and campus marketing partner.